Project Report

| Aug 27, 2020
Creating Livelihoods for Youth Final Report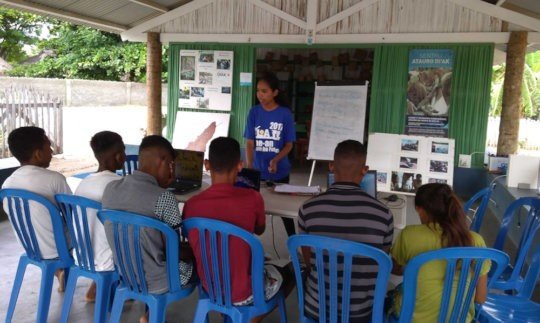 Up until the beginning of the year, when our last report was sent, we had continued to work with the youth from Ataúro to nurture creative entrepreneurship and promote gender equality.
The project kicked-off giving 30 Atauro youth vocational and soft skills to start a business, develop a livelihood or find a job. In our development hub, we provided technical training and experience in innovative activities - agriculture, livestock production, composting, community development, hospitality, product development, up-cycling, and marketing. Through this they then received support to set-up a livelihood/business or find a job and become youth mentors in their communities.
The goal was to offer youth a unique opportunity to build their skills, empowering them to innovate and reshape their futures.
In August 2019, the computer course for the youth in Ataúro continued, reaching a group of 60 young men and women who were able to conclude the course. This was an important landmark where diplomas were distributed to nurture their accomplishment.
In November 2019 Empreza Diak continued the work with the youth from Ataúro teaching them new skills and providing a better future in perfect harmony with Mother Nature. Capacity trainings were provided for SOLS students about the Do´s and Don't`s of Agriculture, showing the right practices when planting.
Atauro's team began to prepare Creative Workshops and School Training on Entrepreneurship, outlining the plan and meeting with the School Director of the Vocational School and the Director of the Secondary School. The purpose of this project was to encourage students to revitalize and rethink creatively in the objects we have around us and what we can do to give them new use, so students are challenged to create new products through recycled materials with as few resources as possible and open their minds about setting up small business.
From the end of 2019 to February 2020 Empreza Diak`s training team developed a tailor-made training for young students to develop knowledge and skills that are key as they look at the future, including entrepreneurship, activity mapping, problem solving, SWOT analysis, leadership and team work. The training took place in two different schools in Ataúro: Teknika Vokassional and Escola Sekundaria Jeral.
The team also designed and piloted creative workshops in our innovative Sentru Atauro Diak where youth learned about several production techniques that can be used to develop artistic or useful products using upcycle materials.
However, since March up until today, we were faced with some setbacks, which made our work more difficult to proceed.
As many other countries, Timor-Leste was affected by the propagation of COVID-19's and since the 28th of March, the State of Emergency was decreed, forcing schools to close and suspending activities up until today.
At the same time, the March floods destroyed a school where we had planned to provide school training.

We will continue to work on empowering and supporting the communities we work with, and train future leaders and entrepreneurs to not only change their future but also revitalize and contribute to a sustainable development of the country.