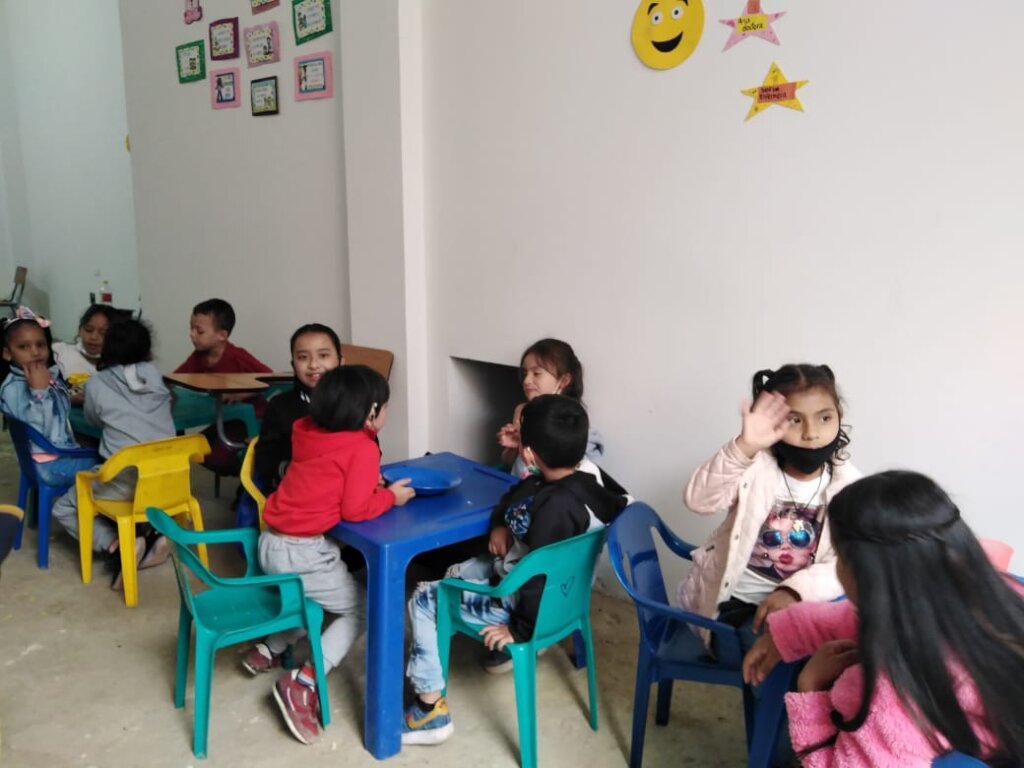 BOGOTÁ: OPPORTUNITIES FOR 120 CHILDREN & YOUNGTERS
By Moises Pedraza – Director Fundación ZUÁ
We continue to serve a highly vulnerable population in Patio Bonito and Bosa, two areas of Bogotá where there is a population living in extreme poverty. We have a quota for 100 children in Patio Bonito, cared for by 16 tutors, and 34 in Bosa, cared for by 4 tutors. The children are between 5 and 16 years old and belong in most cases to mothers who are heads of households with several children, are unemployed and who derive their livelihood from recycling or other scavenging activities.
The objective of the Foundation's work is to help children to remain successful in the school system until they finish high school and once they finish, they enter the university to pursue a career.
Developing day-to-day care for 135 girls, boys and young people require a great effort from a professional, administrative and academic team, especially in obtaining financial resources to support the implementation of the programs that we have proposed, which are aimed at nutrition, academic care, pre-university, university and support for mothers who are heads of households.
The first thing we offer children is food because when children receive food, they are others, they calm down, they reduce aggressiveness almost completely, they are ready to follow instructions, they work with pleasure, and they concentrate. Without food, it is useless to work with them. This is more than proven because one of the basic needs is food and that is where we started the Foundation and where we must maintain ourselves.
In the academic part, beyond helping them develop their homework, we strengthen them in reading and writing, mathematics and English. In addition to the help of the tutors, we rely on platforms through the Internet, both free access and virtual resources offered by their schools.
We propose to develop in them the artistic part that girls, boys and young people enjoy music, that they discover how they can produce it, that they recognize that they have the best instrument such as their voice and that they find that music makes us more pleasant, more beautiful and participative life. for learning music, they use different percussion instruments. It has also always been very important for us to prepare a play that is presented at the end of the year so that it can be observed in person or virtually by all our friends who donate to this cause.
When the boys finish their high school, the Foundation invites them to take a pre-university course that prepares them to enter university. If they approve, then the Foundation finances their university studies in exchange for 20 hours a week of attention, which university students give to young children. Currently, we have the support of 20 of these boys who take care of the children in the Patio Bonito and Bosa offices.
These tutors finish their semester in November of this year and enroll in January 2023 for a new semester. Some are finishing their undergraduate studies and starting their professional lives independent of the Foundation. Also annually a new cohort enters the pre-university, to maintain the cycle permanently.
The reality of these boys is the number of difficulties they have had in their childhood, due to a family context crossed by violence, lack of affection and malnutrition. This reality forces us to work with the mothers, because otherwise, what is done at the Foundation is lost at home. We have managed to form an important team of psychologists who have been developing individual and collective work, both with children and with mothers,
This has been possible thanks to you as committed donors, who make your donations through GlobalGiving. Thank you for joining this effort to promote the dreams of these girls, boys, and young people. Thank you for believing in us and helping us, because without help it is impossible to help..
BOGOTÁ: OPPORTUNITIES FOR 120 CHILDREN & YOUNGTERS
By Moises Pedraza – Director Fundación ZUÁ
Seguimos atendiendo a una población altamente vulnerable, en Patio Bonito y Bosa, dos zonas de Bogotá donde hay población en extrema pobreza. Mantenemos un cupo para 100 niños en Patio Bonito, atendidos por 16 tutores y 34 en Bosa atendidos por 4 tutores. Los niños están entre los 5 y los 16 años y pertenecen en la mayor parte de los casos a madres cabeza de hogar con varios hijos, desempleadas y que derivan su sustento del reciclaje o de otras actividades de rebusque.
El objetivo del trabajo de la Fundación es ayudar a los niños para que se mantengan con éxito en el sistema escolar hasta terminar el bachillerato y una vez culminen que ingresen a la universidad para que cursen una carrera.
Desarrollar día a día la atención a 135 niñas, niños y jóvenes requiere un gran esfuerzo de un equipo profesional, administrativo y académico, especialmente en la consecución de recursos económicos que apoyen la realización de los programas que nos hemos propuesto los cuales están dirigidos a la nutrición, la atención académica, el preuniversitario, el universitario y el apoyo a las madres cabeza de hogar.
Lo primero que ofrecemos a los niños es alimento, pues cuando los niños reciben alimento, son otros, se tranquilizan, reducen casi por completo la agresividad, están prestos a seguir instrucciones, trabajan con gusto, se concentran. Sin alimento es inútil trabajar con ellos. Esto está más que comprobado, pues una de las necesidades básicas es el alimento y es por ahí por donde comenzamos la Fundación y donde nos debemos mantener.
En la parte académica, más allá de ayudarles a desarrollar sus tareas escolares, les fortalecemos en lectura y escritura, matemática e inglés. Además de la ayuda de los tutores, nos apoyamos en plataformas a través de Internet, tanto libres de acceso como los recursos virtuales que ofrecen sus escuelas.
Nos proponemos desarrollar en ellos la parte artística que las niñas, niños y jóvenes, disfruten de la música, que descubran como ellos la pueden producir, que ellos reconozcan que disponen del mejor instrumento como es su voz y que encuentren que la música nos hace la vida más agradable, más linda y participativa. para el aprendizaje de la música utilizan diferentes instrumentos de percusión. Siempre ha sido también muy importante para nosotros la preparación de una obra de teatro la cual se presenta a final del año para que pueda ser observada de manera presencial o virtual por todos nuestros amigos donantes a esta causa.
Cuando los chicos terminan su bachillerato, la Fundación los invita a hacer un curso preuniversitario que los prepara para su ingreso a la universidad. Si lo aprueban entonces la Fundación les financia los estudios universitarios a cambio de 20 horas semanales de atención a los niños pequeños. En la actualidad tenemos el apoyo de 20 de estos chicos quienes atienden loas niños en las sedes de Patio Bonito y Bosa.
Estos tutores terminan en noviembre del presente año su semestre y se matriculan en diciembre a un nuevo semestre. Algunos van terminando la universidad e inician su vida profesional independientes de la Fundación. También anualmente ingresa un grupo al preuniversitario para mantener el ciclo en forma permanente.
La realidad de estos chicos es la cantidad de dificultades que han tenido en su infancia, debido a un contexto familiar cruzado por la violencia, la falta de afecto y la desnutrición. Esta realidad obliga a trabajar con las mamás, pues de lo contrario, lo que se hace en la Fundación se pierde en la casa. Hemos logrado conformar un importante equipo de psicólogos que viene desarrollando un trabajo individual y colectivo, tanto con las niñas y niños como con las mamás.
Lo anterior ha sido posible gracias a ustedes como donantes comprometidos, que hacen sus donaciones a través de GlobalGiving. Gracias por sumarse a este esfuerzo de impulsar los sueños de estas niñas, niños y jóvenes. Gracias por creer en nosotros y ayudarnos, pues sin ayuda es imposible ayudar..