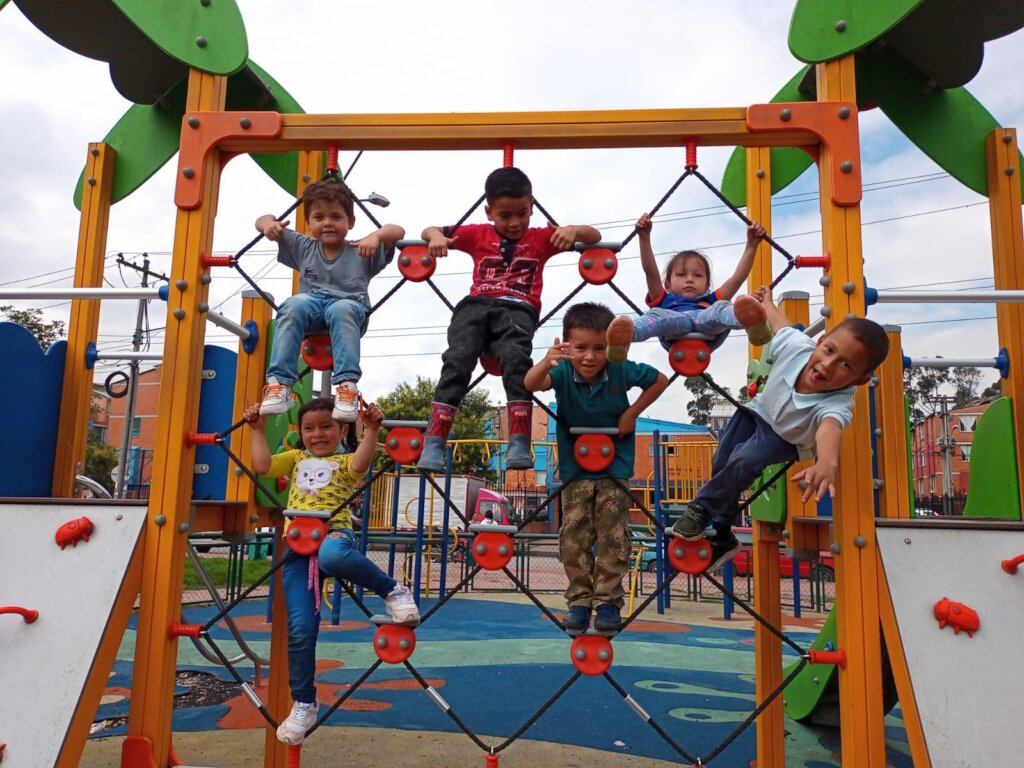 BOGOTÁ: OPPORTUNITIES FOR 120 CHILDREN & YOUNGTERS
By Moises Pedraza – Director Fundación ZUÁ
Attendance at Fundación Zuá has allowed us to strengthen the Patio Bonito, Bosa, and Senderos programs and contribute to the benefit of more girls, boys, and young people every day.
These children are guided by tutors, who at the same time are boys who have gone through the same program once they finish high school, they do a 1-year pre-university course and then enter university financed by the Foundation and during their studies, in return, they spend 20 hours a week caring for younger children.
The 15 university tutors finished the semester with a high academic average and in July we paid their tuition for the new semester again, to continue forging a different future, fulfilling their dreams of being professionals.
Every day we receive 100 children and young people at the Patio Bonito headquarters, half in the morning and the other half in the afternoon. In Bosa, 36 girls and boys also attended in two sessions. In Senderos, we have 8 boys, some in pre-university and others in the university.
In June we held a camp at Senderos, for the 10 girls and boys from the Patio Bonito campus, who had the best academic performance, based on the grades from their respective schools. This is a stimulus and all the children, from the 2 locations in Bogotá, know that if they pass the year well, they will have that award in December.
Beginning in July, a camp is held, also in Senderos, for the 32 tutors between the university and pre-university students. This group participates during 10 days of intense days of reflection and training to improve work with children, development of soft skills, evaluation of the first semester, and plan for this second semester of the year, in addition to sports days and work in the field in the crops of the headquarters.
This has been possible thanks to you as committed donors who make your donations through GlobalGiving. Thank you for joining this effort to promote the dreams of these girls, boys, and young people. Thank you for believing in us and helping us, because without help it is impossible to help.
BOGOTÁ: OPPORTUNITIES FOR 120 CHILDREN & YOUNGTERS
By Moises Pedraza – Director Fundación ZUÁ
La presencialidad en la Fundación Zuá nos ha permitido fortalecer los programas en las sedes de Patio Bonito, Bosa y Senderos y contribuir a que más niñas, niños y jóvenes sean beneficiados día a día.
Estos niños son guiados por tutores, quienes a la vez son chicos que han pasado por el mismo programa y una vez terminan el bachillerato, hacen un preuniversitario de 1 año y luego ingresan a la universidad financiados por la Fundación y en contraprestación. durante el tiempo de estudios, dedican 20 horas semanales a atender a niños más pequeños.
Los 15 tutores universitarios terminaron el semestre con alto promedio académico y en julio nuevamente los estamos matriculando para el nuevo semestre, para continuar forjando un futuro diferente, cumpliendo sus sueños de ser profesionales.
Cada día recibimos en la sede de Patio Bonito 100 niñas, niños y jóvenes, la mitad en la jornada de la mañana y la otra mitad en la tarde. En Bosa asisten 36 niñas y niños también en dos jornadas. En Senderos tenemos 8 chicos unos en preuniversitario y otros en la universidad.
En junio realizamos un campamento en Senderos para las 10 niñas y niños de la sede de Patio Bonito que tuvieron el mejor rendimiento académico con base en las calificaciones de sus respectivos colegios. Este en un estímulo, y todos los niños de las 2 sedes de Bogotá, saben que, si aprueban bien el año, tendrán en diciembre ese premio.
Empezando julio se desarrolla un campamento, también en Senderos, para los 32 tutores entre universitarios y preuniversitarios. Este grupo participa durante 10 días de intensas jornadas de reflexión y capacitación para mejorar el trabajo con los niños, desarrollo de las habilidades blandas, evaluación del primer semestre y la planeación para este segundo semestre del año, además de jornadas deportivas y trabajo de campo en los cultivos de la sede.
Lo anterior ha sido posible gracias a ustedes como donantes comprometidos que hacen sus donaciones a través de GlobalGiving. Gracias por sumarse a este esfuerzo de impulsar los sueños de estas niñas, niños y jóvenes. Gracias por creer en nosotros y ayudarnos, pues sin su ayuda es imposible ayudar