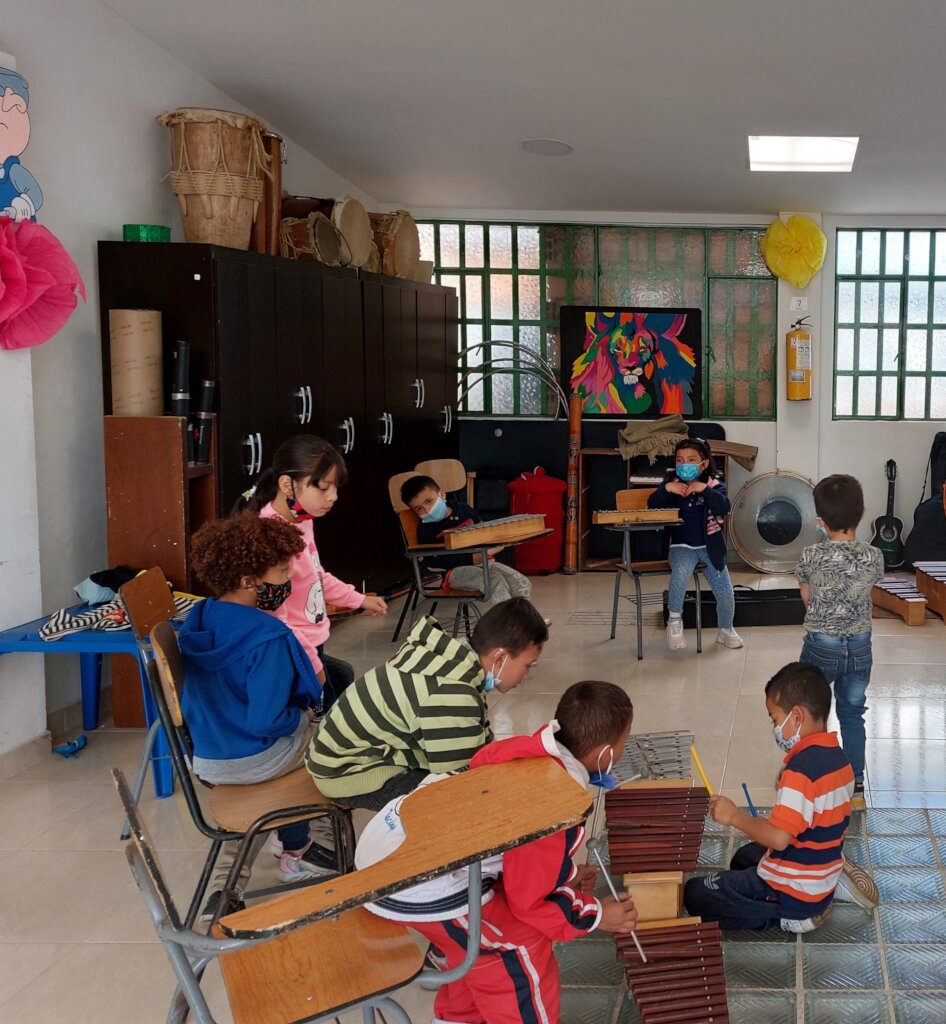 BOGOTÁ: OPPORTUNITIES FOR 120 CHILDREN & YOUNGTERS
By Moises Pedraza – Director Fundación ZUÁ
We started the year 2022 with the development of face-to-face programs, going beyond virtuality at the Patio Bonito headquarters with the assistance of 94 girls, boys and young people, 15 tutors between university and pre-university students and 15 mothers, of course following all the protocols of protection against COVID 19
In the Let's Learn Workshops we continue working both on the development of school tasks, as well as reinforcement, through the use of platforms as academic support such as IXL for basic primary mathematics, ABC tree, Khan Academy, Code, YouTube among others. In each of the classrooms there are computers and internet access for the children and for the tutors.
The use of short reading books to guide literacy work and teaching materials that reinforce learning has been very useful.
In the arts workshops we are promoting the strengthening of learning in music, making an effort of personalized accompaniment, especially when the child is invited to learn to play an instrument.
In higher education we continue to encourage young people to advance in their careers and better prepare themselves in their work as tutors of the little ones.
Thousands of thanks, your support united with others allow in this year 2022 to promote the dreams of these children, boys and young people.
BOGOTÁ: OPPORTUNITIES FOR 120 CHILDREN & YOUNGTERS
By Moises Pedraza – Director Fundación ZUÁ
Iniciamos el año 2022 con el desarrollo de los programas presenciales, superando la virtualidad en la sede de Patio Bonito con la asistencia de 94 niñas, niños y jóvenes, 15 tutores entre estudiantes universitarios y preuniversitarios y 15 mamás, por supuesto siguiendo todos los protocolos de protección contra el COVID 19
En los Talleres Aprendamos seguimos trabajando tanto en el desarrollo de tareas escolares, como en los refuerzos, a través del uso de plataformas como apoyo académico como IXL para las matemáticas de la básica primaria, árbol ABC, Khan Academy, Code, YouTube entre otras. En cada uno de los salones hay computadores y acceso a internet, para los niños y para los tutores.
Ha sido de gran utilidad el uso de libros de lecturas cortas para guiar trabajos en lectoescritura y materiales didácticos que refuerzan los aprendizajes.
En los talleres de artes estamos impulsando el fortalecimiento a los aprendizajes en música, haciendo un esfuerzo de acompañamiento personalizado, ante todo cuando al niño se le invita a aprender a tocar un instrumento.
En educación superior continuamos impulsando a los jóvenes para que avancen en sus carreras y se preparen mejor en su labor de tutores de los más pequeños.
Miles de gracias, sus apoyos unidos con otros permiten en este año 2022 impulsar los sueños de estas niños, niños y jóvenes.