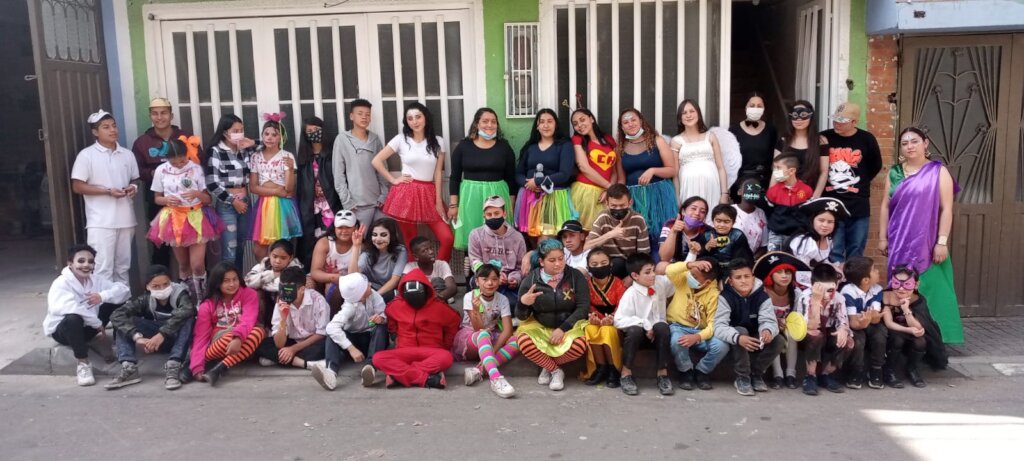 BOGOTÁ: OPPORTUNITIES FOR 120 CHILDREN & YOUNGTERS
By Moises Pedraza – Director Fundación ZUÁ
|The year 2021 was marked by the emphasis on the development of face-to-face activities at the Patio Bonito headquarters with the participation of 97 girls, boys, and young people, 10 tutors between the university and pre-university students and 15 mothers, and at the Bosa headquarters with the participation of 30 girls, boys and young people, 5 tutors between the university and pre-university students and 5 mothers, all of them under strict biosafety regulations.
We develop a presence in the strengthening of learning, the arts: music and theater, they advanced in sports and participated in recreational activities, demonstrating once again the importance of being able to meet and share as part of personal and social growth. Daily they received a snack as a nutritional reinforcement because in many cases the children come from home poorly fed.
In the Campaign: Solidarity of the Zuá Foundation in Difficult Times, which we started last year because of pandemics, we delivered 220 food packages to 70 of the most vulnerable families in Patio Bonito and Bosa.
In the Empowering Mothers Program, we continue to help 20 mothers in psychosocial aspects, and now the Foundation is paying for elementary and high school formal education studies to 11 mothers. We have two more moms studying technical careers, one in Administration and the other in Graphic Design.
In the Higher Education Program, we have 18 young people enrolled this semester at the university, some of them are attending at their universities full face to face, and the others are doing it in a virtual way. All of them are getting very good academic results. In addition to this group which studies at the university, we have 10 young people who are in the pre-university course. It´s organized and developed by the Zuá Foundation, it´s aimed to improve their academic level and for them to be able to enter the university in the middle of next year.
The achievements described in this report have been made possible in large part by the generosity of the friends who donated their resources, volunteered their time, and collaborated decisively for the care of the girls, boys, young people, tutors, and mothers.
We send you our words of gratitude for the trust you placed in the Zuá Foundation in this year 2021 and we tell you, that the support we received is the path that has allowed us to meet the goals proposed for this year.
We hope to continue helping more kids and families and for this purpose, we count on your generosity.
BOGOTÁ: OPPORTUNITIES FOR 120 CHILDREN & YOUNGTERS
By Moisés Pedraza – Director Fundación ZUÁ
El año 2021 estuvo marcado por el énfasis en el desarrollo de actividades presenciales en la sede de Patio Bonito con la participación de 97 niñas, niños y jóvenes, 10 tutores entre estudiantes universitarios y preuniversitarios y 15 mamás, y en la sede de Bosa con la participación de 30 niñas, niños y jóvenes, 5 tutores entre estudiantes universitarios y preuniversitarios y 5 mamás, todos ellos bajo estrictas normas de bioseguridad.
Desarrollamos presencia en el fortalecimiento de los aprendizajes, las artes: música y teatro, avanzaron en el deporte y participaron en actividades recreativas, demostrando una vez más la importancia de poder encontrarse y compartir como parte del crecimiento personal y social. Diariamente recibieron un refrigerio como refuerzo nutricional porque en muchos casos los niños vienen de casa mal alimentados.
En la Campaña Solidaridad de la Fundación Zuá en Tiempos Difíciles, que iniciamos el año pasado por causa de la pandemia, entregamos 220 mercados a 70 de las familias más vulnerables de Patio Bonito y Bosa.
En el programa Empoderando Mamás, seguimos ayudando a 20 madres en aspectos psicosociales, y ahora la Fundación está pagando los estudios de educación formal de primaria y secundaria a 11 madres. Tenemos dos mamás más estudiando carreras técnicas, una en Administración y la otra en Diseño Gráfico.
En el Programa de Educación Superior, tenemos 18 jóvenes matriculados este semestre en la universidad, algunos de ellos están asistiendo en sus universidades de forma presencial y los otros lo están haciendo de manera virtual. Todos ellos están obteniendo muy buenos resultados académicos. Además de este grupo que estudia en la universidad, tenemos 10 jóvenes que están en el curso preuniversitario. Está organizado y desarrollado por la Fundación Zuá, tiene como objetivo mejorar su nivel académico y que puedan ingresar a la universidad a mediados del próximo año.
Los logros descritos en este informe han sido posible en gran parte por la generosidad de los amigos que donaron sus recursos, ofrecieron su tiempo y colaboraron de manera decisiva para el cuidado de las niñas, niños, jóvenes, tutores y madres.
Les enviamos nuestras palabras de agradecimiento por la confianza depositada en la Fundación Zuá en este año 2021 y les decimos, que el apoyo que recibimos es el camino que nos ha permitido cumplir con las metas propuestas para este año.
Esperamos seguir ayudando a más niños y familias y para ello contamos con su generosidad.