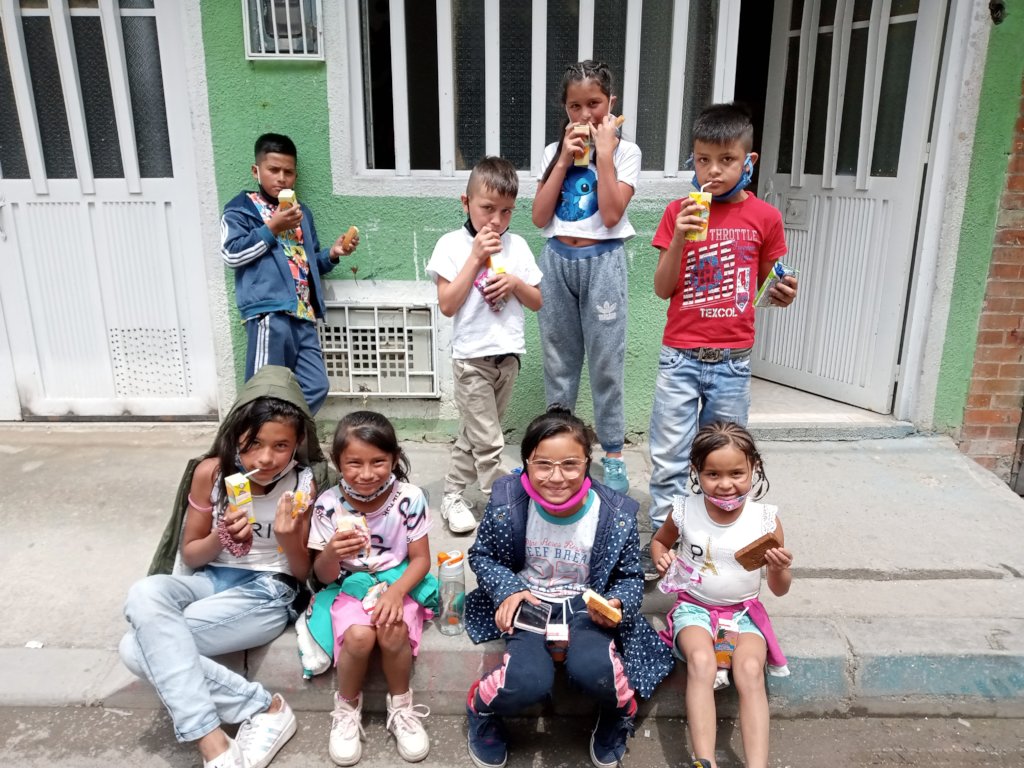 BOGOTÁ: OPPORTUNITIES FOR 120 CHILDREN & YOUNGTERS
By Moises Pedraza – Director Fundación ZUÁ
At the Fundación Zuá, we have believed that it is urgent to redouble efforts to care for girls, boys, and young people in a virtual and face-to-face way, for which we not only did not leave those who we attended, but we intensified and diversified the way of doing it since they are the children and their families who would suffer directly from the lack of our support and companionship.
We are developing face-to-face activities in Patio Bonito and in Bosa, the two towns in Bogotá, where girls, boys, youth, and tutors are attending daily. What we value most about this presence is the happiness of the children to be able to return to the Foundation, to see their friends and tutors.
In the 2 campuses, they have access to academic platforms on computers and internet access allows them to communicate with the teachers at their schools and develop their study guides, which is the predominant methodology in virtual schools. We help them improve their skills and abilities in reading comprehension, mathematics, and English.
In the arts, especially in music and theater, we also have the opportunity of face-to-face encounters with children, making it possible, on the one hand, for the attention of the tutors and on the other the use of musical instruments that are at the Foundation's headquarters.
For their part, the performance and commitment of the tutors has been very satisfactory, after assimilating and learning from the difficulties of the past year. Many lessons were learned and the change in attitude has been total, which is expressed in the fact that most of the children express complete satisfaction with the help of the tutors.
It is worth noting that both mothers and children now value and appreciate being part of the Foundation, which is also expressed in an attitude of greater commitment and collaboration. It is noted that the pandemic and the confinement allowed them to value the Foundation and its programs.
In the Higher Education Program, we register with great joy that the 15 students financed by the Zuá Foundation, enrolled in different universities, finished their semester, with incredibly good academic averages, excellent educational experiences, and a wealth of knowledge in their areas of specialty.
As a result of the pandemic, we have intensified communication with mothers, whose lives have been changed by this reality and made them aware of their weaknesses, which is why many of them, who left school as girls, now see the need to study. So, the natural reaction in most of them has been, "I do not understand many issues" so, "I have to study", currently the vast majority express their desire to study.
This need of mothers led us to find answers to help them trust their abilities and give themselves a new opportunity to learn to live in a new reality, under new technologies, and prepare to undertake new ways of making a living. We have come a long way in the confidence they have in the Foundation, in its responsiveness, and in the seriousness of the programs.
That is why we have designed a program to empower moms that includes four aspects: Psychosocial training to help them in their role as mothers and household leaders. Training to help their children with the academic part. Supports so that they continue studying and can finish high school and Accompaniment to improve their entrepreneurship and work capacity.
For this, a team of volunteer professionals was formed: a social worker, 2 psychologists, and a graduate in education. They are going to direct each mother in a personalized way in her education, we are going to do it virtually, that is, each mother spends a couple of hours a day in her house to educate her.
To date, 20 mothers have joined, of which 10 are enrolled in a formal educational institution to complete their high school studies, interrupted in their childhood by early pregnancies and domestic violence.
Thanks to those who help us, without their help we could not help and bring hope to their lack of possibilities to dream and make their dreams come true.
BOGOTÁ: OPPORTUNITIES FOR 120 CHILDREN & YOUNGTERS
By Moises Pedraza – Director Fundación ZUÁ
En la Fundación Zuá hemos creído que es urgente redoblar esfuerzos para la atención de las niñas, niños y Jóvenes en forma virtual y presencial, por lo cual no solo no dejamos a quienes atendíamos, sino que intensificamos y diversificamos la forma de hacerlo, pues son los niños y sus familias quienes sufrirían directamente por la falta de nuestro apoyo y compañía.
Estamos desarrollando actividades presenciales en Patio Bonito y en Bosa, las dos localidades en Bogotá, donde están asistiendo diariamente niñas, niños, jóvenes y tutores. Lo que más valoramos de esta presencialidad es la felicidad de los chicos de poder volver a la Fundación, para verse con sus amigos, y tutores.
En las 2 sedes, tienen acceso a las plataformas académicas en los computadores y el acceso a internet les permite comunicarse con sus profesores y desarrollar sus guías de estudio, que es la metodología predominante en los colegios en la virtualidad. Les ayudamos a mejorar sus destrezas y habilidades en la comprensión lectora, en matemáticas y en inglés.
En artes, especialmente en música y teatro también tenemos la oportunidad de encuentros presenciales con los niños, haciendo posible de una parte la atención de los tutores y de otra la utilización de instrumentos musicales que están en la sede de la Fundación.
Por su parte, el rendimiento y compromiso de los tutores ha sido muy satisfactorio, luego de asimilar y aprender de las dificultades del año pasado. Se aprendieron muchas lecciones y el cambio de actitud ha sido total, lo cual se expresa en que la mayoría de los niños manifiestan completa satisfacción con la ayuda de los tutores.
Vale resaltar que tanto mamás como niños valoran ahora y agradecen el poder hacer parte de la Fundación, lo cual se expresa también en una actitud de mayor compromiso y colaboración. Se nota que la pandemia y el encierro les permitió valorar la Fundación y sus programas.
En el Programa de Educación Superior, registramos con gran alegría, que los 15 estudiantes financiados por la Fundación Zuá, matriculados en diferentes universidades terminaron su semestre, con muy buenos promedios académicos, excelentes experiencias educativas y un gran bagaje de conocimientos en sus áreas de especialidad
Con motivo de la pandemia hemos intensificado la comunicación con las mamás, a quienes esta realidad les ha cambiado la vida y les ha hecho conscientes de sus debilidades, por lo cual muchas de ellas, que abandonaron la escuela siendo niñas, ahora ven la necesidad de estudiar. Entonces la reacción natural en la gran mayoría de ellas ha sido, "yo no entiendo muchos temas" entonces, "me toca estudiar", en este momento la gran mayoría manifiesta su deseo de estudiar.
Esta necesidad de las mamás nos llevó a encontrar respuesta para ayudarles a confiar en sus capacidades y que se den una nueva oportunidad para aprender a vivir en una nueva realidad, bajo unas nuevas tecnologías y prepararse para emprender nuevas formas de ganarse la vida. Hemos avanzado mucho en la confianza que ellas tienen en la Fundación, en su capacidad de respuesta y en la seriedad de los programas.
Por ello hemos diseñado un programa para empoderar a las mamás que comprende cuatro aspectos:Formación psicosocial para ayudarles en su papel de mamás y líderes del hogar. Capacitación para que ayuden a sus hijos con la parte académica. Apoyos para que continúen estudiando y puedan terminar el bachillerato y Acompañamiento para mejorar su emprendimiento y capacidad laboral.
Para lo anterior se conformó un equipo de profesionales voluntarias: una trabajadora social, 2 psicólogas y una licenciada en educación. Ellas van a dirigir en forma personalizada a cada mamá en su educación, lo vamos a hacer en forma virtual, esto es que cada mamá dedica en su casa un par de horas diarias a su formación.
A la fecha se han vinculado 20 mamás, de las cuales 10 están inscritas en una institución de educación formal para que culminen sus estudios de secundaria, interrumpidos en su niñez por embarazos tempranos y violencia intrafamiliar.
Gracias a quienes nos ayudan, sin su ayuda no podríamos ayudar y llevarles una esperanza a su falta de posibilidades para soñar y hacer realidad sus sueños