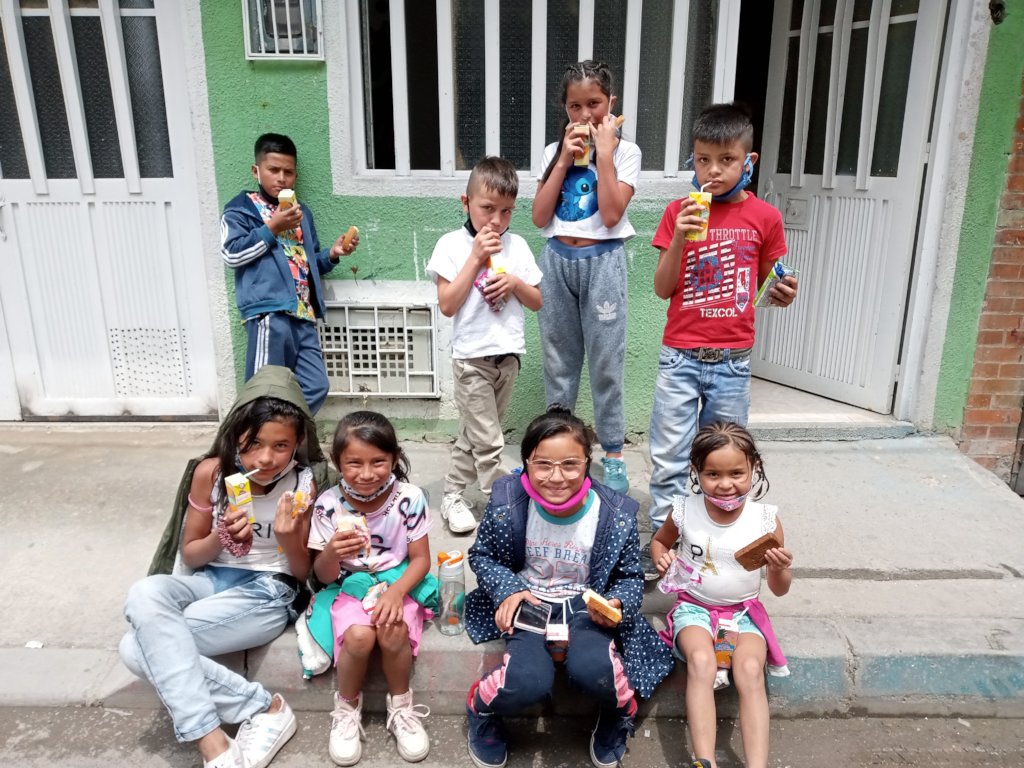 BOGOTÁ: OPPORTUNITIES FOR 120 CHILDREN & YOUNGTERS
By Moises Pedraza – Director Fundación ZUÁ
In Colombia, the new academic year begins in January, for which we began activities in mid-January, and by the end of the same month, we had already enrolled 97 children, 20 mothers, 18 university students, and 12 pre-university students.
With most of this population, we continue to work virtually as we had done the previous year. However, beginning in February, we began the presence in a gradual, staggered and alternating manner, which allows fluidity in the care, under strict biosafety regulations, at the Palmitas - Patio Bonito headquarters.
So far, we are serving at the Palmitas headquarters in Patio Bonito, those children who urgently require it, because their mothers must leave them alone at home because they must go to work. We are even assisting 27 girls and boys and 6 tutors at the headquarters, in specific work activities such as support in homework, guides, school reinforcements in areas such as literacy, mathematics and English, music, and theater.
In addition, and thanks to the fact that we have, there at the headquarters, 20 computers all connected to the Internet, children can carry out their homework and connect with their schools and teachers. This is a great solution for them since they do not have a computer or internet at home.
Another activity that we are doing in-person is teaching music. 5 children take one-to-one music class, in-person and 4 continue to do so virtually. There is also a group of 12 children learning theater and they come to the venue 2 days a week to rehearse for a play.
Those who attend the headquarters are given a snack, which guarantees their good performance and concentration in the proposed activities, a nutritional reinforcement that is strictly necessary since these children are poorly nourished.
The attention of children, young people, and their tutors, in person, during these weeks, has demonstrated the importance of being able to share with other people in person, as part of personal and social growth.
A good disposition for academic work has also been evidenced, responsibility when it comes to complying with the instructions given for staying at the headquarters, in addition to the joy that comes from returning to the Foundation headquarters and meeting with colleagues.
Although it is true that virtuality will from now on be an academic work strategy, which helps to guarantee the right to education, it is also true that individual support is constantly required by girls, boys, and young.
We can affirm that the fact of having suddenly passed from one modality to the other, the academic processes have been greatly affected, for which, and in some cases, it is necessary to return to the presence as soon as possible.
Therefore, we share our joy at being able to receive at the Palmitas headquarters some of the children most in need of face-to-face care, which implies that we continue to serve the vast majority virtually.
We hope to gradually achieve a balance between face-to-face and virtuality, complementing the two options and the enormous advantages of each one, for the benefit of our children. This year we continue with the SOLIDARITY OF THE ZUÁ FOUNDATION IN HARD TIMES campaign and to date, we have delivered 26 markets to the most vulnerable families in Patio Bonito and Bosa and we plan to deliver other markets for the month of April.
In the Empowering Mamas Program, we continue to care for the 20 linked mothers, we have given them support in psychosocial aspects and we enroll them so that some of them finish their primary school and others their high school diploma.
The 18 young people enrolled this semester at the university are progressing in a virtual way, trying every day to improve their connectivity so that they can obtain the best academic performance.
Very appreciated friends, donors, volunteers, and collaborators, we only have words of thanks and the confidence that we have your support, because only in this way can we meet the goals proposed for this year.
BOGOTÁ: OPPORTUNITIES FOR 120 CHILDREN & YOUNGTERS
By Moisés Pedraza – Director Fundación ZUÁ
En Colombia el nuevo año académico inicia en enero, por lo cual iniciamos actividades a mediados de enero y para finales del mismo mes ya habíamos matriculado 97 niños, 20 mamás, 18 universitarios y 12 pre universitarios.
Con la mayoría de esta población continuamos trabajando en forma virtual como lo habíamos hecho el año anterior. Sin embargo, comenzando febrero, iniciamos la presencialidad en forma gradual, escalonada y en alternancia, que permite la fluidez en la atención, bajo estrictas normas de bioseguridad, en la sede Palmitas Patio Bonito.
Hasta el momento estamos atendiendo en la sede de Palmitas en Patio Bonito, aquellos niños que lo requieren con urgencia, porque sus mamás deben dejarlos solos en casa, porque deben irse a trabajar. Hasta la estamos atendiendo en la sede a 27 niñas y niños y 6 tutores, en actividades específicas de trabajo como: el apoyo en la realización de tareas, guías, refuerzos escolares en áreas como lecto-escritura, matemáticas e inglés, música y teatro.
Además, y gracias a que tenemos 20 computadores todos conectados a Internet, los niños pueden realizar sus deberes escolares. Esto es para ellos una gran solución, puesto que en sus casas no cuentan ni con computador ni con internet.
Otra actividad que estamos haciendo en forma presencial es la enseñanza de la música. 5 niños toman clase individual de música, en forma presencial y 4 lo siguen haciendo en forma virtual. También hay un grupo de 12 niños aprendiendo teatro y vienen a la sede 2 días a la semana para hacer los ensayos de una obra de teatro.
A quienes asisten a la sede se les da un refrigerio, que garantice su buen desempeño y concentración en las actividades propuestas, refuerzo alimenticio que es estrictamente necesario pues estos niños están mal alimentados.
La atención de los niños, niñas, jóvenes y sus tutores, bajo presencialidad, durante estas semanas ha demostrado la importancia que tiene el poder compartir con otras personas de manera presencial como parte del crecimiento personal y social.
También se ha evidenciado una buena disposición para el trabajo académico, responsabilidad a la hora de cumplir con las indicaciones dadas para la permanencia en la sede, además de la alegría que causa volver a la sede de la Fundación y encontrarse con sus compañeros.
Si bien es cierto que la virtualidad será desde ahora una estrategia de trabajo académico, que ayuda a garantizar el derecho a la educación, también lo es el hecho de brindar un acompañamiento de manera presencial e individual y de manera constante a niñas, niños y jóvenes.
Podemos afirmar que el hecho de haber pasado en forma repentina de una modalidad a la otra, los procesos académicos se han visto muy afectados, por lo cual y en algunos casos, es necesario volver a la presencialidad lo más pronto posible.
Por lo anterior, compartimos nuestra alegría de poder recibir en la sede de Palmitas a algunos ds niños más urgidos de la atención presencial, lo cual implica que seguimos atendiendo la inmensa mayoría en forma virtual.
Esperamos lograr paulatinamente un equilibrio entre presencialidad y virtualidad, complementando las dos opciones y las enormes ventajas de cada una, en el beneficio de nuestros niños. Este año continuamos con la campaña SOLIDARIDAD DE LA FUNDACIÓN ZUÁ EN TIEMPOS DIFÍCILES y a la fecha hemos entregado 26 mercados a las familias más vulnerable de Patio Bonito y Bosa y tenemos previstos la entrega de otros mercados para el mes de abril.
En el Programa Empoderando a Mamas continuamos la atención a las 20 mamás vinculadas, les hemos dado apoyo en aspectos psicosociales y las matriculamos para que terminen su primaria unas y su bachillerato otras.
Los 18 jóvenes matriculados este semestre en la universidad, van avanzando de modo virtual, tratando cada día de mejorarles la conectividad y que puedan obtener los mejores rendimientos académicos.
Amigos, para ustedes donantes, voluntarios y colaboradores, solo tenemos palabras de agradecimiento, y la confianza que contamos para este año 2021 con el apoyo de ustedes, pues solo así podemos cumplir las metas propuestas para este año.