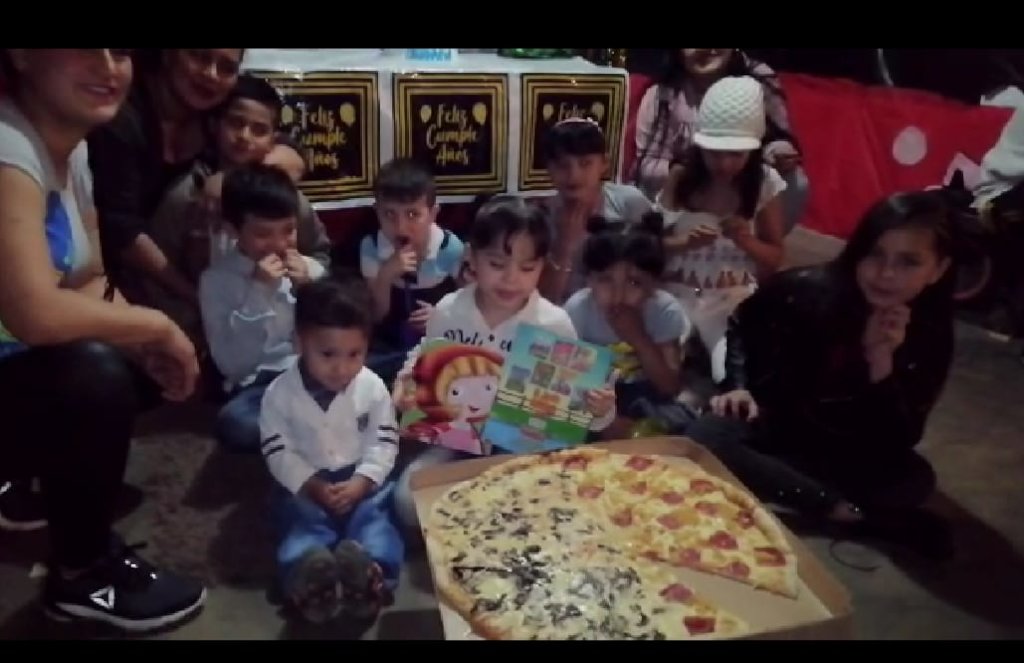 BOGOTÁ: OPPORTUNITIES FOR 120 CHILDREN & YOUNGSTERS By Moisés Pedraza - ZUÁ Foundation Director for the Zuá Foundation,
It has been very important to continue to care for girls, boys, young people, and tutors (as we call the university students who help children) in this time of the pandemic, where we have had very strict quarantines defined at national and local levels.
Thanks to your generous help as donors, we continue to work intensively on several of the Foundation's programs. To strengthen nutrition, we continue with the SOLIDARITY OF THE ZUÁ FOUNDATION IN DIFFICULT TIMES campaign, in order to collect donations from different funds to support the Foundation's most vulnerable families and those with the greatest need for food support. In addition to the 240 packets of groceries delivered between April and May of this year, 200 more packets were delivered in these months to prevent child and youth malnutrition. With the support of GlobalGiving donors, we have raised 25% of the total resources.
During the school holidays of the boys, the Zuá Foundation strengthened the creative use of their free time in a dynamic way through 5 contests on music, writing, theatre, sports, and visual arts. These contests involved the children and their families, as a space for exploration and expression aimed at allowing them to describe what´s currently happening in their environment and share it with other children. It was possible to demonstrate the great creativity that children have, their talent, and the use of graphic languages, writing, music, and sports, among others, associated with their feelings, dreams, and hopes. The juries defined the winners and awards were given in recognition of the family effort.
In addition to intensifying virtual communication with the girls and boys, we continue with a great challenge in the new EMPOWERMENT MOMS PROGRAM, in order to help them trust their abilities and create an opportunity to learn to live in a new reality and through the technology. The new program develops four basic aspects of Formation: A. The psychosocial to help them in their role as mothers and household leaders. B. Training to help their children with the academic part. C. Formal education to complete primary and secondary school and C. Entrepreneurship so that they find new ways to improve their income.
Higher Education Programme:: 19 young women and men went back again at the university to continue their studies, starting a new semester in August, fully funded by the Zuá Foundation. They, as counterparts and in their free time, while the pandemic continues, must give virtually academic support to the smaller girls and boys of the Foundation. Additionally, 6 pre-university students entered the second semester of the three that constitutes the pre-university, strengthening their academic and personal training to enter the university in one year with the financing of the Zuá Foundation too.
During these university holidays, the tutors competed with a video in which each one presented what it has meant for them to be part of the Zuá Foundation. All the videos were assessed, and the most representative and communicative works were awarded.
Once again, thank you for your donations. We are witnessing how the pandemic affects this population very severely because, given their informal employment, most of them have no income so that today's help is much more urgent.
BOGOTÁ: OPPORTUNITIES FOR 120 CHILDREN & YOUNGTERS By Moisés Pedraza – Director Fundación ZUÁ
Para la Fundación Zuá ha sido muy importante continuar la atención a las niñas, niños, jóvenes y tutores en este tiempo de pandemia, donde hemos tenido cuarentenas muy estrictas definidas a nivel nacional y local
Gracias a la generosa ayuda de ustedes como donantes seguimos trabajando intensamente en varios de los programas de la Fundación.
Para fortalecer la nutrición continuamos con la campaña SOLIDARIDAD DE LA FUNDACIÓN ZUÁ EN TIEMPOS DIFÍCILES, con el fin de recaudar donaciones de diferentes fondos para apoyar las familias más vulnerables de la Fundación y con mayor necesidad de apoyo alimentario. Adicionales a los 240 mercados entregados entre abril y mayo de este año, se entregaron en estos meses 200 mercados más para prevenir la desnutrición infantil y juvenil. Con el apoyo de los donantes de GlobalGiving hemos recaudado el 25% de los recursos totales.
En las vacaciones escolares de las niñas, niños y jóvenes de la Fundación Zuá se fortaleció el uso creativo del tiempo libre de modo dinámico a través de 5 concursos sobre música, escritura, teatro, deportes y plásticas. Estos concursos involucraron también a sus familias, como un espacio de exploración y expresión dirigido a que ellos pudieran describir lo que ocurre en estos momentos en su entorno, y compartirlo. Se pudo evidenciar la gran creatividad que tienen, el talento y el manejo de lenguaje gráfico, de escritura, de expresión musical y deportiva entre otros, asociados a sus sentimientos, sueños y esperanzas. Los jurados definieron los ganadores y se entregaron premios de reconocimiento al esfuerzo familiar.
Además de intensificar la comunicación virtual con las niñas y niños, continuamos con un gran reto en el nuevo programa EMPODERAR A LAS MAMÁS, con el fin de ayudarles a confiar en sus capacidades y crear una oportunidad para aprender a vivir en una nueva realidad y a través de la tecnología. El nuevo programa desarrolla cuatro aspectos básicos de Formación: A. El psicosocial para ayudarles en su papel de mamás y líderes del hogar. B. Capacitación para que ayuden a sus hijos con la parte académica. C. Educación formal culminar la primaria y secundaria y C. Emprendimiento para que encuentren nuevas formas de mejorar sus ingresos.
Educación Superior, se fortaleció también con la matrícula de 19 jóvenes continuando sus estudios en la universidad, e iniciando en agosto su semestre universitario. Ellos, en contraprestación y en jornada contraria a la de la universidad, deben apoyar a las niñas y niños de la Fundación de manera virtual mientras continúe la pandemia. Seis preuniversitarios ingresaron a segundo semestre de los tres que constituye el preuniversitario, fortaleciendo su formación académica y personal para ingresar en un año a la universidad con la financiación de la Fundación Zuá.
En estas vacaciones de la universidad, los tutores concursaron con un video en el que cada uno presentaban lo que ha significado para ellos ser parte de la Fundación Zuá, todos los videos fueron presentados y se seleccionaron los trabajos más representativos y comunicativos.
Nuevamente mil gracias por sus donaciones, estamos viendo cómo la pandemia afecta muy severamente a esta población, pues dada su informalidad laboral, la mayoría no tiene ingresos, y hoy se hace mucha más urgente la ayuda.