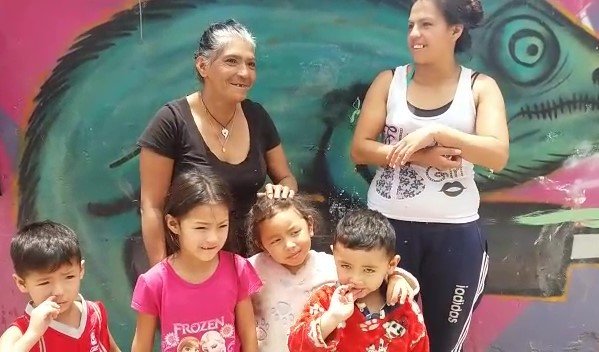 BOGOTÁ: OPPORTUNITIES FOR 120 CHILDREN & YOUNGTERS
By Moisés Pedraza – Director Fundación ZUÁ
Thanks donors, your contributions have been very significant to advance in the support of girls, boys, youth and tutors in these difficult circumstances given by COVID19, which forced us to close the headquarters of Patio Bonito and Bosa to ensure the protection of their lives and comply with the quarantine imposed by the national government.
In this sence, with the concern about the lack of income of these families who live from recycling and the impossibility of earning some daily income to be able to feed their family, we designed a campaign called ZUÁ FOUNDATION SOLIDARITY IN HARD TIMES. These in order to collect donations of different funds to support the development of actions in these months of compulsory quarantine.
So, we want to share with you what your money have been helping for:
1. Food assistance by supplying food kits in Patio Bonito and Bosa. Since the beginning of the locked down we accompanied the families of the children who were left without receiving food from the Foundation's Nutrition Program. Through telephone interviews, we selected the most vulnerable families with the greatest need for food support and select the 80 families that are receiving food kit. We are working with vendors that are close to where families live, and we send them the money and the information of the programmed families.
The amount of money for each mother has been defined according to the number of people that make up the family nucleus. It reinforces their self-esteem and it strengthens their dignity. To date,240 food kits have been delivered and prevent child malnutrition. This has been achieved thanks to the support of various donors. With the support of GlobalGiving donors, we have collected 30% of the total resources.
2. Pre-university students in virtual form. Faced with lockdown the 13 young university students, with your help, continue to receive their classes virtually. There has not been any interruption.
3. University Students. All the university students, which school fee where paid with your help, continue their studies virtually, as their respective universities managed to overcome the impact produced by lockdown and continued their academic activities on-line. We are to collect funds for the payment for their second semester 2020 university fees.
Thanks again to all of you, our beloved donors on behalf of the families of Patio Bonito and Bosa who in this quarantine, have been able to fight hunger and feed their children.
BOGOTÁ: OPPORTUNITIES FOR 120 CHILDREN & YOUNGTERS
By Moisés Pedraza – Director Fundación ZUÁ
Gracias donantes, sus contribuciones han sido muy significativas para avanzar en el apoyo de niñas, niños, jóvenes y tutores en estas circunstancias difíciles dadas por COVID19, que nos obligaron a cerrar las sedes de Patio Bonito y Bosa para garantizar la protección de sus vidas y cumplir con la cuarentena impuesta por el gobierno nacional.
En este sentido, con la preocupación por la falta de ingresos de estas familias que viven del reciclaje y la imposibilidad de obtener algunos ingresos diarios para poder alimentar a su familia, diseñamos una campaña llamada SOLIDARIDAD DE LA FUNDACIÓN ZUÁ EN TIEMPOS DIFÍCILES, con el fin de recaudar donaciones de diferentes fondos para apoyar el desarrollo de acciones en estos meses de cuarentena obligatoria.
Por lo tanto, queremos compartirles como su donación nos ha ayudado:
1. Asistencia alimentaria mediante el suministro de kits de alimentos en Patio Bonito y Bosa. Desde el comienzo del cierre de las sedes, acompañamos a las familias de los niños que quedaron sin recibir alimentos del Programa de Nutrición de la Fundación. A través de entrevistas telefónicas, seleccionamos a las familias más vulnerables con mayor necesidad de apoyo alimentario y definimos las 80 familias que reciben el mercado. Estamos trabajando con tiendas de barrio que están cerca de donde viven las familias, les transferimos los recursos económicos y la información de las familias más vulnerables para ser atendidas.
El valor del mercado para cada familia se ha definido de acuerdo con el número de personas que conforman su núcleo familiar. Cada mamá hace directamente su mercado y selecciona los alimentos básicos requeridos, lo cual ha servido para reforzar también su autoestima y fortalecer su dignidad. A la fecha, se han entregado 240 de mercados para prevenir la desnutrición infantil y juvenil. Esto se ha logrado gracias al apoyo de varios donantes. Con el apoyo de los donantes de GlobalGiving, hemos recaudado el 30% de los recursos totales.
2. Estudiantes preuniversitarios en forma virtual. Frente al confinamiento, los 13 jóvenes universitarios que están en el curso preuniversitario continuaron recibiendo sus clases en forma virtual, sin interrupción.
3. Estudiantes Universitarios: Todos los universitarios siguieron sus estudios en forma virtual, pues sus respectivas universidades logaron superar el impacto producido por el confinamiento y continuaron sus actividades académicas. La Fundación está recogiendo los recursos necesarios para sus matrículas en el mes de julio.
Gracias nuevamente a todos ustedes amigos donantes, en nombre de las familias de Patio Bonito y Bosa, quienes en esta cuarentena han podido combatir el hambre y alimentar a sus hijos.