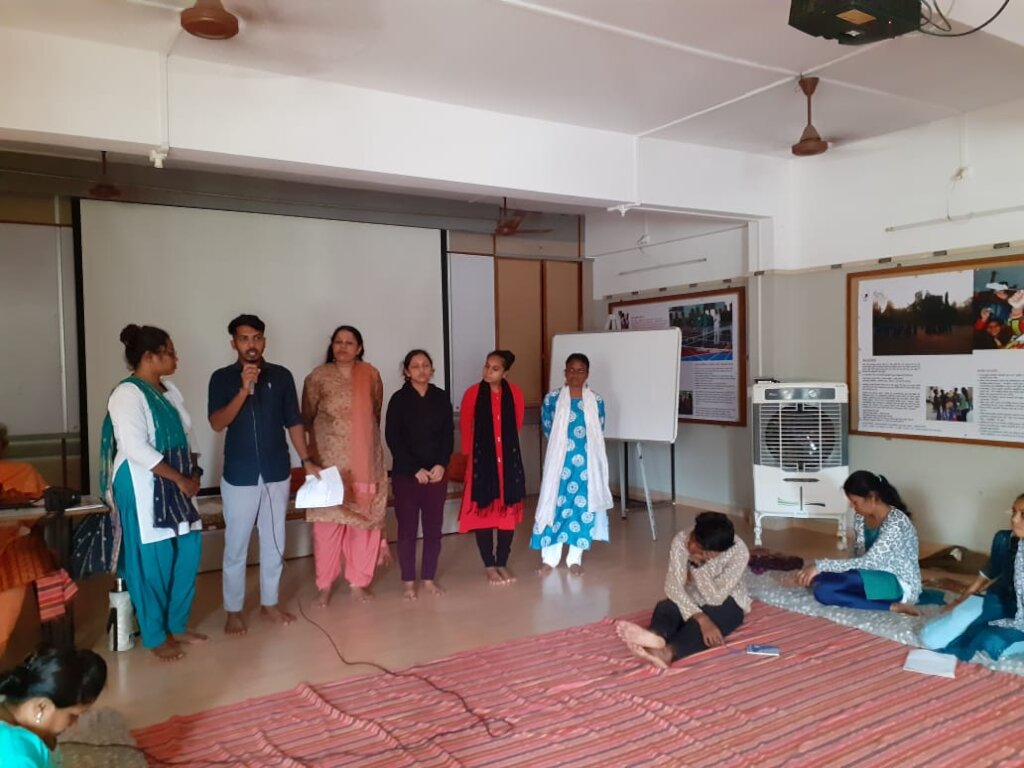 Child Line:
Childline is a national emergency response Helpline for children who are in need of care and protection. It is run by Ministry of women and child welfare. It is run 24*7, 365 days.
A 12 years old child's parents had separated due to domestic violence on the mother. The father, kept the child with him and did not allow the mother to meet with her child. He was physically and emotionally abusive towards the child as well. The child did not want to stay with the father, so he called mother after borrowing someone's phone on the street outside his school. He went to sit outside the police station. The police contacted Childline team. The childline team called both the parents to the police station, but after much discussion the parents couldn't reach to a decision, so childline team put the child in a temporary shelter and presented the case to District Child Welfare Committee, who couldn't reach to consensus among them and transferred the case to Family Court. Finally, family court ruled and gave the custody of the child to the mother. During this entire process, the childline team supported the child and did his counseling too. Now, the child is very happy and safe living with the mother.
A 16 years old girl from Mumbai had run away from home after befriending a guy on Instagram. He called her to Bhavnagar saying that he has looked for a house for them here, so she told home that she was going to college and came to Bhavnagar by train from Mumbai. On the railway station, a police officer found her as she noticed the girl sitting in the railway station from few hours. The police officer called childline team and asked for their help. The childline team member went and spoke to the girl who revealed that she had run away from the home and was waiting for this guy who she met on Instagram. She also said that her parents have been divorced and both have partial custody of her so she has to go and live in both her parents' houses every few days, and as they are still fighting with each other, they use her for their fight. She shared all these stories with the guy as well, and he suggested that they live together, so she ran away. She was temporarily put in a shelter home and her mother was called to Bhavnagar. The case was presented to District Child Welfare Committee and meanwhile through support and counseling of childline the girl agreed to go back to live with her mother. Her mother was also given counselling and she agreed to create better living environment for her daughter.
These two are not the only stories, over last four months, childline has helped around 100 children link to government schemes, provided counselling, found missing children and rehabilitated them with their families where possible, helped children affected by addiction, rescued child labours, helped children going through abuses, and many more things through their cases.
Through different outreach programs in communities, aaganwadis, schools, police stations, civil society organizations, factories, public places, etc. our team reached 12,489 boys and 13465 girls and 5973 men and 6576 women, reaching 38,501 people and spreading awareness about childline in last four months. They were made aware of childline's work and services and there were also discussions, especially with the children about issues they are facing and how childline can support them.
We have created Child Protection committees in each area where Balsena- children's collective works. These committees consist of leaders among children, leaders of communities, parents, youth, etc. During past four months, childline team conducted 81 meetings with 889children and adults. The committee discussed about several issues that children of their area are facing, and also registered cases in childline to solve them. They were also made aware about child right to protection, and about how to stay safe online, protection against abuses and discrimination based on gender, religion and caste, and they were taught practical tool of six alerts to teach children to be safe. Parents were also made aware about various government schemes related to children that they can avail or tell others in their communities about.
SETU:
SETU means the Bridge. It's our Child Rights Resource and Training Center. In 2008, Shaishav underwent an intensive impact assessment review. The reviewer strongly recommended that Shaishav has done several path-breaking innovations and these must be scaled up or expanded. We didn't want to expand geographically but rather set up such a center and share our learning with other organizations.
In SETU, we collect, adapt, and prepare the resource materials for and related children. We also provide participatory training to children and adults related to child rights, life skills, and other such subjects. We document our learning and share it with other organizations which might find it useful. From time to time, we conduct Action Research on child rights-related issues.
We also actively participate in state, national and international level networking and advocate for more child-friendly policies. Thus SETU is the backbone of all our grassroots programs and we are also sharing our learning with other organizations working with children and young people. This way we are contributing to strengthening the child rights movement.
Training with MAVA Volunteers:
Men Against Violence and Abuse - MAVA has pioneered efforts in India to engage Boys and Men to address issues of gender inequality and discrimination and help stop and prevent gender-based violence against women. They worked in tribal areas of Central and Eastern Gujarat.
Training on effective communication and coming out of our own comfort zone and conditioning while facilitating was conducted by the SETU team on 22-23 August 2022 in collaboration with MAVA, Gujarat.
There was a different kind of Tools used during this training like role play, group work, PPT on effective communication, and good facilitation with local volunteers working with adolescents on masculinity, patriarchy, and gender. Young participants expressed their views openly through various games and activities.
Training and Children collective Formation at ATAPI Sewa Foundation:
Two Trainings wer eorganized during past four months in Aatapi Sewa Foundation, one with children and one with their facilitators.
ATAPI Sewa Foundation and Shaishav organized training on 20th-21st August on How to create children's collective and leadership training with children. ATAPI Foundation is doing children's activities in the 11 villages of Jambusar taluka. Shaishav is working with them for the last five years.
In this training 33 children and 6 Teachers/Workers from different villages participated. We started with an introduction with fun and creative activities to build rapport with children. We gradually moved to the activities on what is the importance of groups or collectives, what are the qualities of a good leader.
Children identified their needs and listed out the tasks which should be done at the village level as well as organization and children's collective. At the end of the training, the President and Vice President of their children's collective were elected.
Training of facilitators who work with children of Atapi Seva Foundation was conducted on October 14 and 15 at Gajera in Bharuch Distract by the Shaishav SETU Team. First, we evaluated the process of the last few years and also share feedback about the last training camp. There was a special talk about the purposes of various activities they do with children (why we do the activities). Apart from that, there was a detailed discussion about the process of the children's collective. We help them to understand the different purpose of the activities and how to share it with children. The facilitators presented their experiences with the activities done so far with Atapi Seva Foundation. The facilitators again discussed the activities which were difficult to perform. In which child rights, physical science, etc. were explained again. Activists also presented questions they encountered during their fieldwork. Issues like the quality of education of children, the demand for things by parents, etc. were discussed in detail. 9 facilitators participated in the training.
Activities with Tribal Children at Junapani:
The children's hostel run by Gramya Samiti and Aadhar Trust in Junapani village near Dahod, the Shaishva SETU team conducted various activities there. Dahod Is one of the aspirational districts of Gujarat. The highest migration of human labor in Gujarat. So, the parents are migrating for work. So, the children are living with their grandparents or they have to migrate with their family. One of our friends with help of local community members started residential facilities for children. So that children can get proper and regular education.
We planned activities that help us to understand what children like to do or want to do. So we did different types of crafts, painting, and acting songs with more than 40 children from classes 1 to 5.
Children in the village also took out a rally with the slogan of Right to Education. So, the village community also knows about the work and other children and parents also motivate to join this process.
The children enjoyed doing new activities. They have not done it before.
Along with this, a committee of elder children was formed, so that the children living in the hostel can also learn the impotence of taking up responsibility and doing work like helping younger children in their studies, doing some clean work to maintain their residential facility clean, helping in serving food, etc.
Training of Trainers for Adolescent Protection and Empowerment
Participants: 23 Women and 9 Men Total: 32.
Date: 12 to 17 September 2022
Shaishav is working with adolescent children and young adults for almost twenty years. Over the last few years, we organized adolescent TOT with different themes to gender equality, right to protection, and the importance of empowerment during this age. By organizing TOT, we wanted to share our knowledge as well as learn about new trends and skills.
In this TOT 13 Different organizations from across the country participated. This being a national TOT pushed us to become better facilitators in non-native languages as well as the sessions and materials were needed to be prepared in English and Hindi.
We include some topics from our self-defence training and activities like how to make your boundaries and respect others, how to say NO, how to take safe decisions, Body Image, bystanders, how to identify fake news, Online Safety, Child rights and Child protection institutions, Healthy Friendship, Love and Romantic Relationships, Conflict with Family, and Violence in intimate relationships and counselling with children is one of the most interesting topics for participants. We invited Neetaben who is the counsellor in the government setup counselling centre. She shared her experiences as well as different technics to do counselling Children.
These topics were related to understanding one's own self, helping to use their strength best possible way, and overcome from their weaknesses.
We used different kinds of tools and methods to deliver these topics like Different kinds of Role play-also prepared by participants, PPT, Feature films, Documentary films, Debate, Open Discussion, and Group Discussion.
Pre-test and Post-Test: We did a pre-test when participants join the training before the training started and we also did a post-test after the training. The result shows that after the training the participants have greater knowledge about what is adolescent age, different types of harassment, how and where one can find help, etc. Before training some of them do not even know the adolescent age. Some participants have also shared that they are working with adolescents for many years but some of the topics and activities were new for them and they learned new methods to deliver the same topic.
Field Exposure: Practical Field exposure was also included with the training. All participants are given time to prepare themselves to interact with adolescent boys-girls on the Second last day of the training. More than four Group has been formed. They selected topics from this training and they practiced with each other. All participants were given a manual for activities or topics. In each group, there were two observers, who observed their process and write feedback. After this field exposure, we did share the feedback with each other. All participants had a very positive approach to feedback.
By the end of the training, we all felt like one big happy family, some participant even cried with the thought of going back home.
Feedback from Participants:
We also went into our childhood-adolescent days. The section on Counselling with children helps the most.
Longest training participated. learn some skills, reinforced some practices also chance apply them in the field while training. Activities and processes are developed in children friendly manner.
Able to reinforce that training is important to learn new techniques.
Interpersonal learning is also possible because participants are from the same field. Deeply learn about topics with fun.
Practical field experience is very helpful to know more about how to work with the community.
We learn how to behave with children not only in the field or while working with the community but also with children in our family.
Every day in training came with some new activities and new learnings.
Love and Attraction, Self-love, how to make friends, Childe protection, and real and Scientific name of sexual organs were new topics for learning and practice.
Training has also helped us with self-visualization and self-reflection, how to deal with real-life issues at a personal level.
Personal connection developed during training. Learn that we should work to become strong and sensitive at the same time.