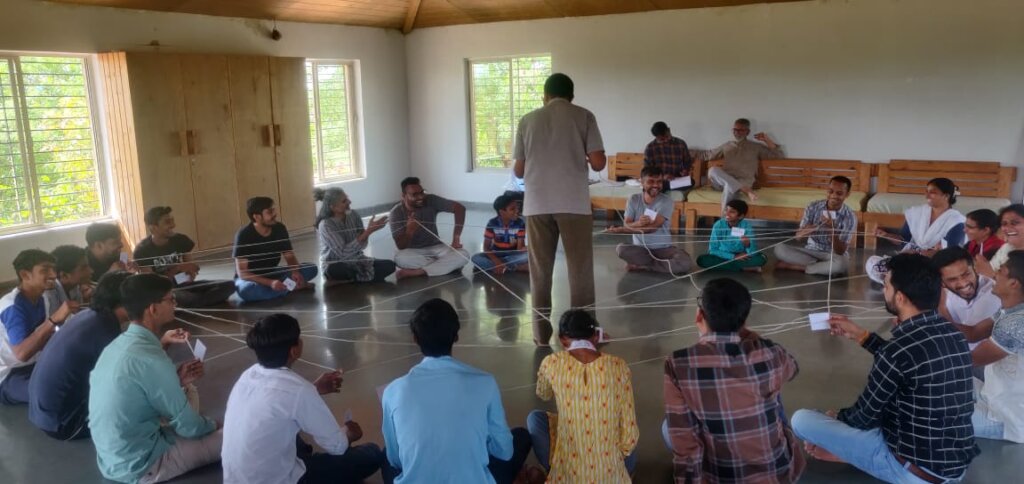 Games for Peace and Non-Violence (Maitrini Ramato):
Participants: 04 Women and 22 Men Total: 26.
Date: 2-3 April 2022
Vishvagram at Mahesana North of Gujarat organized this training. The participants are mostly working with Children and Youth. Some of Them were also going to Jammu and Kashmir during summer vacation. This training would help children to express their feelings and connect with each other. So, that is why this training was especially important. All participated with great energy and enthusiasm. We started with different Ice breaking activities for introduction and Acting songs. This helped them to know each other and make them feel to share their ideas freely. We also facilitated games which facilitated discussion, on different topics such as communication, team building, problem solving, etc.
The participants learnt the importance of Communication, Continuous consciousness, what are the challenges they are facing while working together and how their prejudice-conditioning affect their behaviour. They also learnt what qualities help us to work together and to act non-violently in our daily lives. Our games are without any competition, Win or lose. But if the person is 'Out,' she/he will take lead in the game.
Last day, the feedback session participant said that some of the games we have played for many years but do not know that we can relate it with non-violence. They also said that some minor changes in regular playing games change into games of peace and cooperation. Participants also reflect that they must unlearn many things because they felt that in one game we discuss cooperation, playing to gather without any competition, but after some games, they do the same things which they think not to repeat after earlier games.
Vacation Camp Training for Trainers:
Participants: 22 Women and 07 Men Total: 29.
Date: 26-29 April 2022
Vacation is an especially valuable time for children as well as for us who work with children. During these time children have more time for learning and doing things without any pressure or exams. So, we planned a special training for Trainers.
Science in home & kitchen, Science Experiment, Human Body Models, scientific toys, Geography models, Environment awareness Activity, how to tell the story and diverse types of stories for different age groups, Paper craft, and making artefacts from available materials in the surrounding environment. One most important training was how to do Participatory Rural Appraisal with the children. Participants found it remarkably interesting, and they have done it in various places during the Vacation.
Participants have learned new Activities and Games, not only that they have learned new ways to investigate things and Surroundings. For Example, one participant shared that we regularly do kitchen work but do not know how to relate science in it. Another person said that many games do not require any equipment or tool, so this we can use in the field even if we went there without any preparation. Some participants have shared their experiences and Activities, this way they developed collective learning, and These also helped to do realistic planning of on field activities.
Activities at Khadaki with Tribal Children:
Participants: Adults: 01 Women and 03 Men Total: 04.
Children: 38 Girls and 40 Girls Total: 78.
Date: 30 April and 1-2 May 2022
Khadaki is a very interior tribal area of Valsad District. It has very less connectivity because village is at Gujarat-Maharashtra Border. The children are coming from local tribe. The organization there is running residential facility for these students.
We organized this Training cum activities with children so that children can feel free to share their feelings and emotions, they are living far from their family, so these kind of activities make them happy and create friendly environment there. These would also help children to express their creativity. Play for peace activities-gamesstrengthen their interpersonal relationships and learn different values with fun and corporations.
The children work collectively, most of the time elder students helped younger ones in their work. They also loved to play together in different games. Children love to learn new things, and have good observation skills.
The local teachers learned various paper craft activities, new stories, and games. They also invited us to go there after two months when the new academic year starts. They enjoyed participating in activities with the children.
Leadership Camp with Balsena Children:
Participants: Children: 33 Girls and 49 Girls Total: 82.
Date: 4 to 6 May 2022
Every year we organize leadership camps with our Balsena children. This year during vacation we organized one camp at Maidhar, Bhavnagar. More than eighty students participated in this camp, along with some volunteers from the community. This year the theme of the camp was to develop leadership among children. We planned activities and games which help them to understand importance of working together. Children identified the qualities of great leader, and what are the criteria to help us to identify a good leader. Children also learnt brief History of child rights and different child rights. Children also made annual plan for different samitis(groups). Children have formed seven samitis Like Education, health, Environment, Security, Management etc. at team level.. They have planned activities for whole year for these samitis. Children also figured out that what are the challenges they are facing from planning to implementation level. They try to point out these things and planned accordingly for the upcoming year.
One night we also did sky gazing with help of two experts who helped children learn about stars, planets and different constellations. Our host organization is doing various community activities with children. There are different type of Science and Maths Laboratories at their camps. So, children spent some time with them and learnt may experiments and principles by doing experiments by themselves. The director of that organization is very much involved in child education and is an experienced trainer. She did various action songs with children. Many of them are very new and interesting to learn for our team also.
Other camp activities helped them to develop new relationship among them, making new friends and helping each other in daily routine also. Some children and Balsena leader took active role in different type of process during camp like maintain discipline, coordination seasons, initiatives in Group process, helping other to express their and helping young children.
Children enjoyed their leadership camp with full enthusiasm.
Gujarat Bal Manch:
Participants: Adults: 13 Women and 13 Men Total: 26.
Children: 26 Girls and 27 Girls Total: 53.
Date: 16 to 20 May 2022
Gujarat Bal Manch is initiative run by Child Rights Collectives of Gujarat (CRCG). Gujarat Bal Manch is a federation of children collectives across Gujarat. Thanks to the effort of Shaishav through CRCG, there are now 17 children's collective across Gujarat. Much of background work is done by Shaishav team like contacting different organization, planning of activities during camp and educational tour after camp.
In the past, we used to organize 3 camps of Gujarat Bal Manch, but due to covid-19 we couldn't organize it for last couple of years. This year the camp was organized in the month of May at Ahmedabad. Children and team members from more than 11 different organization participated in this camp.
This year the theme of Gujarat Bal Manch was learning child rights and strengthening children's collectives, getting to know each other and making friends with children from different gender, caste, religion etc. Difference between wants and needs, what is the rights, right to life, right to Participation, right to Development, right to Protection against Child Labour etc. were discussed in Bal Manch. Falgunbhai pointed out the importance of Children's collective. Children identified qualities of a good leader and good collectives by doing group activities. So, they can go back to their organization and initiate the process to form child collective or strengthen the existing ones.
The trainers have used Stories, Games, and group Activities to discuss these serious topics with children. So, they can participate actively in process and enjoy the process.
Adolescent Training for Trainers:
Participants: 18 Women and 10 Men Total: 28.
Date: 9 to 14 May 2022
Nine Different organizations participated in this training. Training Started with Introduction and Ice breaking activities. We also formed families for doing regular work, check ins etc. The training started by understanding adolescent age and the changes that occur during this age.
Every day in the morning we did check-in activities which help participants to be present, Revision of last day, Prayer and Reading-Related to adolescent age. We also did some games and songs in the afternoon that were cooperatives. We included some topics from our self-defence training topics and activities like How to Make your boundaries and respect others, how to say NO, how to take safe decisions, Body Image, bystanders, etc. These topics were related to understanding one's own self, helping to use their strength best possible way, and overcome from their weaknesses. How to identify Fake News, Online Safety, Child rights and Child protection institutions, etc. These are some of the topics which we include new in this Training. Some topics are not directly seeming to be adolescent TOT topics. But because of Technology and Smartphone, Media literacy, fake news, and online safety is very much useful during this age and very much relevant in coming times. We developed various materials related to this topic, collected some short films, and developed various age-appropriate activities on This Topic. We also screened one web series Men's World and one film The Great Indian Kitchen. Both are addressing gender dynamics in Indian society. Some participants took part in the screening very actively and also did discussion based on that.
We used different kinds of tools and methods to deliver these topics like Different kinds of Role play-also prepared by participants, PPT, Feature films, Documentary films, Debate, Open Discussion, and Group Discussion.
Field Exposer: As this was training of trainers' practical field exposer was also included with the training. All participants are given time to prepare themselves to interact with adolescent boys-girls on the second last day of the training. More than four Group has been formed. They selected topics from recent training and they first prepared and practiced among each other. All participants were given a manual for activity or topics. In each group, there were two observers, who observed their process and wrote feedback. After this Field exposure, we did share the feedback with each other. All participants had a positive approach to feedback, where they learnt how to deliver these topics more effectively and also learnt tips about it.
After the End of the training, everyone felt like a big new family. Some even got emotional and cried for having to leave the trainings on the last day.
Wenlido Training of Trainers:
Date: 23/5/2022- 9/6/2022
Participants: 16 Women
Wenlido is a personal safety tool for self-defence, especially designed for women and girls and is facilitated by women. We have been in process of training of trainers from past one and half year, but due to covid-19, we had to postpone the process.
Finally, last May, we were able to finish this process with the TOT. 16 women from all over the country participated in this TOT, 4 of them were from Shaishav as well. They learnt different age appropriate modules of the training of girls, wrote notes on how to give the trainings, practiced among themselves and got the feedback from the trainers as well. Incorporating that feedback, they gave trainings to the girls as well in front of the trainers, and got final feedback on that.
It was quite an intense TOT, we used to start at 6:45 am and finish at 10:00 pm. But, we were very happy that 4 of our Balsena and child line participants got ready as apprentices and 2 of our certified trainers can now co-facilitate for advance level process and TOT process.
Visit of Gujarat Vidyapeeth: Mahatma Gandhi established Gujarat Vidyapeeth. It is the premier institute of Nayi Talim (Gandhian Philosophy of Education). The children visited Tribal Museum where they learnt about Gujarat's tribal culture and their practices. They Visited Morarji Desai Memorial Museum and Vidyapeeth Library. This visit helped the children to understand rich Socio-cultural heritage of Gujarat and get some information on some historic personality.
Leaflet Distribution in Community: During the camp, children and facilitators from different organization also planned to do leaflet distribution on child helpline: 1098 in community for awareness. They also identified some child labour in community nearby. Children have also observed that people who are less educate pays more attention to them rather than the Educated. Some shop keepers and community members also appreciated children's work.
Visit to Vikram Sarabhai Community Science centre:
Children visited science centre at the last day of the camp. Science Centre is very well-known place for children to learn about science by doing practical experiments and maths Activities. Children get information about centre's activities and saw experiments and experienced different activities and models.
We are looking forward to hosting another camp in near future to take the process further.
Interaction with Nanny (Aya) Sisters:
Participants: 60 Women and Total: 60.
Date: 16 May and 20 May 2022
Miracle Foundation and UNISEF organized one day trainings with Anganwadi Ayas. Falgunbhai and Alpeshbhai were invited to interact with them. First, they played a couple of simple game with them, so they feel comfortable and feel free to share openly. We discussed about how to work with children in early ages and what are the challenges they are facing what they could do for it. Total sixty women participated in these trainings.
Need Assessment at Atul Valsad:
Date: 12-13 April 2022
Atul is old industrial region in south of Gujarat near Valsad. They also invited us for do activities with their children, Pre-school helpers and teachers. We visited their different schools and different staff members who are working with children or teaching them, we planned their need-based activities. (Mostly on How to form children's collective at School level)
Meeting with Ashramshala Sanchalak:
Date: 14 April 2022
We met with Bhikhubhai Vyas and Kokilaben at Vedachi. They are running various Ashramshalas in very interior tribal area of south of Gujarat. Training with their team and teachers help us to reach more children, who are vulnerable and get less opportunities to get exposure with these kind of learning methods. We have planned for future intervention at their Ashramshalas.
Interaction-Field visit with Gayatri & Lalon:
Date: 15 to 18 April 2022
We continuously develop and update our TLM and other resource material as need of children evolve with time. We started one interaction cum initiative to develop new activities-games for child rights and child protection. Gayatriben whi is a professor at National institute of Design and Lalonbhai has also developed various activities for children, visited our Aaranyak, project at Narmada. They met with children on field and facilitated activities with them for understanding the socio-cultural life of community and needs of children. They also interacted with Shaishav team and where the team shared their experience collaborating with community and children. We also shared our gams and various resource materials. This year we also plan their visit at Bhavangar. Then we will plan to develop some new activites-games or material together.
Child labour consultation at Delhi
Participants: 1 Woman and 1 Man Total: 2.
Children: 1 Girl and 1 boys Total: 2.
Date: 10 to 12 June 2022
Jai( name changed) and Riddhi (name changed) were selected as the representatives of Gujarat in the anti-child labor program organized by CACL. These children are associated with the Balsena and are studying and working at the same time due to situation at home. As many as 18 states participated in the event. These children got a stage by CACL to speak for themselves. The children were distributed in different groups. About 40 children were grouped into 5 groups. Drama, song, dance, writing, etc. activities were done so that the children could share their experiences. The children presented their works and ideas in the press conference.
The children of the Balsena also presented their own ideas. There was a beautiful presentation of the work. There was a National Consultation for The Children, in which the children expressed their situation and their own difficulties in front of a panel of experts. The panel was attended by people from the field of education to the court judges. They listened to the ideas of the children, they also discussed the solutions to overcome the difficulties. The fact that the menace of child labor is not limited to any one state is an incomprehensible aspect touching every state of India. The children of Balsena talked about why they have to work an d what possible solutions are needed so they don't have to work.
In this whole discussion, education, its virtue and its merits was brought as one of the center point. Issues like the mindset of the society also came up a lot. Children became friends with children from other states. They had come to understand each other without any discrimination, there was an atmosphere beyond the discrimination of language, caste, caste, and creed. In which every child was suffering from child labor and had similar struggle.