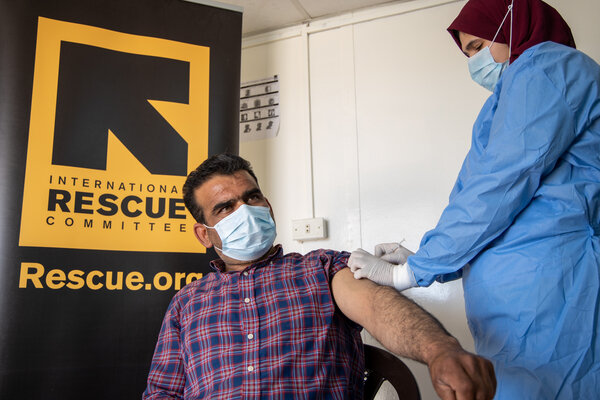 COVID-19 remains a powerful reminder of the world's inequalities, as people who are displaced or living in crisis are the hardest hit by the impacts of the pandemic and the last to receive Covid-19 vaccinations. The vaccine distribution is largely concentrated in high-income countries, despite dire need in conflict-affected, low-income countries.
As of October 15, 2021, 47.3% of the world population have received at least one dose of the vaccine, yet only 2.7% of people in low-income countries have. Across crisis-affected countries, we have seen health systems at full capacity and facing shortages of lifesaving supplies. The pandemic and its effects will not end until everyone has access to the vaccine—including those who are hardest to reach.
Providing vaccines in low-income communities
With your vital support—and the IRC's strong track record responding to health emergencies—we are working to ensure that people displaced by conflict, climate change and other crises are included in the vaccine rollout and are ready to receive it.
We are supporting local health systems, training healthcare workers, and engaging communities to encourage vaccine acceptance and to address misinformation. The IRC is administering COVID-19 vaccinations in Jordan, Uganda, Somalia, Bangladesh and Kenya. As vaccines continue to arrive, we roll them out through the network of health facilities we support in the countries where we work.
The Government of Bangladesh appointed the IRC as the lead health actor in administering vaccines in Cox's Bazar, and on August 10 Rohingya refugees started receiving their doses. IRC health workers have been delivering first and second doses to people ages 55 and over. We are exceeding vaccination targets of 57 people per day, and have vaccinated 1,866 Rohingya refugees living in the camps so far.
At the IRC's Zaatari refugee camp in Northern Jordan, our health workers have vaccinated 14,703 residents and continue to provide boosters for all, including children and pregnant women. We also supported Jordan's Ministry of Health by transforming a chest disease hospital in the town of Mafraq into an auxiliary vaccination center for all refugees in the Governorate.
Throughout the pandemic, our health teams have been working across nine provinces in Afghanistan. While we are not yet involved in the vaccine rollout, the IRC has been training healthcare workers on infection prevention and control, distributing Personal Protective Equipment (PPE), improving access to clean water points, disseminating COVID-19 information materials, and training an army of community-based healthcare workers. This health work has become all the more crucial as the conflict escalates in the country.
Your support means we can continue to fund vital work to slow the spread of COVID-19 and reduce the secondary impacts of the virus. Ending the pandemic can only be achieved if vaccines are available in all countries—to all populations, including refugees and displaced people fleeing conflict and other crises. We appreciate you standing with us during this unprecedented time.