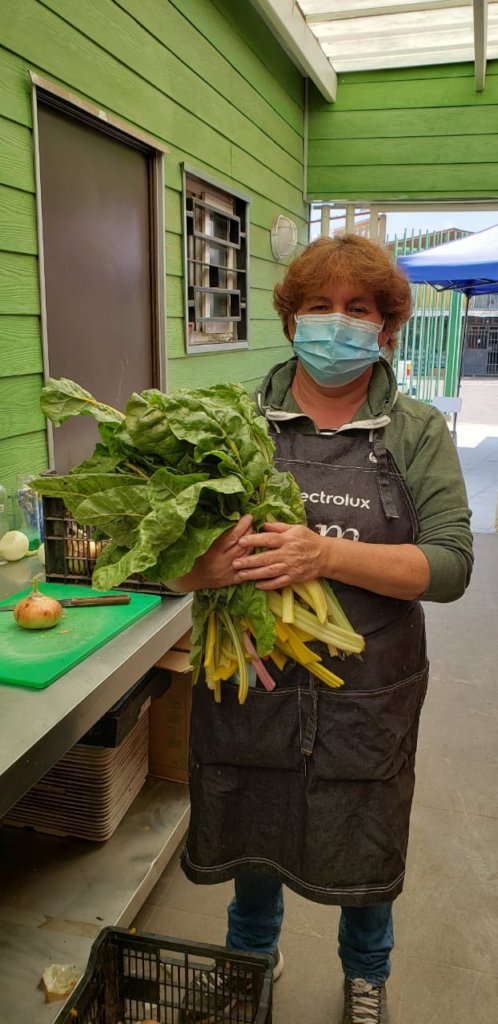 Since the inauguration of the urban food garden in Villa Arauco back in October, it has been producing amazing vegetables for the families taking part in the project but also contributing vegetables to the social kitchen which provides well-balanced meals to more than 100 families and elderly people of the neighbourhood. On average, the families of the food garden have reported collecting between 1 to 2 kilos of vegetables each per month with the garden in total producing about 15kg monthly of vegetables. The great food garden leading ladies have also received a cycle of training courses to help them make the most of their section, with all commenting that the courses have been really useful and that they have learnt a lot.
We are also pleased by the great positive feedback we have received from the participants about how the food garden has provided them with not only new skills but also contributed to them coming together closer as a community and developing their own self esteem. As one of the participants comments:
"The benefits of the food garden is the creation of community and personally also like a therapy for the soul"
The impact on the health of the participants is also key with all participants declaring that participating has led to an increase in their consumption of salad leaves and vegetables considering a recent study by the National Health Institute of Chile highlights that only 15% of Chileans eat the World Health Organizations recommended 5 portions of fruit and vegetables per day.
A new training program, School for All, has also just started with 15 local participants taking on a 6 months training in Gastronomy, Permaculture and Innovation to promote the development of complete and holistic profiles to work in the gastronomy industry whether in restaurants or also as entrepreneurs. Here the students use the established food garden as an example of what can be achieved and to learn of the different plants and their requirements.
Finally, we are starting on the development of a new project in the Puente Alto district where we will be creating a food garden to benefit a group of elderly communities who have high levels of social and economical vulnerability. We are also finishing to evaluate another project in Renca based in a community centre with the participation of a mix of families from the surrounding schools and nurseries.
We are very grateful to all of you for your support and hope that 2021 will bring lots of new opportunities for you,
All the best,
The Cultiva Team