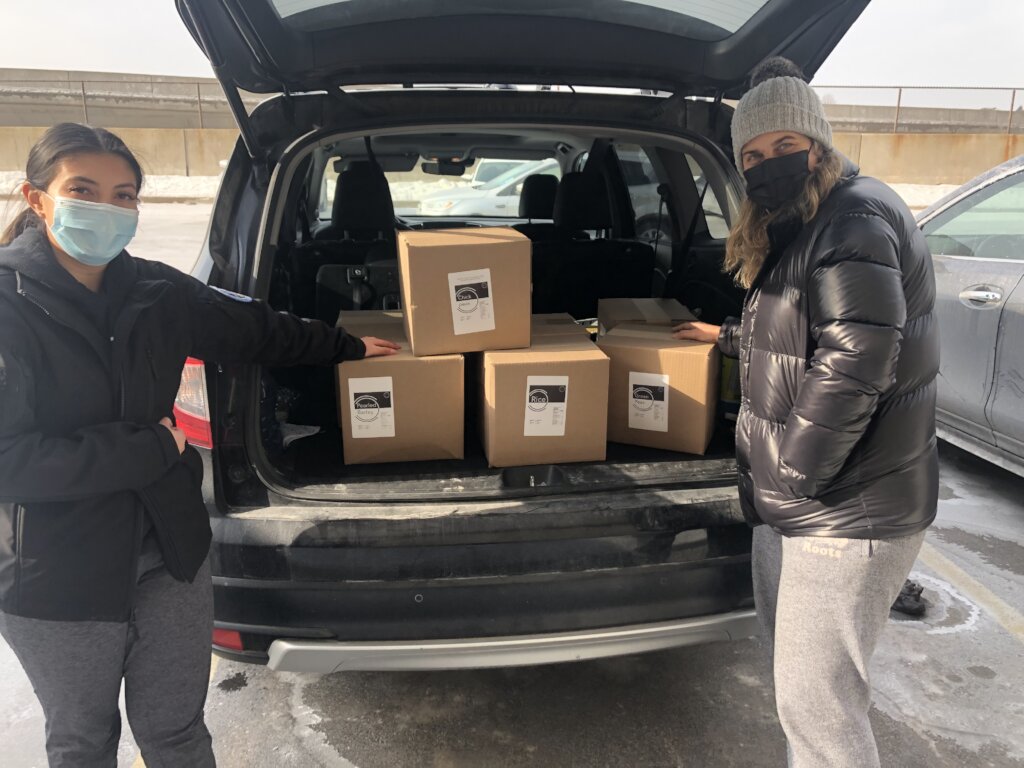 Throughout the pandemic GlobalMedic has been working to support vulnerable Canadians during this tumultuous time. For the entirety of 2021, Canadians have been coping with a pandemic that seems to be constantly changing. The distribution of vaccines and re-opening of many provinces brought hope that then became interrupted by new waves and variants of COVID-19.
Existing issues like food insecurity and poverty were exacerbated by the COVID-19 pandemic, leading to an increased need for food assistance across the country. According to the most recent "Who's Hungry" Report from the Daily Bread and North York Harvest food banks, the demand for food bank services has skyrocketed in the city. Between April 1, 2020, and March 31, 2021, there were a staggering 1.45 million visits to food banks in Toronto, representing a 47% increase over the previous year. Over that same period, new users of food banks and community food programs outnumbered existing users. This influx of clients put immense pressure on food banks and similar services, who also had to cope with declining donations and rising food costs.
GlobalMedic has remained dedicated to tackling food insecurity in Canada by providing access to nutritious, culturally appropriate food that is easy for families to prepare. We continued operating our McAntony's Menu program throughout 2021 after its successful first year and partnered with local organizations to distribute food to those who needed it most. We accomplished this by purchasing items in large bulk bags and having volunteers repackage them into consumer-friendly sizes between 500g-700g. These foods included green peas, pearled barley, red lentils, rice, chickpeas, kidney beans, and green lentils. The smaller bags were then distributed to local food banks to be accessed by their users. The goal of the program has been to fill gaps in the supply chains of local food banks to help provide those in need with a consistent, reliable supply of shelf-stable items.
From February 2021 to December 2021, GlobalMedic distributed 694,908 lbs of McAntony's Menu to organizations in Ontario and across Canada. In addition to food banks, these items were received by schools, clinics, places of worship, and community organizations serving different vulnerable populations. By distributing the food to our partners, we were able to ensure that it reached those that needed it the most. In November and December of 2021, more than half of the McAntony's Menu items distributed by GlobalMedic were delivered through our Holiday Hustle Program. GlobalMedic partnered with 12 emergency service departments, and over a period of a couple of weeks, these paramedics, firefighters, and police officers delivered 64,043 lbs to organizations around Ontario.
In 2021, the McAntony's Menu program at GlobalMedic did more than address food insecurity: it strengthened community. The packing site for this program was located in a former target store at Cloverdale Mall. The owners of the mall, QuadReal Property Developers, generously provided this space to our organization along with others such as the North York Harvest Food Bank, the Salvation Army, Furniture Bank, and the Humane Society. This partnership model created a small-scale social innovation hub, which allowed each organization to significantly increase their output while keeping staff and volunteers safe. Social impact hubs like this can provide space for charities to innovate, scale up existing projects, and collaborate with like-minded partners.
In addition to McAntony's Menu, GlobalMedic's domestic food program in 2021 also included the assembly and distribution of kits and hampers. Our Feed the Six Kits were assembled by volunteers and contained various staples foods like rice, legumes, and pasta. They also sometimes contained essentials like masks, hand sanitizer, or hygiene items. From February 2021 to December 2021, we assembled and distributed 10,719 Feed the Six Kits with our partners, including Hand Up Toronto, Toronto Community Housing, and the City of Toronto Rapid Rehousing Program, who then distributed the kits throughout Toronto to families in need, with some going to First Nations communities in Ontario. Together with the International Development and Relief Foundation (IDRF), we packed an additional 4,408 kits that were distributed to families in British Columbia, Quebec, and Ontario.
The economic impacts of COVID-19 have led to many Canadians being unable to afford the things they need to keep safe and stop the spread. Throughout the pandemic, GlobalMedic has been donating personal protective equipment (PPE) to help vulnerable people better protect themselves from the virus. From February to December 2021, we distributed 67,695 litres of hand sanitizer; 162,805 cloth masks; 6,515 K95 masks, 14,520 medical masks and 14,061 face shields to those with limited access to PPE. To support proper handwashing, we also distributed 95,394 bars of soap and 315,086 hygiene items. The PPE and hygiene products were distributed both in our kits and in bulk to be given out at shelters, food banks, social services organizations, and vaccine clinics around Ontario.
Throughout 2021, kids and adults across Canada rolled up their sleeves to get vaccinated against COVID-19. Right from the start, GlobalMedic supported vaccination clinics run by public health units and community partners. Our dedicated volunteers were on-site at clinics across the Greater Toronto Area, helping with logistics, post-vaccine monitoring, and distribution of food and hygiene kits. We also delivered and installed critical infrastructure tents to both testing sites and vaccination clinics. These tents provided areas for service providers to administer tests and vaccines without taking up space in clinics and hospitals. The additional space also ensured that people could safely socially distance.
From February to December 2021, GlobalMedic supported 288 clinics across the GTA and helped 228,369 people get their first and second doses as well as their booster shots. One of our largest partners in this initiative was the Canadian Centre for Refugee and Immigrant Health Care (CCRIHC), which is committed to providing free health care to refugees and immigrants. This partnership focused on reaching at-risk individuals, particularly those that did not have a health card. This included undocumented individuals, asylum seekers, refugees, international visa students, and unhoused people. The CCRIHC vaccination clinics that GlobalMedic supported provided a safe, nonjudgmental environment for these individuals to get the protection they needed against COVID-19.
Even as we being to see a more normal return to life, GlobalMedic will continue working to support Canadians in need.