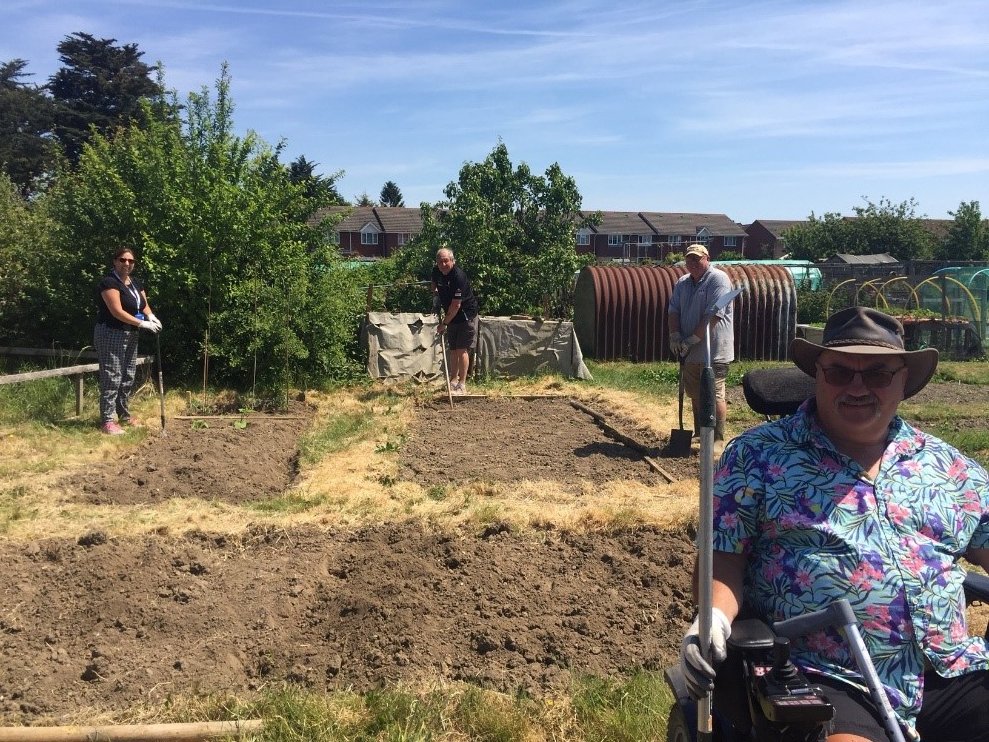 The effects of lockdown and self-isolation left many veterans feeling stuck, lonely and isolated. When UK government guidelines permitted groups of six to meet, FirstLight Trust put measures in place to start activities and provide veterans with the social connection and emotional support they greatly needed.
One of the activities is the allotment project in Gosport, where veterans meet once a week to grow fruit and vegetables and carry out other tasks required to keep the allotment tidy and in order. All FirstLight Trust activities follow social distancing guidelines set out by the UK government and safety is our number one priority.
The first case study here was written when the activity started as lockdown restrictions began to lift, and the second case study was written six weeks later. The allotment project has provided veterans with a safe place to socialise with other veterans whilst putting positive energy into something they are proud of and can see the benefits. The project is having an incredible impact on their mindset and sense of wellbeing.
Case Study 1
Veterans MA, PG and NF started the allotment project with FirstLight Trust's (FLT) Hub Coordinator, RB.
MA arrived early and was very eager to get started, as he had waited months to attend this activity. MA already attends Shore Leave Haslar and has taken care of allotment plots before. MA stated to RB that, "today was magic, to be able to be myself and relax into something I love, thank you". RB told MA that she was glad he feels that way. MA got talking to another veteran, PG and they worked very well together giving each other hints and tips for allotments.
PG is new to the allotment life but jumped straight in listening and discussing how the allotment would move forward. PG stated that he is a very hands-on person. PG de-weeded the two beds with MA without taking over which PG states he tends to do. Both PG and MA started to build a friendship which was great to see.
NF wasn't sure how he was going to move around the allotment in his wheelchair. RB knew he was concerned and so she showed NF a map she had drawn up for him on how they would make it completely wheelchair accessible for him. NF and RB measured and went around the whole allotment plot putting plans together that would work for him and any other person using a wheelchair. NF stated while walking through the plans that it put his mind at ease and thanked RB for all the help. RB could see his mood lift and there were plenty of smiles from then on. NF opened up about moving home and being worried about packing as the move had come around very quickly and he had no boxes for moving. RB told NF that she would organise boxes for him and they will arrive this weekend. NF stated to RB that he had many things to think about but being at the allotment has really helped in many ways.
Everybody got on very well, PG and MA even suggested that they could help NF move if he wanted. NF was delighted to have people that could help.
Three beds were de-weeded in total and tomatoes and butternut squash seeds were planted. It was a very physical work out which contributed to the veterans' positive mental well-being. The allotment project gives veterans the opportunity to be out in the sunshine and fresh air with a small group of people, which has not happened for months due to Covid-19.
All three veterans want to attend weekly.
Case Study - 28 July 2020
FirstLight Trust's (FLT) Hub Coordinator, RB, met veterans PG, PM, TP and NF at the allotment.
This week they talked about their plans for next week as RB is on annual leave. SF, FLT Support Coordinator, will run the next two weeks.
PG PM will empty out the big compost boxes and finish fixing them. NF will be sowing the seeds in the shed ready for October planting. TP is sanding down and re-painting the bench that was donated to the allotment. It is being made it into a memorial bench for a veteran who sadly passed away last year – it will sit within a thinking corner with poppies planted around it.
RB did not have to lead any discussions apart from the plans for the coming weeks.
The veterans are all totally comfortable with talking and trusting each other now. It was great to see PM talking to NF about his appointments with TILS and how they are going. They shared past experiences with TP, helped PM come to terms with what he fears could happen but won't due to his PTSD.
The session was great today. De-weeding was done and the shed was given a second coat of paint. However, the session was more about opening up to others, feeling safe in the environment the veterans had created, and being there without being judged, just supported.