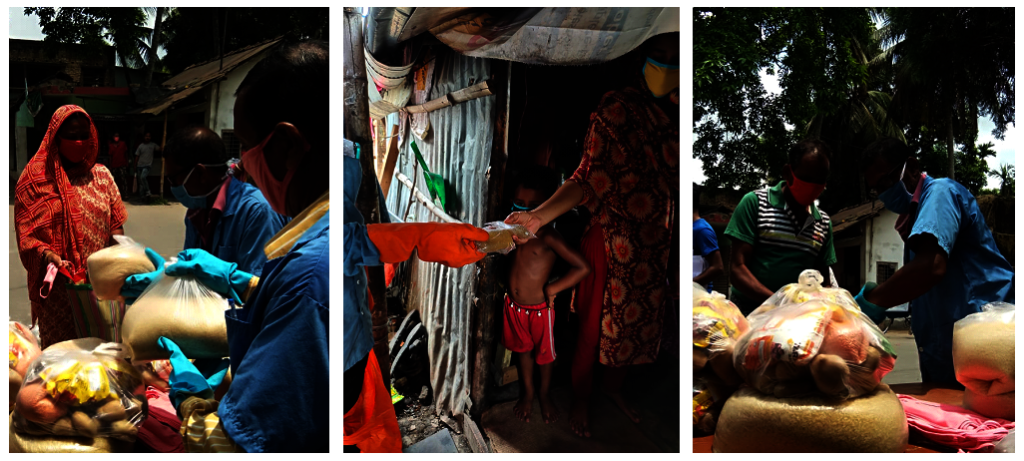 For the poor, COVID-19 is much bigger than a health issue. With most families having a hand-to-mouth existence, the lockdown and the eventual loss of jobs had resulted in a state so critical that it threatened their very survival.
Our teams on the ground had encountered families who hadn't eaten for days. Some were on the verge of exhausting the little savings they had and others merely had enough to buy milk for their children.
The situation demanded swift action.
We worked fast to quickly identify areas and families in need of aid and started reaching out to them with our emergency food kit. The kit comprised of rice, pulses, potatoes, oil, salt and biscuits to sustain them, along with soaps and masks to protect them against the virus. We distributed these kits among rural as well as urban communities. We also equipped our distribution teams with proper protective shielding such as masks, gloves, sanitizers and even face-shields.
Despite the lift in the lockdown, the condition of these poor communities remains the same. Along with the daily wage earners, we are also witnessing loss of earnings among other low-income workers such as domestic helps.
We too, however, are continuing our efforts for the communities, many of whom have been doubly affected because of the devastating cyclone Amphan that hit the State in the month of May. We have already served some of the villages near our healthcare centres like Swarupnagar and others, along with some of the most underdeveloped areas of greater Kolkata, such as Hatiara but we are preparing to serve many more.
Taking inspiration from the resilience of the very people we are serving, we are standing by our communities despite the challenges from the outbreak to ensure their survival during this critical crisis.
Links: