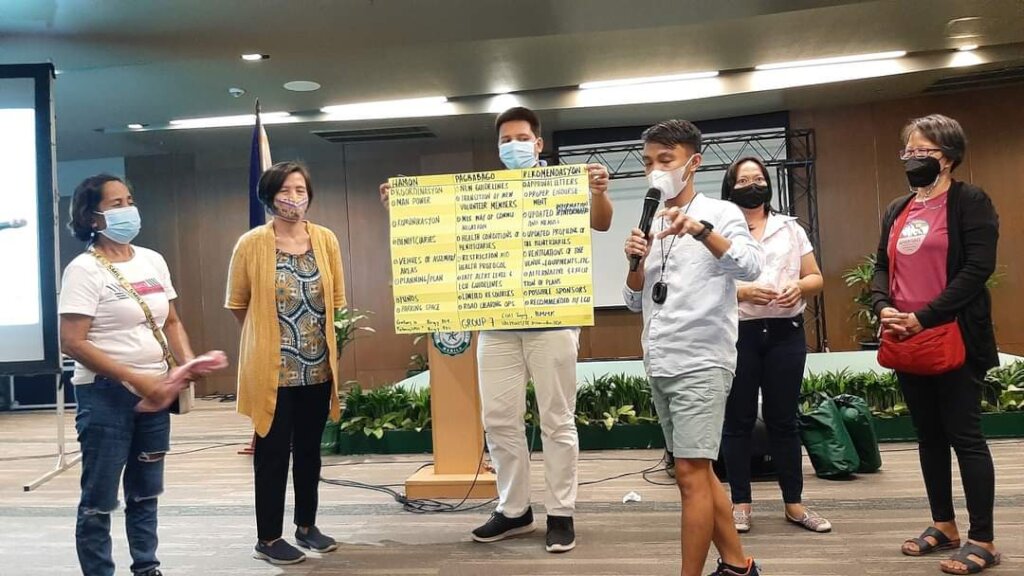 First in-person Meeting with Partner Communities and Organizations
DLSU's Center for Social Concern and Action (COSCA) held the first in-person meeting with partner communities and organizations on June 20, 2022, two years after the COVID 19 pandemic pushed academic institutions like DLSU to pursue classes and social engagement activities through digital platforms.
The consultation highlighted the sharing of experiences of community members and partner organizations in terms of their readiness and capability to manage face-to-face social engagements and some strategies they implement to help ensure the safety of self, family, and the community, among others. The event sought the participation of 67 key leaders of the DLSU-COSCA Partnership and Network Development Program's (COSCA-PNDP) pool of
partners (people's organizations, non-government organizations, public schools, and local government units from
the National Capital Region and the provinces of Rizal and Laguna).
Also, the workshop session re-examined the challenges in community preparedness amidst the pandemic. At the same time, the occasion provided an opportunity for well-wishing and greeting every partner leader and representative while following the minimum health protocols to help ensure the safety of everyone.
Disaster-ready Bags Shared with Representatives of DLSU-COSCA's Social Engagement Community Partners

The consultation workshop facilitated the distribution of disaster-ready bags to the 67 workshop participants. The initiative supports DLSU-COSCA's advocacy to help build disaster-resilient communities, made possible through the generous donation of GlobalGiving for the recovery and rehabilitation of communities affected by major calamities and disasters.
Each Disaster-Ready Bag contains the following: 1-pc.-10-L dry bag, 2-pc.- blanket, 1-pc.-first-aid kit, 1- pc.-Solar-powered flashlight, 1-pc.-battery-powered radio, 4-pc-AA battery, 1-pc.-whistle, 1-pc.-500ml tumbler, 1-pc.cuttlery set, 1-bottle 250 ml alcohol, 1-pc.-travel pack tissue, 3 pcs.cloth mask, 1-pc.-notebook, 1-pc.-ballpen and 1-pc.-short plastic envelope.

Photos by COSCA-PNDP