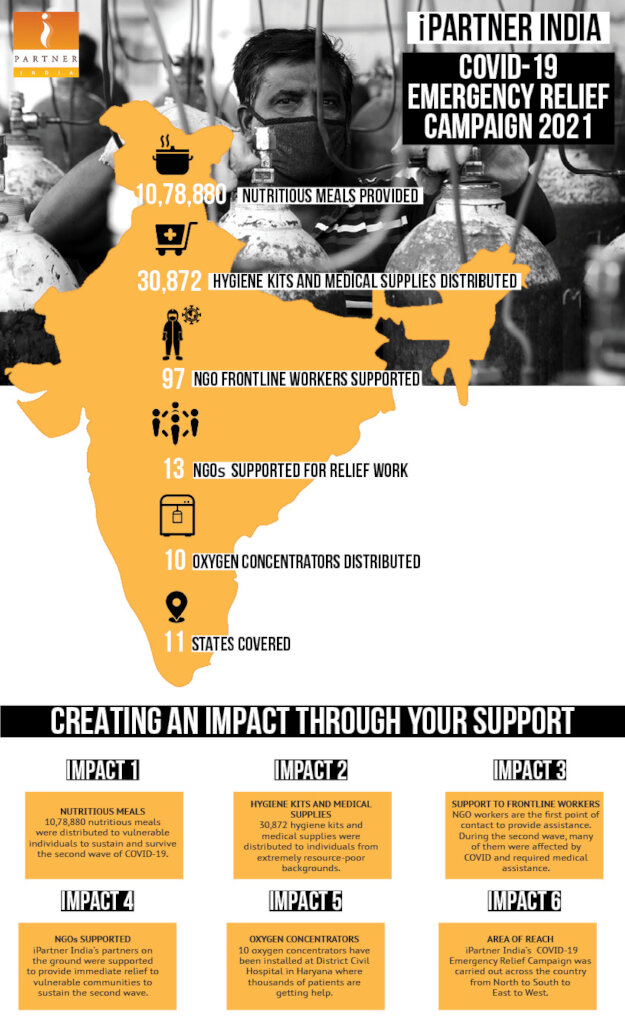 Dear Global Givers,
Thank you for your sustained support towards iPartner India COVID-19 Emergency Relief Fund. Through this update, we are happy to present the impact of your donation and how far we have been able to support vulnerable communities through your support.
Besides the loss of human lives, unemployment and loss of livelihood continue to affect the poor. We are continuing to monitor the situation on the ground and help those families that have very little to survive on.
Here's one such story where iPartner India has reached out to and continues to engage with Meena's family and provide support whenever they need it.
Meena (name changed) is from the Nat community, a community that practices inter-generational sex work. She has two children, a daughter and a son. Her husband is an alcoholic and does not contribute to support his family.
Meena used to work as a domestic help in her village. Her son is 20 years old and was not doing anything. Through iPartner India's project Rakshan, he was supported to complete his 10th grade exam. Meena's daughter is also studying in 10th grade. She is bright and intelligent and is keen to complete her studies. When her daughter passed her 8th grade, Meena wanted to send her daughter to Mumbai to enter sex work so that she could earn and support her family. With continued counselling and support from the field team, Meena attended a gender training where she finally decided not to send her daughter to Mumbai.
Today her daughter is one of iPartner India's Rakshan scholars. Meena earned a meagre INR 2,000 per month through domestic work. But when the nationwide lockdown took place, many of the girls came back from Mumbai and they started doing all the household work themselves. Hence Meena lost her only source of income. The responsibility of taking care of her family rested on her. Buying rations for the family became very difficult. She had to borrow money to buy food but could barely last for ten days. She was in a crisis and there was nobody to help her. Meena's husband lives with his mother and although he has a Public Distribution System card, which gives them access to Government aid, he refuses to share it with his family. Through iPartner India's COVID-19 Emergency Relief Fund
campaign, Meena received food and medical supplies to help her family sustain themselves during the second lockdown.
Thank you, Global Givers, for walking this journey with us.
With deep gratitude,
Team iPartner India