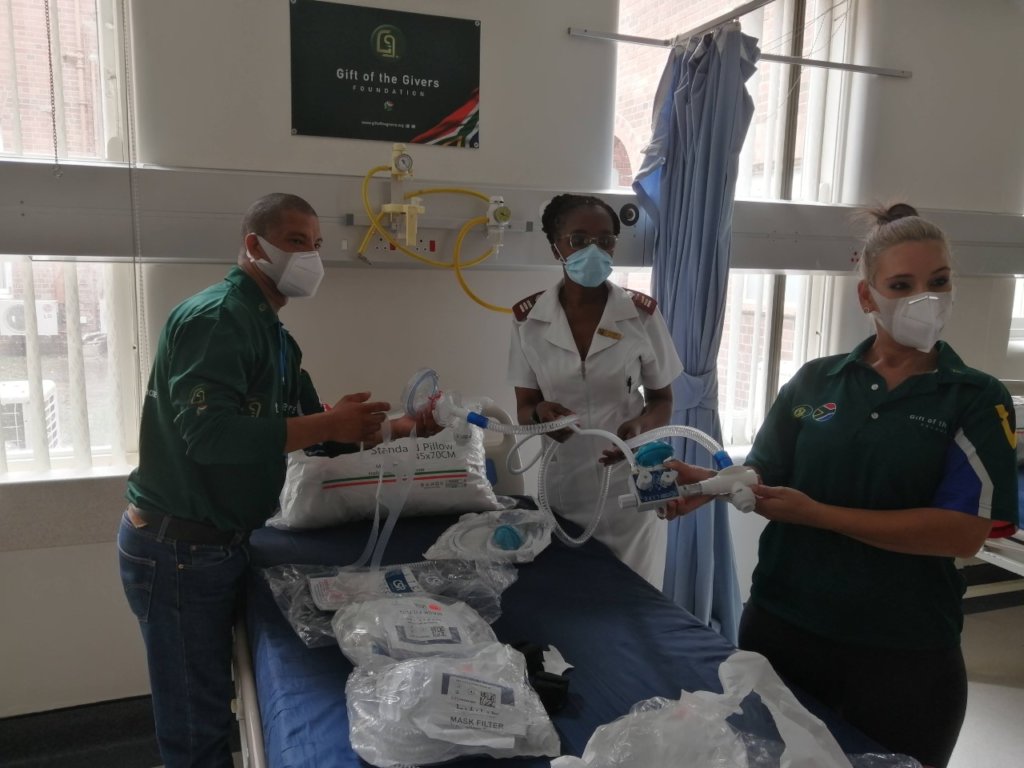 The COVID-19 Pandemic is unlike any other disaster Gift of the Givers has encountered in its 28-year history. Such was the unprecedented nature of the virus, its spread and threat of death, it became clear that government alone was not going to be able to deal with it. Given that the pandemic constituted a health/medical disaster, the response by Gift of the Givers was both comprehensive and designed to cover both identified medical and humanitarian needs. As a leading disaster relief organisation, Gift of the Givers immediately made its resources available and became party to relief solution development and – as a locally-based non-profit organisation – opted to focus its attention on, primarily, efforts to assist in South Africa.
Gift of the Givers responded by rapidly developing and implementing a series of vital interventions, inclusive of:
Provision of medical supplies;
Availability of medical supplies;
Availability of medical equipment;
Triage;
Reducing the cost of testing patients;
Access to water; and
Access to basic supplies and provision of food.
We have delivered protective materials including masks, gloves, coveralls, Hazmat suits, head and shoe covers, sanitisers, reusable surgical gowns, scrubs, non-contact thermometers, pulse oximeters, intuboxes, triage tents, blankets, mattresses, pillows, hygiene, maternity and baby packs. We have provided medical equipment including video laryngoscopes and have commenced the roll out of seventy life-saving High-Flow Nasal Oxygen (HFNO) Machines. Our activities have benefited 200 hospitals and health centres throughout South Africa.
High-Flow Nasal Oxygen (HFNO) Machines are in some cases, the first line of defence, and in other cases, the last line of defence, before a decision is made to place patients on a ventilator. The survival rate on ventilators is not satisfactory, currently standing at 12 – 15%. With these HFNO we strive to reduce transition to a ventilator. The machines have the added advantage of being functional in a normal ward therefore the patient doesn't have to be placed in an ICU ward. KwaZulu-Natal is unfortunately one of the COVID-19 epicentres with healthcare facilities and staff under immense pressure to treat numerous cases on a daily basis.
Gift of the Givers R10 million refurbishment at Mitchell's Plain Hospital included converting a wing into a dedicated 60-bed COVID-19 oxygen facility. The month-long renovation has provided an immediate solution – and a permanent facility – for the hospital to utilise as may be deemed fit, post-pandemic. In addition, Gift of the Givers set-up a 120-bed COVID-19 facility at Bhisho Hospital in the face of rapidly rising rates of infection in the Eastern Cape. The hospital, which was receiving COVID-19 patients from Fort Hare and other regional facilities, was transformed into one of the Eastern Cape's dedicated facilities for COVID-19 cases and urgently required beds, screens, PPE and window tinting. Gift of the Givers was pleased to be in the position to assist with establishing the necessary COVID19 facility here, delivering 120 beds and mattresses and 200 pillows. We have carried out 20 000 PCR COVID-19 tests nationwide having set up dedicated teams for this purpose.
Drought is a major challenge. Fortunately, we have drilled 400 functional boreholes in the last two years that have benefited thousands. Currently in the Eastern Cape our water tankers provide 550 000 litres per week, Monday to Sunday, to desperate residents. The desperation has been more intense in recent days as water sources dry out. Hunger is a bigger crisis than COVID-19. Our call centres, emails and staff are flooded with requests for food. We have delivered aid to areas where children are eating plants to survive or eat anything that comes off a dump site. Gift of the Givers have delivered 130 000 food parcels in South Africa, and 40 000 in Malawi, Namibia and Zimbabwe, collectively. In addition, we are supporting a number of feeding centres and delivering fortified nutrient products to starving children.