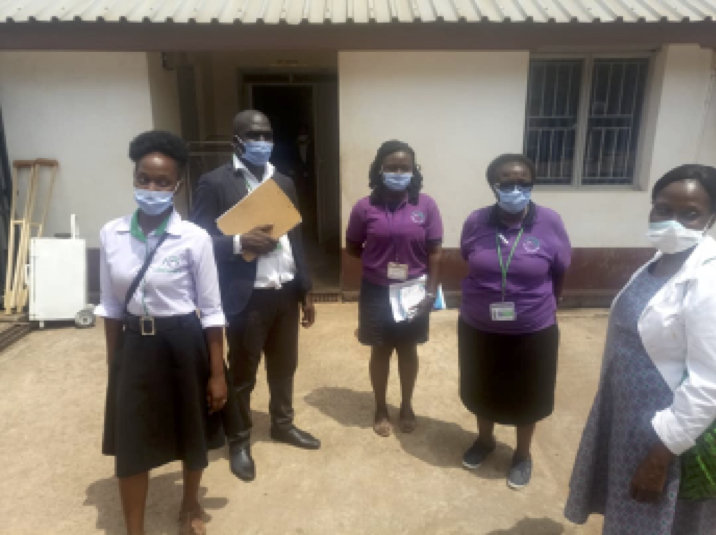 To all our dear supporters, donors and friends, greetings from all of us at PcERC/MMPCU and hope you and your families are keeping well and safe amidst the COVID-19 global challenge.
We thank you so much for responding to our call to support our work so our patients can continue to get the care they need during this difficult time.
With the numbers of infected persons and deaths continuing to rise every day, we are taking precautions to ensure that the team remains safe through following the guidelines and measures that have been put in place by the government through the Ministry of Health to control the spread of the virus; including wearing of protective equipment, hand washing and sanitising, along with physical social distancing all which the team have been able to do because of your support.
1.Patient care:
Through your support our staff have been able to get to work to continue with the service despite the challenges including the very high transport and fuel costs which we are now able to meet.
In the period June-August 2020 the team has cared for a total of 118 patients with 241 physical contacts with those in hospital while 260 contacts were by telephone mainly for follow up after discharge, bereavement support and continuity of care in the community.
We share with you a story from one of the patients that we have cared for;
Sarah (not real name) is a 33-year-old female and mother of three children 5, 7 and 12years. She was diagnosed with advanced cancer of the cervix who completed her Radiotherapy treatment in 2019. She was admitted to the ward at the cancer institute due to severe anaemia and urine obstruction. While there, she was referred to the palliative care team for pain and symptom control and counselling about her probable prognosis.
She has been reviewed regularly by our multi-disciplinary clinical team. With a good therapeutic relationship, we visited her and her sister (caretaker) regularly. She was able to share her concerns and worries regarding her illness and their social circumstances which included not being able to get in touch with other loved ones, and not being able to provide for her father who was dependent on her, or her three children's basic needs and most importantly the fear of leaving her young children with no support when she dies.
She also had severe abdominal pain which was managed on oral morphine. However two days later she was constipated, because she could not afford to buy the prescribed bisacodyl which was then bought by the palliative care unit from the patient's support fund.
The volunteers provided psychosocial support through listening to her concerns and worries and also providing practical support including collecting drugs from the pharmacy e.g. morphine for pain relief, and also provided spiritual assessment and care. We managed to contact some of her family members and encouraged them to come and visit her in the hospital. she was overjoyed when her brother and other sister came to visit. This was an opportunity for a family conference co-ordinated by the palliative care team, giving then insights into the treatment outcomes and goals of care.
She was so grateful for the pain control, and appreciated the care and support. Sarah was eventually allowed home with community palliative care support for continuity of care and she had this to say as she bid goobye to us: "I had lost hope and wondered, if God still exits and hears my prayers, but you have given me hope and encouraged me to live on, knowing that I have friends like you who care about us and love us. Thank you for always visiting me I feel loved and cared for. You are part of our family now and you mean a lot to us. I know you are God sent so even when I die, I will know that God sent me his angels to walk with me on my journey back home. You know when we die, we go back to our father, but before you die, the journey can be long and frightening. Thank you for walking with on my journey. May God bless you so much, you are the God sent angels and I now have peace
2. Online learning and discussion:
In this period, we have attended a number of online discussions that are being organised by Palliative care providers worldwide including;
7th July - Improving access to palliative care for the Elderly in Uganda organized by the Palliative Care Association of Uganda (PCAU)
7th July- Disability and Palliative Care in the COVID-19 Era organized by the African Palliative Care Association (APCA)
16th July- Palliative Care & COVID-19: Webinar #14 - Risks, Challenges, and Opportunities for Fundraising during the Pandemic
17th-18th July - Webinar on Paediatric Palliative Care organized by Kawempe Home Care (KHC)
1st August - Webinar on Palliative Care – The solutions we never knew we had (Effectively responding to COVID-19 while strengthening health systems)
28th August - PCAU update meeting
28th August - Palliative Care Research in Africa: Consensus Building for a Prioritized Agenda by APCA
Webinar on "Controlled Human Infection Challenge Studies: Lessons from Malaria towards COVID-19"
Key Populations and access to comprehensive chronic care in the COVID-19
Our volunteer coordinator Toko who supports the Sanyu Ministy (developed with support from our International Partner Cairdeas International Palliative Care Trust to serve the needy in Naguru China Hospital) in partnership with Lugogo Baptist Church (who are also our partners) shared live on facebook the impact of the Sanyu Hospital Ministry to the Naguru community. This happened on the 26th August as Lugogo Baptist Chruch celebrated 30 years of existence. It was a very good conversation that was well attended and below, we share some of the comments from the viewers.
"Weldone Sanyu support ministry, being available for those that suffer is a ministry, thank you for serving God in a special way"
"Thank you for sharing Toko, the work that you are doing is making a massive difference to those who are in need"
"Thank you for sharing your heart, a heart full of compassion and servanthood. The lord bless and strengthen the Sanyu team"
3. Training:
On the 17th and 18th July we were invited by Kawempe Homecare to facilitate sessions for Health Care Workers (HCWs) including; Medical officers, Clinical officers, Nurses and Social workers on the topic; Symptom Control in Paediatric palliative care. It was a good training that was much appreciated by the trainees.
Thank you so much for taking time to read our updates, we will be sharing regularly and for more information about our work please feel free to contact us on; info.pcerc@gmail.com
God bless you all #stay safe