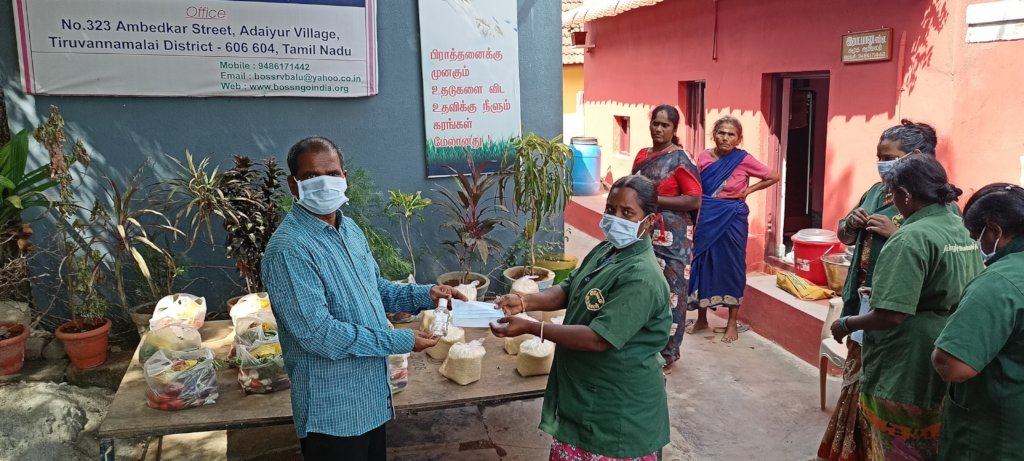 This project fund supported by GLOBAL GIVING .
The Corona virus outbreak virus disease (COVID-19) is an infectious disease caused by a newly discovered corona virus. The corona virus is a family of viruses that can cause a lot of mild to life-threatening diseases. It is the cousin of the more popular Severe Acute Respiratory Syndrome (SARS) virus.
Indian Prime Minister on March 23 announced till August 31 nationwide lockdown, meaning the country's 1.3 billion citizens -- except those engaged in providing essential services - would not step out of their homes.
Here at BOSS NGO, we kept wondering what role we could play during these times since most of our usual work has stalled. Towards the end of April, somehow things fell in place - The District Administration gave us the opportunity to play a role in providing relief to local vulnerable communities.
We hope you are keeping safe and healthy during these challenging times....
We realize that you may be receiving an abundance of Corona virus –related communications right now. Yes, we too feel the same way. Enough of the negativity, let's look at the bright side of things.

Things are not that bad. We are spending more time with families & loved ones, which we otherwise push aside. We are witnessing how humane we can be – sharing, caring and fulfilled with what we have. Knowing that everyone is there for each other just makes the lockdown look like a good thing.

However, here, Our Tiruvannamalai District is witnessing the quietest summer in recent times. Many are enjoying the amusing silence.
The birds are flying more freely and the gaurs are grazing in peace.

Herewith making a humanitarian appeal to your esteemed organization and this appeal is on behalf of the poorest of the poor category of our population.
Under the current circumstances and as result of the lockdown, the lowest strata of the society, comprising of daily wage workers, agricultural coolies, workers in brick kilns, stone quarries, construction workers, contract laborers, street vendors have been the worst hit. These groups have lost the only source of their income and have no means to make both ends meet or provide food for their families.
We need more External Funding sources or Guidance for our rural community development activities.
Kindly support our Covid Relief activities. Thanking you. Thank for your previous suppoort .
Name : R. BALU.
Position : Executive Secretary.
***********************************************************************************************************************