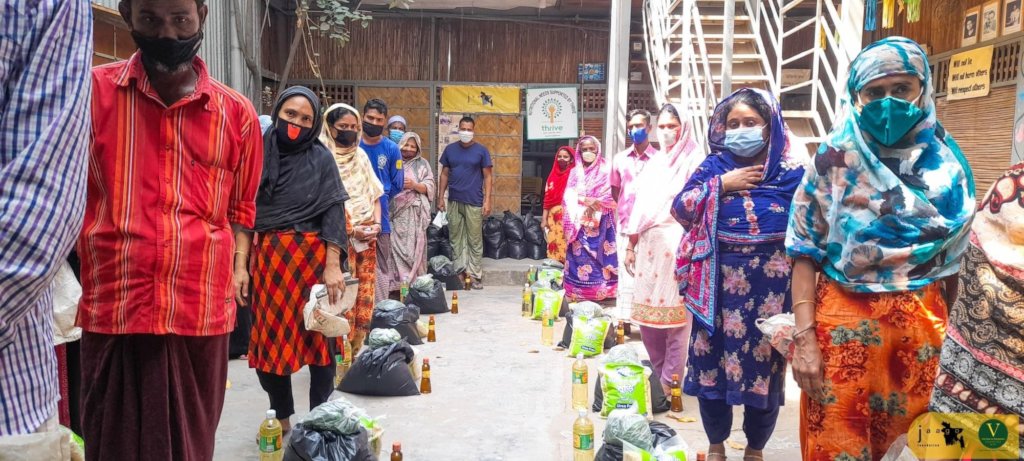 Coronavirus has a devastating effect all over the world. Thousands of innocent people are dying due to this, and the number of infected people is increasing day by day. Poor marginalised, daily wage workers are losing work and not getting food & basic needs due to financial constraints. As a result, they suffer from adverse effects and their life is becoming worse.
The second wave of COVID-19 has already hit our country. So there is an increase in the detection of new cases and deaths due to the infection. Our government is tackling the upcoming surge. But that is not enough. By maintaining proper safety measures, we resumed our relief activity again to help the ones in need. With your help, we were able to help the marginalised communities once again.
For the last few months, during the lockdown, our volunteers worked day and night to end the sufferings of thousands of underprivileged families all over Bangladesh. In Ramadan, we collected Zakat and used them to provide food for the ones in need. Along with food bags, we also distributed Iftars so that people could break their fasts on time with food. This was only possible with the support you have given us. Together, we could help get life-saving food to the children and families who needed it the most.
A few days back, when we were distributing food bags in one of the slums of Dhaka, a boy, aged 14, came to us and broke into tears. The only earning member in his family, his mother died due to COVID-19, and now he has to look after his only family, his sister. Because of your continuous support, we could help him. But is it the end? Are we done helping? Not at all! We need to unite together and help more people to survive. And we cannot do this alone. We need you now more than ever.
Endless Gratitude
During this pandemic, JAAGO Foundation has been working extensively to solve problems and take necessary actions through various activities. Apart from distributing food packages, we are also raising awareness about the prevention of Coronavirus. We are fighting with an invisible force, and it requires enormous motivation and willpower to get things done during this crisis period. Your support will be our force towards working more efficiently for the marginalised people. Our endless gratitude to the kind souls and the organisations who have helped us reach this far. We look forward to your support!