Project Report

| Aug 4, 2021
Andjela Thanks You and Promises to Help Others in Future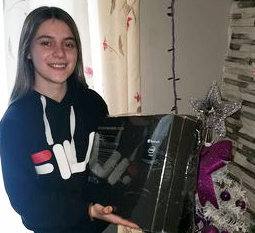 Andjela S. is a 17-year old girl who has never asked for more than she absolutely needed although in many ways she has been more vulnerable than her peers and others affected by the virus.
Being a fourth child in a displaced family where making ends meet is a daily struggle, Andjela is used to sharing and living with less than what other teenagers have. With the start of pandemic and schools closing down, she was one of those young students who did not have a single smart device within the whole family to enable online learning. Her parents who had been earning money by working in the other people's fields, could not find any work because of the lockdowns. It was your donations and our prompt reaction that enabled Andjela and her siblings to complete successfully the school year. We bought a laptop and provided them with other stuff essential for online schooling.
Already wearing glasses and spending most of her days in front of the screen made her develop mild epileptic seizures in spring which required regular visits to the doctors placed in another town. Living with insufficient funds and at the edge of poverty, her family couldn't manage to follow doctors' instructions, regular monthly examinations and medications.
Here again, it was your support that enabled our daily communication with her, following her medical condition and ensuring that Andjela has all the medication needed, all tests done when scheduled and all measures taken to improve her condition.
Andjela is healthy and happy now, preparing for her senior year at high school, but also very determined to help us as a volunteer in the field. "In future, I want to do what you are doing! I want to show children who are suffering poverty, who are affected by any disaster, that there are people who are having their back, who want to and can help these children overcome difficulties. If you let me, I will work with you first, and maybe one day, I will have an organization to support other children", says Andjela and adds: "I want the people who are donating for me to know that as soon as I start working, I will be always giving for others. This chain of support has to go on and those helped, always need to find a way to help others".
We at Pomoc deci cannot be more proud of Andjela and her beliefs, but we also know that she herslef still needs a lot of our support!
We know that the times are tough and that the whole world is trying to cope with the consequences of the pandemic, but as Andjela puts it, we need to keep the chain of support going, so, please, donate if you can, or simply spread the word and let your friends and colleagues know that they can also be part of our joint effort to help the children make through the pandemic with as little trauma as possible.
Links: