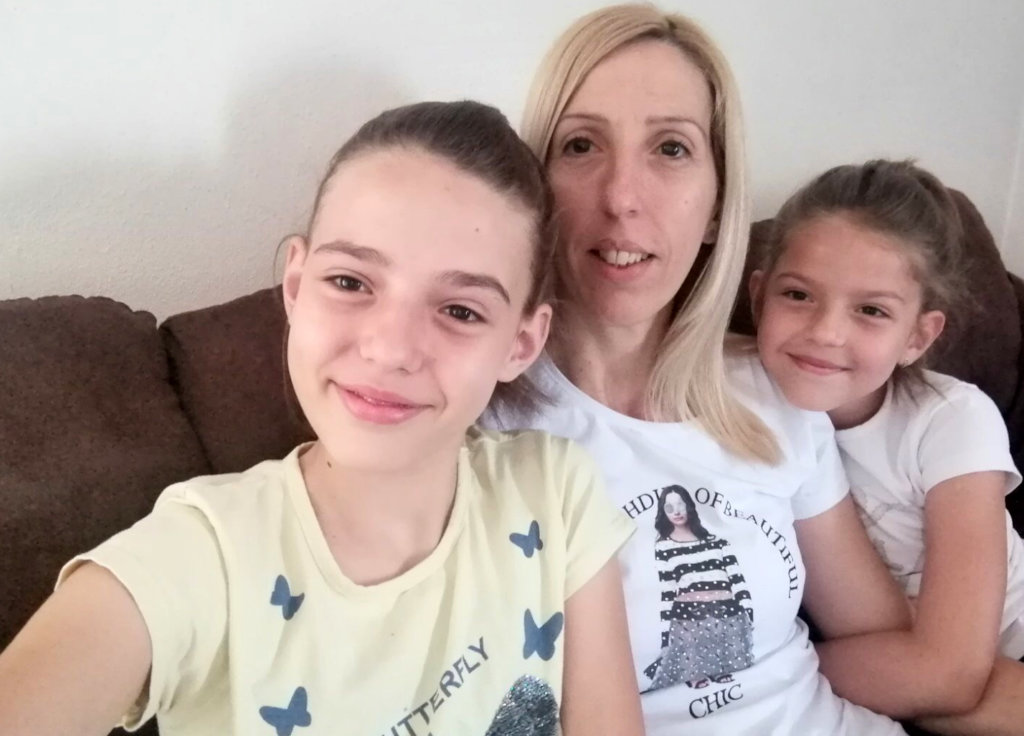 How are you? We hope you and your loved ones are safe, wherever you are in the world.
So far, we have been able to help 71 children receive food and personal hygiene items that are so very much needed, but the number of families who need help, who have lost their jobs, is immense. When children go back to school in a couple of weeks, parents will have to pay for personal protective equipment themselves. When you are unemployed and relying on government assistance, it is almost impossible to also spend what meager income you have on masks and personal hygiene items.
Sanja is a single mom from the Kragujevac area who sadly lost her husband five years ago. Since then, the family has struggled greatly. She works a minimum-wage job at a plastic processing plant, trying to make ends meet. On top of being a parent and providing for her two daughters, Mina and Lena, she is also the primary caregiver to her sick mother-in-law. All in all, a very difficult situation for the family. Living in a single-income household makes it that much more difficult to afford some of the even most basic necessities.
In a couple of weeks, her daughters will head back to school as there is no one to care of them while their mother is at work. This means that they will also need to buy protective masks among other school supplies that are already very expensive for them.
Sanja is incredibly grateful for the support she has received from Pomoc Deci, which was made possible by your generosity and the generosity of people like you. "At least I do not have to worry about what my children will eat. At least they have a guaranteed meal," she says. By providing masks, personal hygiene items, and some money to help pay for utilities, Sanja can pay for their groceries and feed her little angels and their grandmother.
The help that we get from individuals like yourself, helps families like Sanja's immensely.
We rely on word-of-mouth promotion to crowdfund for families across Serbia. To amplify our message, please consider sharing the story of Sanja and her family with your friends, family, and colleagues, and encouraging them to support children's well-being and education. Donations allow us to buy personal protective equipment, pay for utilities, and help families to get back on their feet while weathering the effects of the virus.
As an extra incentive to donate and help, your donation will have double the impact if you set up a recurring donation. Throughout 2020, GlobalGiving will be matching your first recurring donation.
Don't hesitate. Donate today.
With love,
Pomoc Deci team
Links: