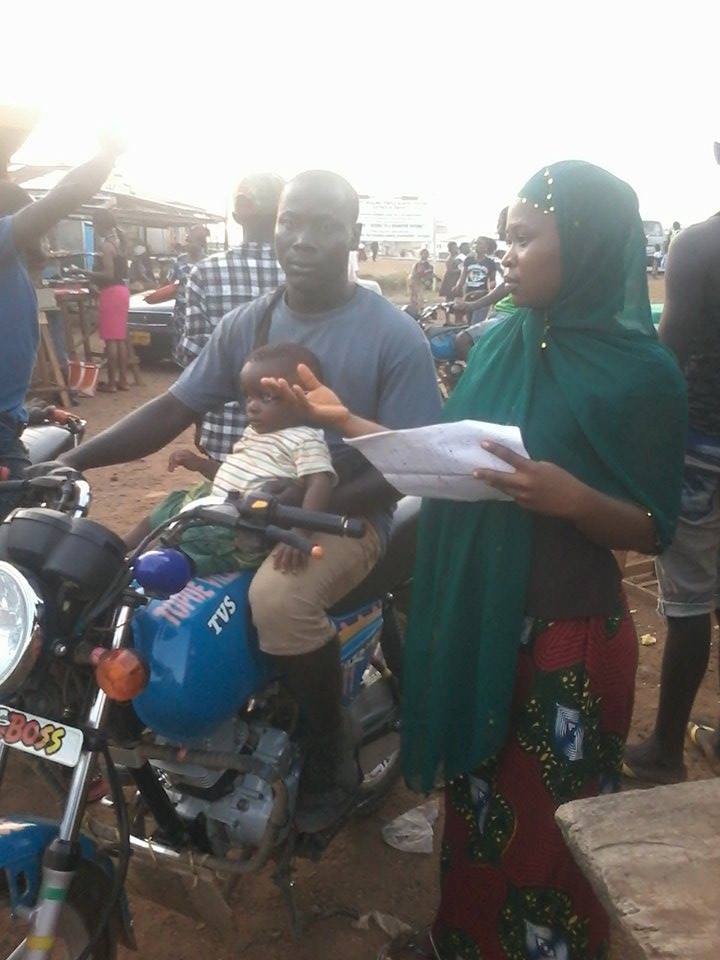 The Gbowee Peace Foundation Africa (GPFA) continues its efforts to infuse support to Liberia's slum communities in the fight against the deadly EBOLA epidemic. GPFA is happy to have had the opportunity to be able to work directly with Community-Based Organizations in local communities as early as back in July of 2014, and, as the EVD continued to claim so many lives, leaving behind bad memories. Since January 2015, GPFA's focus is now on promoting non-complacency throughout the country. The message being carried out is that community dwellers should not be complacent about any part of the prevention protocols prescribed by the World Health Organization (WHO), the Center for Disease Control (CDC) and Liberia's Ministry of Health (MoH).
Spreading the Message of Non-Complacency:
The Foundation is doing that by providing mini-grants to community-based organizations, local media institutions (Radio/TV/Newspapers) and rural-based radio stations to support outreach efforts jam-packed with messages of non-complacency in slum communities to totally eliminate the virus out of the country. As the first-responders in the fight against EBOLA, these CBOs take the lead in ensuring the message goes out to residents. This community based approach also allows communities to take ownership and assume responsibility for their safety. As the amount of cases continues to drop to a phase where we are hopeful of a zero new cases status soon, it is becoming glaringly clear that our CBOs-Media Outreach approach - outside of direct medical care – was the most effective fight put up against the EVD. This process thus proved satisfactory and is fast becoming the national success story against EBOLA.

Successful Re-Direction & Implementation:
GPFA's supported CBOs have been on the front line of these vigorous awareness campaigns on the danger of EBOLA. They were very successful in implementing our Ebola Initiative through a Jehovah-Witness-Styled door-to door public awareness process in 12 of Liberia's 15 Counties - including: Montserrado, Margibi, Bong, Nimba, Grand Gedeh, Bomi, Lofa, Gbarpolu, Grand Cape Mount, Grand Bassa, and Rivercess. To date, the hard work carried out by the local and rural-CBOs and media institutions has been very impactful in the reduction of new cases of the EVD and the eradication of the ensuing death rates that comes with the territory. GPFA's redirection of its Ebola Initiative to supporting a campaign of non-complacency is due to the fact that Liberia has as yet not been confirmed EBOLA free.

Renewed Efforts to End EBOLA

Between January and March of 2015, the Foundation re-granted 20 CBOs and 4 Motor Cyclists Unions in Montserrado. The grant was geared towards GPFA's EBOLA Non-Complacency Campaign as well as support for our No New Cases Wellness Validation. This time around, the main focus for the CBOs was public areas like the general Market places, Public transportation hubs, and school communities. The CBOs supported by our Ebola Non-Complacency Initiative disseminated information, held public forums and counseled community dwellers to continue all the preventive and safety practices even beyond the day that Liberia is declared an EBOLA free state. Emergency health supplies and other hygiene materials are also being distributed during the
campaign to community-based Health care centers.

Thanks to all our partners like you, who have not given up on us and who continue to support our fight in making Liberia EBOLA free!