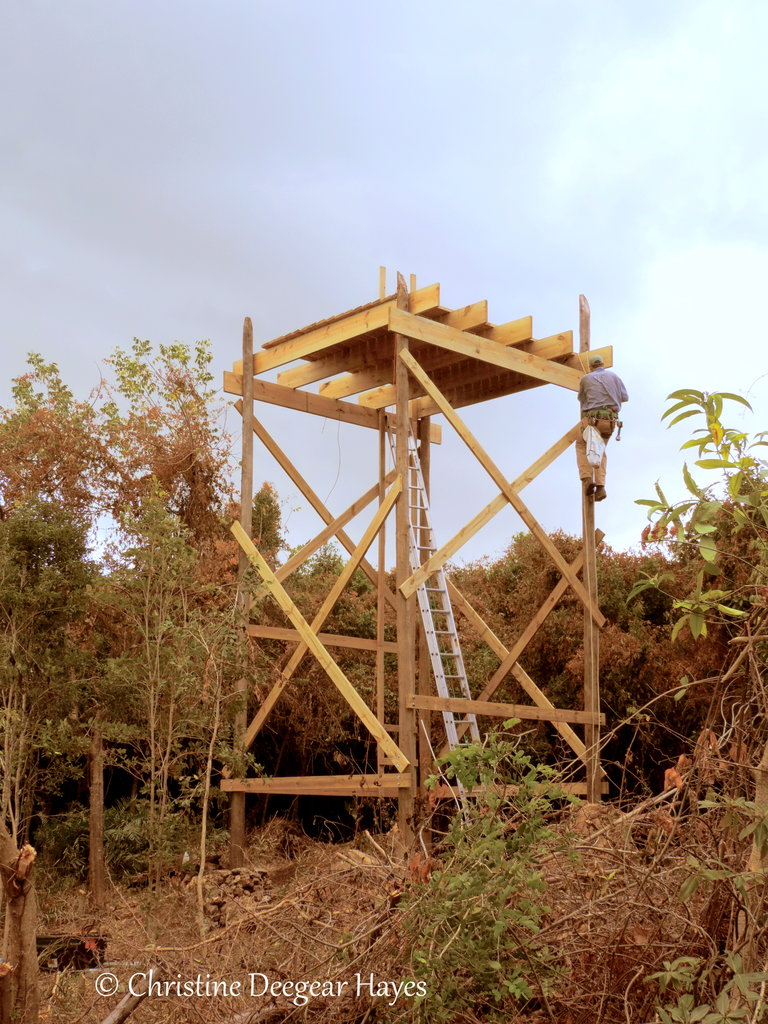 2014 is upon us and with it a new breeding season for the Ridgway's Hawk. Many pairs of Ridgway's Hawks in Los Haitises National Park are already incubating and here at the Puntacana Ecological Foundation we are anticipating that our Ridgway's Hawks in Punta Cana will soon be incubating as well. The pair of Ridgway's Hawks, AV and ND, who raised a chick here last year have been observed taking fine materials to their nest (a sign that it is near completion). They have also been observed copulating and we are excited to see what the coming nesting season will bring for them.
B-44 (short-hand for right leg banded Blue 4 over 4), the offspring hatched last year by AV and ND, is a beautiful juvenile this year. He has been wandering the area as most young hawks do when they are surveying the available land before establishing a territory. B-44 has been spending time with another single male in the area, AR (released in 2011); they have been observed flying together on their way to separate roosts in the evening.
We recently discovered that AN, a young adult male Ridgway's Hawk released in 2012, has moved his territory and paired up with SN, a female released in 2009. This is the first time we know of that SN has had the opportunity to be with a male. She and AN have been taking nesting materials to a palmchat nest in a royal palm that is located in the front yard of a large house here in Punta Cana. This is a great example of how easily these hawks can live in green urban and suburban areas when they are not persecuted by people. These hawks feed on rats, mice, snakes, lizards, skinks, birds, frogs, insects, and bats so they are able to support themselves readily both in wilderness and urban habitat. AN and SN have also been copulating and nest building so we are eagerly awaiting the results of their breeding efforts this season as well.
Aside from monitoring the Ridgway's Hawks that are already in Punta Cana, we are looking forward to a great release season this year. We have been preparing a new release site in Punta Cana to help meet our goal of releasing 15 to 25 hawks this season. Last year we did not release any new hawks in Punta Cana because we wanted to put more effort into environmental education within the surrounding communities and also allow time for the electric poles in the area to be retro-fitted with t-perches to make them safer for perching hawks and other birds. In 2014, our educational outreach program will include efforts by a new project partner, Fundacion Propagas, who will be heading up a national education campaign to raise awareness about the Ridgway's Hawk and the amazing conservation work being done with this species.
Last year The Peregrine Fund focused efforts on the main population of Ridgway's Hawks in Los Haitises National Park. They monitored nesting pairs of adults as they have for many years and with the help of the Santo Domingo Zoo (ZOODOM) they came up with an effective treatment for the prevention of bot-fly infestations in nestling hawks. In the past, bot-flies have been associated with high mortality in nestling Ridgway's Hawks. This treatment of nestlings has been credited with an increase in survival of nestling hawks to fledging age from 50%-60% in previous years to about 83% in 2013. This is great news for the Ridgway's Hawk since it will make more nestlings available to release in order to create a second self-sustaining population here in Punta Cana.
During the 2009 to 2012 hacking seasons the project released about five birds per year as a sort of pilot program to help work out any complications involved in the hacking of Ridgway's Hawks. Now that there are two breeding pairs from the released birds in the Punta Cana area and we have had a chance to address the highest causes of mortality, it is time to begin releasing larger groups of birds. The Peregrine Fund is investing heavily in the conservation of the core population in Los Haitises National Park and as a result, more nestling Ridgway's Hawks are available for release. It is vital to the conservation of the species that a second, self-sustaining population be created and now with two nesting pairs in Punta Cana, we are on our way to doing just that here on the eastern end of Hispaniola. With so many positive things happening for the Ridgway's Hawk we are very excited to see what the coming year will bring!
Please, if you are in the position to help, won't you join us in our quest to conserve this unique and very rare animal?
This report was written for the Puntacana Ecological Foundation by Thomas Hayes and Christine Deegear Hayes, Ridgway's Hawk Project Biologists, The Peregrine Fund.