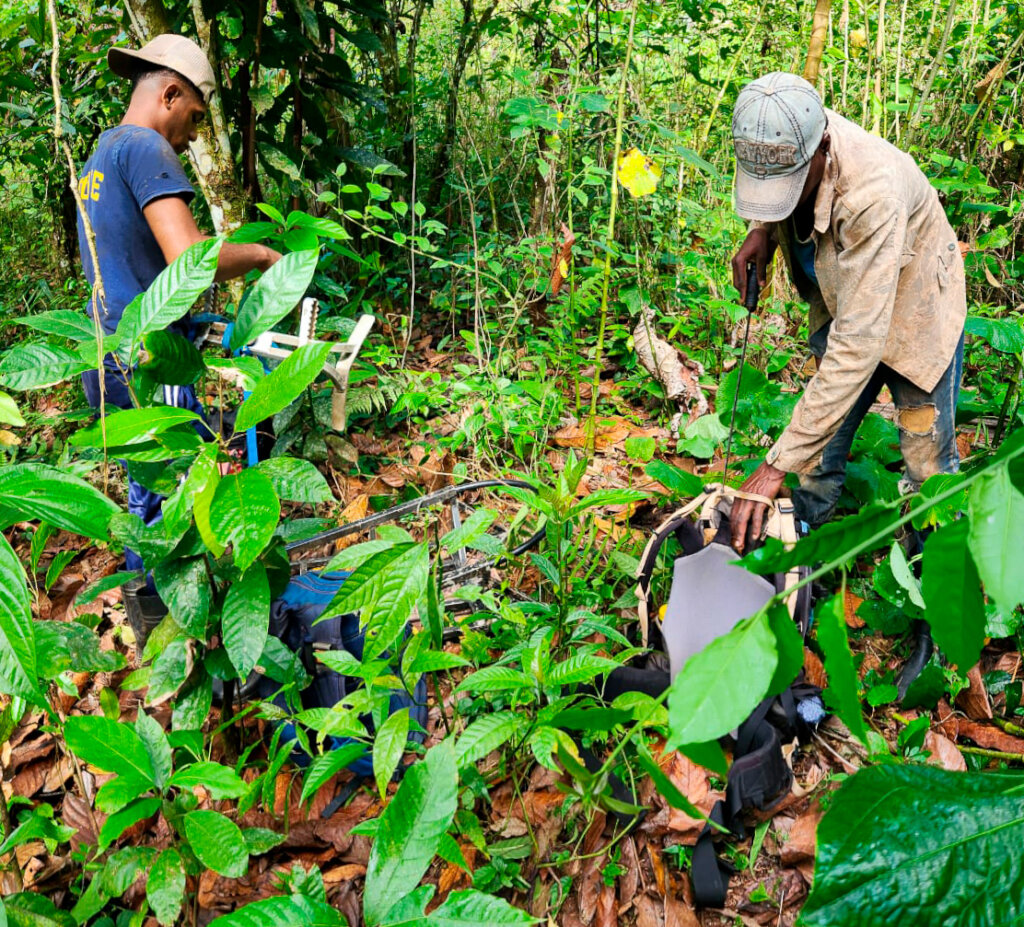 Our 2023 nesting season is in full swing, our first Ridgway's Hawk nestlings of the season have hatched and with them, the hope of recovering a species from the brink of extinction. Our field crews are monitoring known territories, visiting active nests, and searching for new pairs that may have settled inside the forest.
The community of Los Brazos in Aniana Vargas National Park, represents our most recent attempt to establish another population of Ridgway's Hawks outside of Los Haitises National Park. Last season we had the first successful hatchlings since the beginning of the releases in this location, and this year we have already found new pairs making a total of 5 territories, which is incredibly exciting. This marks the path forward and provides the opportunity for this population to grow. Along with assisted dispersal, we hope the population at this new site will become self-sufficient.
Los Haitises National Park has given us the first nestlings of the season. We were able to observe two small and healthy young hawks on the 1st of March. Our team celebrates this birth and hopes that the community around the park will welcome these new members with joy. But things don't stop there, we are also receiving university students interested in knowing the extent of the project, how it is developed, their participation in community development and the human side of it. Part of the work of the field teams involves walking for hours through the forest, entering the depths of the park, under very changeable weather conditions, which is why seeing the first nestlings born in the season serves as extra motivation.
Punta Cana continues to show that our efforts to preserve this species are paying big dividends. We have found 2 new pairs, making a total of 32 territories. This year promises to be another successful nesting season, adding many more juvenile hawks to the area!
Our team is making daily patrols to ensure that the nesting process continues unhinged. Our Ambassador Hawks continue to make some visits to schools, giving students the opportunity to interact directly with them, learn about their characteristics, their behavior and above all, their importance in maintaining a healthy ecosystem. This year we have exciting things in store for environmental education. May is almost upon us to celebrate Ridgway's Hawk month and as usual we are organizing the second Ridgway's Hawk festival in conjunction with our project partners and other organizations who contribute to the conservation of different species in the Dominican Republic. In addition, we will also start with the surveys for our national campaign with the hopes that every Dominican can know, identify and protect the Ridgway's Hawk as part of their cultural and environmental heritage.
We will continue to work to recover the population of this amazing bird and we are grateful that you are with us along the way!