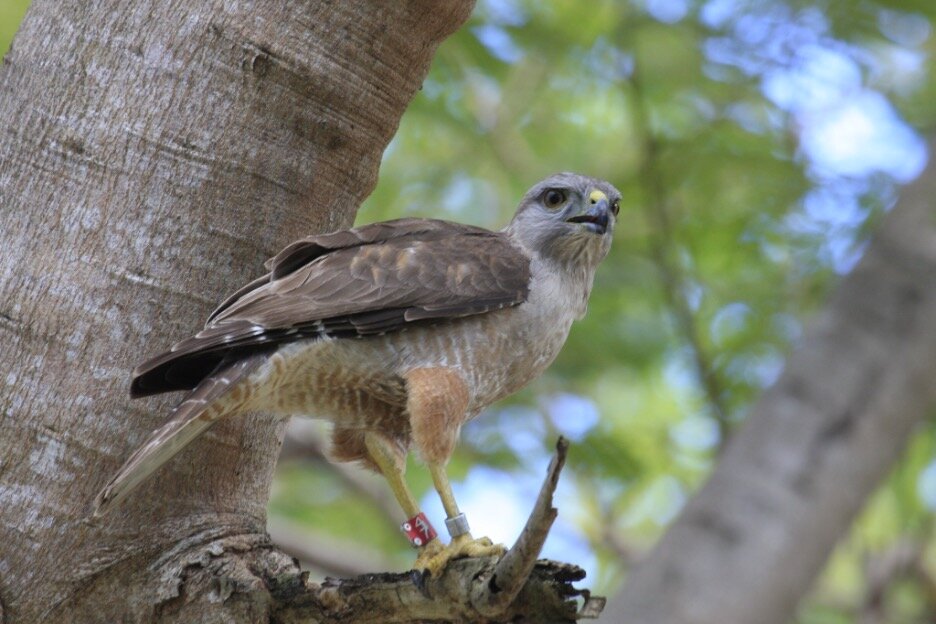 November Report 2022
A stormy ending of the 2022 nesting season
The 2022 season is over, but this does not mean that the work is finished. In the few months left of the year, we are busy organizing everything we need for next season. This year, the Ridgway's Hawk Team monitored a total of 169 pairs of hawks and helped 139 new young hawks take to the skies. This is very exciting news and definitely gives us a lot of hope for 2023.
Punta Cana
By the end of the 2022 nesting season, our staff in Punta Cana had monitored a total of 26 pairs of Ridgway's Hawks, with 21 of them attempting to nest, 26 young hawks that fledged this season.Once again, this sets a new productivity record for the project! The last two nestlings were banded in front of the Puntacana Foundation with the presence of the Grupo Puntacana Foundation's President, Mr. Frank Rainieri.
Though there was a lot to celebrate this year, there were also many challenges. Sadly, Punta Cana was struck by hurricane Fiona at the end of the season, taking a toll on the vegetation that serves as home for the Ridgway's Hawk. We lost a considerable number of palm trees which provide nesting sites for these hawks. Only time will tell how the biodiversity, including prey for the hawks, has been affected. Despite of all of this, we know the Ridgway's Hawk is a resilient species, and we are hopeful the hawks will have another successful nesting season in Punta Cana next year.
We also keep improving our Ambassador Hawk project which is proving to be a great success. Our goal is for more visitors to be able to interact and share experiences with birds of prey up close. How cool is that? At the same time we hope this aspect of our project will make it easier to raise awareness about the amazing work that we are doing with our partners. In addition, we are creating the space and capacity to do small scale raptor rehabilitation at the Grupo Puntacana Foundation.
Los Brazos
This year's release site was a total success!. Twenty five new young have now dispersed into Aniana Vargas National Park. We are excited to watch as this new cohort begins to find their own habitat, nesting partners, and eventually have young of their own.
After several months of monitoring the release site, it was clear that the young hawkshad become independent. They were no longer returning to the hack box to eat. This meant that they were successfully finding their own food! Thus,we considered our third release in Aniana Vargas National Park a success. We're also glad to report that the first successful nesting pair at this site has fledged two beautiful nestlings. It's a great starting point for the coming seasons and makes us extremely excited about the relationship between these 25 new hawks and the people who live around this national park.
Los Haitises National Park
Our teams keep growing each season. This year we had two new volunteers from Los Limones community working for the project. They got to learn new skills and be part of the conservation in their areas.
Our crews have had a really successful season, even though they faced many challenges in the field. The weather played a crucial role in the productivity of the hawks and made the hikes to the nests even more difficult. Frequent rains negatively affect the hawks and sometimes young nestlings even drown. To reach remote areas in the park, knowing the risk the rainy season represents, our crew helped with disaster mitigation and prevention throughout the communities, as well as environmental education activities. Despite these challenges, they still monitored 111 new fledglings this season!
Important activities
On the education side, exciting things are on the way. This month we visited St Michael's School in the national district as part of our education program. Seeing the excitement in the children's faces when they interacted with our ambassador hawks is priceless. We hope we can visit these schools frequently and include many others.
In other really good news, we visited the National Zoo to shoot some videos for our new collaborator, Bolitos & Candin Enterprise, as part of their new Endemics Collection where the Ridgway's Hawk plays a critical role. This company specialized in the production of organic chocolate and coffee. This partnership could expand our education efforts to new areas in the northeast of the country as well as increase the awareness of the conservation status of our endemic species.
Through this season we have been rehabilitatingand taking care of several raptor species where most of them have been released back into the wild.
It's been a long season but the next one is right around the corner and we are all busy getting ready for it. Thank you all for your support!