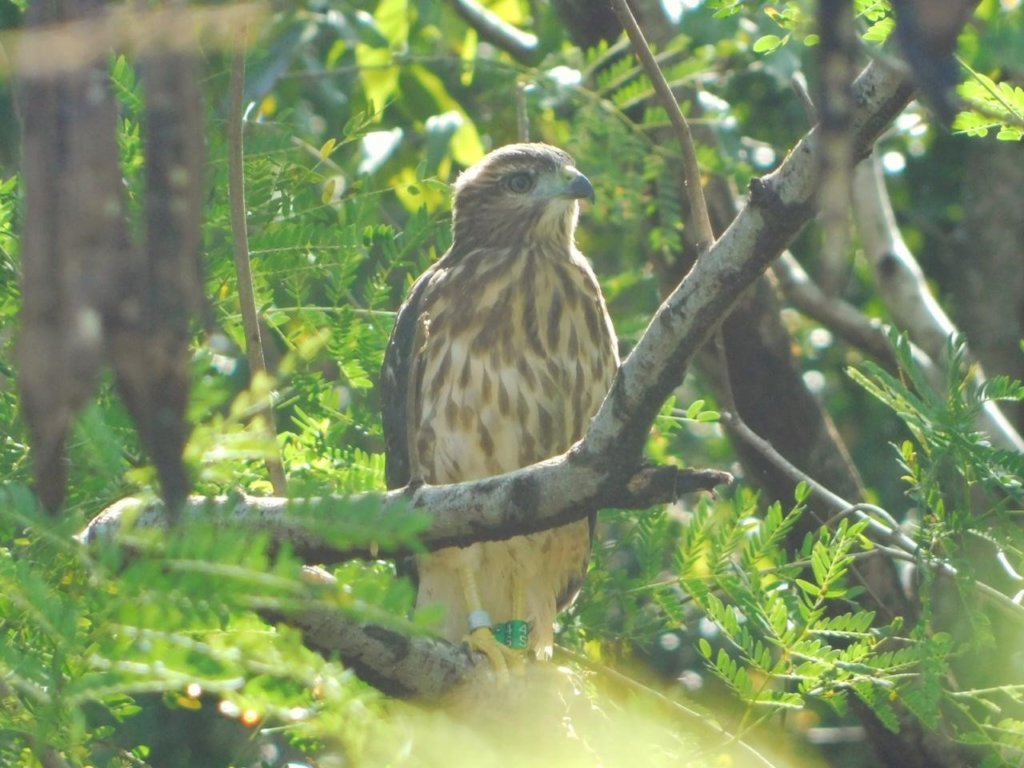 It's June 22nd and the Ridgway's Hawk season is coming to an end. After a great start to the season, Covid-19 entered our lives and we had to adapt our work to the new normal. We're very happy to say that despite all the changes, we have been able to continue our work in Punta Cana without any major problems. In fact, this has turned out to be the best nesting season on record for wild Ridgway's Hawks in Punta Cana.
The season started off with a bang! Most of the pairs of hawks began building their nests and copulating very early in the season and we were excited to be, once again, working with such an amazing species.
Despite the pandemic we have been monitoring 17 established pairs of hawks, as well as a few lone males, and some juveniles from the previous year. It's always very pleasant to see these young birds doing well. So far, 17 young have fledged and two more nestlings will be banded soon. The hawks success this year makes us really happy and gives us great expectations for the future.
Another important part of the project is the Educational program, this part has definitely changed during the pandemic as we usually visit all the communities near Punta Cana. This year we have introduced new ways of reaching locals via Instagram live, zoom presentations and others platforms. It is our goal to reach and educate more locals each year and for them to learn about this endangered species so they can generate interest to preserve what's theirs.
Work in other project areas has continued this season as well, though we have had to limit some work in order to take precautions due to Covid-19. We have continued to monitor about 150 pairs of hawks in Los Haitises National Park. We asked our local team to work together, but maintain social distancing. About mid season, this meant that we stopped climbing into nests to treat nestlings for nest flies. We did continue all of our monitoring of these nests and it appears that without nest treatment nest success will be lower this season. Fortunately we were able to treat many nests prior to the pandemic causing us to alter our work plan.
In Aniana Vargas National Park, where we released 25 young Ridgway's Hawks in 2019, we have continued to monitor as well. Early in the season we observed some nesting behavior from a pair of hawks there, but after the nest they were building fell, they seemed to lose interest. This is actually normal behavior for younger birds. Often they will begin showing some interest in nesting during their first year, but they don't normally have nesting success. Their chances of success in nesting during their first year increase if they have a nest mate that is older, but since all of the hawks in this area were just released in 2019, that was not the case. We continue to get reports from our local crew in this area and they are seeing hawks on a daily basis. Hopefully we will see some successful nesting in Aniana Vargas National Park during the 2021 season.