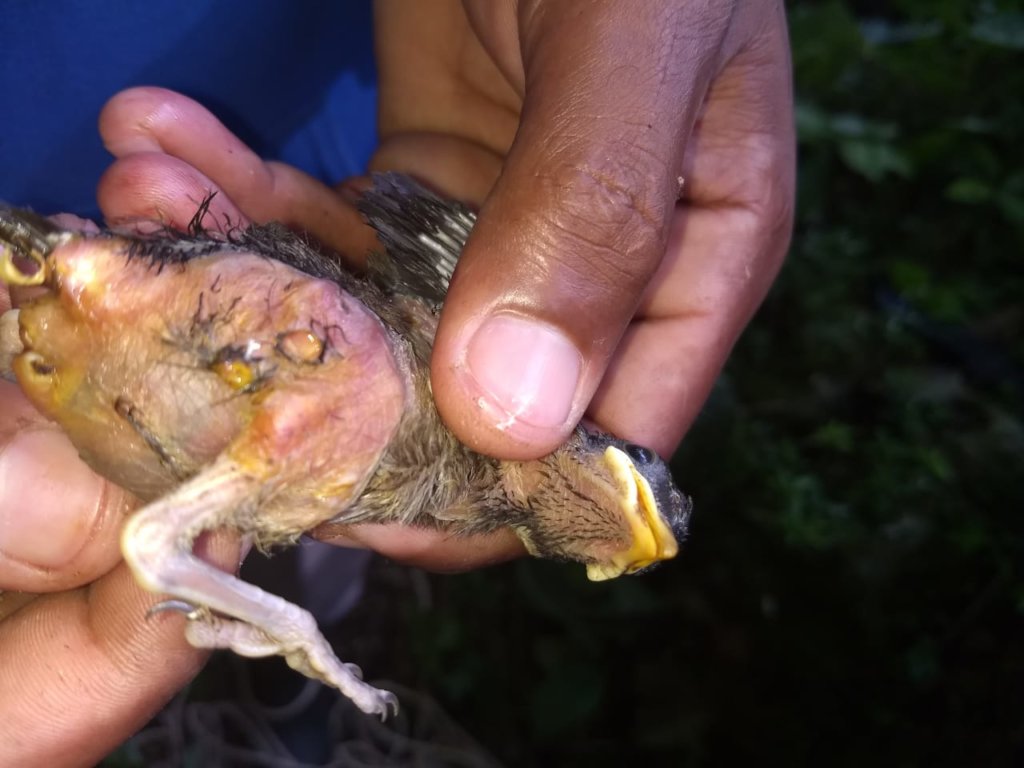 It´s June 5th of 2019 and Ridgway's Hawk nesting season is almost over. After a few busy months monitoring these hawks, we´re beyond happy to see the progress they have made in the first half of 2019. In Punta Cana alone we have a total of 18 pairs of hawks - including a brand-new pair we found this year. We also have observed several juveniles (hawks that hatched during last year's nesting season), which gives us great hope for the future of the species. Though some pairs are still incubating eggs and others are caring for nestlings, the pairs at Punta Cana have fledged 10 young so far this year.
The population in Los Haitises National Park is also doing very well. Our local teams continue to work hard to find nesting pairs, treat young for parasite infestations, and educate locals about the importance of the hawks. Because of their amazing efforts, we expect nest productivity rates to be the same or even better than last year. We will have a better idea of final numbers at the end of breeding season.
One of the main threats to Ridgway's Hawk survival is the infestation of nestlings by botflies (Philornis sp). The botfly larvae burrow under the nestlings' skin and feed on their tissue, muscle and blood. In order to better understand the prevalence of Philornis in Punta Cana, we conducted a planned experiment, wherein we left the first five hawk nests untreated for Philornis, to see if nestlings would remain unaffected. After closely monitoring those nests we noted that the majority of the nests were parasitized and just a few chicks survived. As expected in Ridgway's Hawks, which often lay replacement clutches, most of the pairs that had failed in their first nesting attempt are now incubating for a second time. We have treated those nests and so far, they´re doing very well. Also we continued developing less invasive techniques to treat nests and continued working to identify natural repellents for this parasitic fly. So far, tobacco has shown promising results and we will be conducting further experiments under semi-controlled conditions in the next few months.
Another important threat to Ridgway's Hawks is human persecution. So, a large part of our program involves environmental education efforts. This year, we visited several communities around Punta Cana and Los Haitises National Park - including a few new ones. It is always exciting to see how interested people are in learning more about Ridgway's hawks and their importance. As usual, during the last week of May, we celebrated "Ridgway's Hawk Day" with a number of activities and presentations in several different communities close to Punta Cana and Los Haitises National Park. Most notably, we worked with over 220 students at Escuela Basica de Juanillo. During the event, the kids had the chance to play some conservation-oriented games and paint nature-themed portraits of Ridgway's Hawks and other amazing birds. We were also joined by artist Nathalie Ramirez, who painted a beautiful mural at the entrance to the school, highlighting the beauty of Ridgway's Hawks and the school's pledge to protect them.
Since one of the main goals of our project is to create 3 additional populations of Ridgway's Hawks outside of Los Haitises National Park, we are happy to announce that we have begun releasing hawks in a new area - Aniana Vargas National Park. To get ready for the releases, we first met with local community members to share information with them about the hawks, as well as to listen to any concerns or questions they might have had about the project. We couldn't begin a reintroduction program without the full support of the nearby communities. Happily, we received overwhelming support and enthusiasm! So, our next step was to build two hack towers where we would house young hawks prior to their release. We began reintroducing young hawks to the area in late April and to date have released close to 25 hawks. So far, they are doing great. It is beyond exciting to be able to watch as these young birds quickly get used to their new home. Another remarkable aspect of this new site is that we have hired and are in the process of training five local young men and women who are working on the project. It is amazing to see how eager they are to learn, to protect this amazing bird, and to pass on what they have learned to other members of their communities.