Project Report

| Jan 15, 2019
The 2019 Ridgway's Hawk nesting season has begun!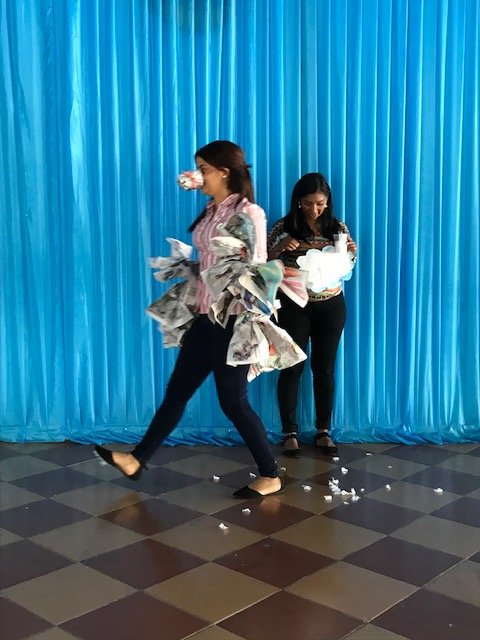 It's January 10th 2019. I arrived in the Dominican Republic late the night before with a terrible headache from traveling. Fortunately, I was able to get a good night's sleep and managed to wake up rather early this morning feeling refreshed and ready for the day. My plans didn't really include making observations of hawks that morning due to an immediate trip pending to Santo Domingo, but as I sat in the project office at the Grupo Puntacana Foundation, I could hear hawks calling just right out front. Not really a big surprise as there has been a pair of hawks who claimed their territory in front of the foundation for over three years now. I continued to hear the birds call off and on then a very specific call rang in my ear. A call that you only hear when the birds are copulating or mating. The 2019 Ridgway's Hawk nesting season has begun!
Times are changing fast on the Ridgway's Hawk project. As many of you know, we did not release any hawks in Puntacana during 2018. After finding a total of 19 pairs of hawks during the 2018 nesting season, we have decided to stick to the same plan. Instead, we'll focus our attention on monitoring these pairs so we can ensure that they are as successful at nesting as possible. With 19 pairs of hawks to monitor that will take a lot of time and dedication.
In other news, we have been looking at the future goals of the project and taking steps towards meeting those goals. One of The Ridgway's Hawk Projects goals is to establish three self-sustaining and geographically distinct populations of hawks, apart from the original population in Los Haitises National Park. During the last two years we have been surveying sites in the Dominican Republic in search of the next release site. Surveyed sites have included national parks, scientific reserves and private property. Out of more than 15 sites surveyed, we chose Aniana Vargas National Park as the next Ridgway's Hawk release site. Aniana Vargas is a relatively small national park encompassing about 130 km2. Like many parks in the Dominican Republic there are still people living within the park boundaries. This is really no surprise since the park was just created in 2009. The great thing is that the main cash crop is organic-bird friendly cacao or chocolate. Conacado, the cooperative that purchases cacao from local farmers, has a strict code of conduct which locals abide by in order to have the privilege of selling their products at higher prices. Some of these by laws include not littering, not killing wildlife, not polluting waterways, not cutting trees, and not using toxic chemicals or poisons. These helpful practices will go a long way towards protecting the newly released hawks.
As the Ridgway's Hawk releases expand, so must our efforts in environmental education. In Puntacana we learned that one of the best ways to multiply our efforts is by training people to educate others in their communities. In preparation for the upcoming releases in Aniana Vargas National Park, we hosted a 2-day workshop, in conjunction with Fundacion Cooperativa Vega Real, for 15 youth, teachers and park guards living and working in communities surrounding this protected area. Through dynamic activities including creating art using a raptor silhouette, constructing life-sized Ridgway's Hawks out of recycled materials, putting on a play, and participating in "raptor Olympics", participants learned how to identify some birds of prey found in Dominican Republic - including the Ridgway's Hawk. They also learned about the key role these birds play in maintaining a balance in the ecosystems in which they live, and what we can all do to aid in their conservation.
Our hope is that everyone who came to this workshop will return to their respective communities and share their new-found knowledge with friends, family, and neighbors, to help us further spread the conservation message and help ensure the protection of Ridgway's Hawks far into the future.