Project Report

| Aug 9, 2018
Signs of success and hope for the Ridgway's Hawk!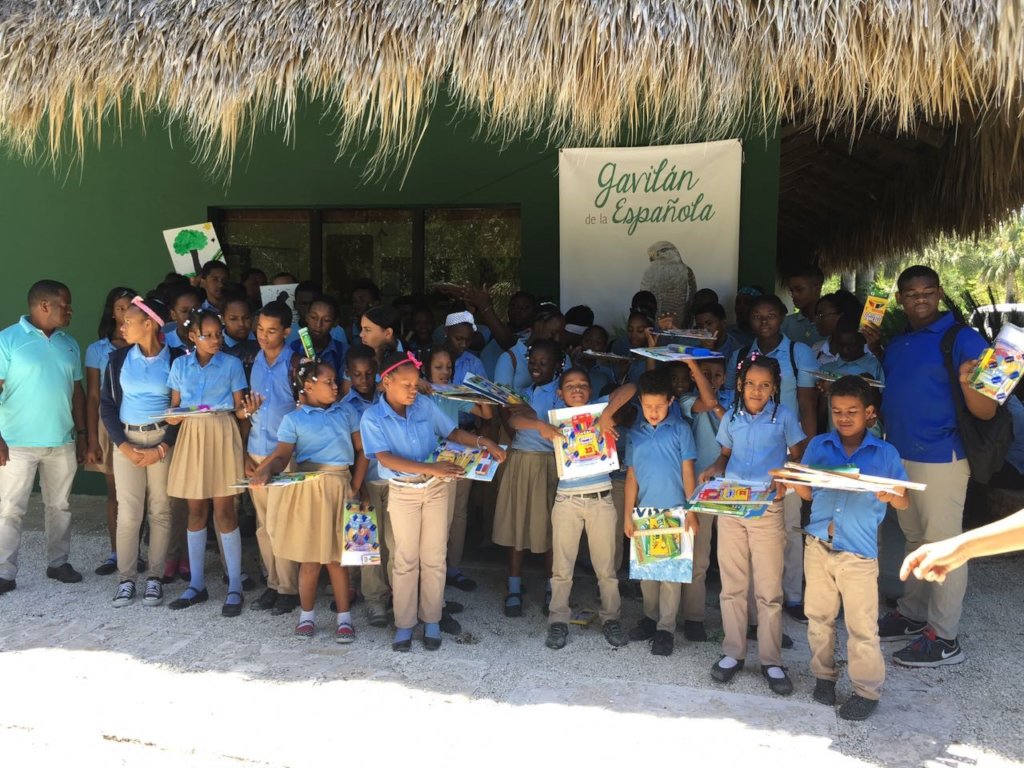 Once again we are catching our breath after a busy nesting season for the critically endangered Ridgway's Hawk. Conserving endangered species is hard work, but it can also be very rewarding. One thing I have learned from working on the Ridgway's Hawk Project for 8 years is that species conservation is a struggle. There will be ups and downs, but this is an inherent part of the process. This past nesting season was a good example of this. In general it was an amazing season, with many records, and for sure an overall success. On the other hand we were reminded how important it is for us to keep a watchful eye on what is happening in nature, especially how our actions as humans can affect a critically endangered species.
A sure sign of success for a conservation project might be measured in many ways. For the Ridgway's Hawk project, this success has been fairly easy to see. A steady increase in individuals, pairs formed, and wild nestlings fledged have been the project norm year after year. Like each year since the first wild pair was discovered in Punta Cana in 2013, this year we monitored a record number of pairs in the Punta Cana area. We observed 19 pairs with 17 of these pairs attempting to nest this season. We expected this increase and made the decision not to release more hawks in Punta Cana during 2018 so that we could focus on monitoring this ever-growing population. We also saw a record number of hatched nestlings from this population. Unfortunately, of the 21 nestlings which hatched, only 10 nestlings reached fledging (flying from the nest). In late April we began to find some nestlings dead below their nests. After investigating the cause, we feel that the most likely culprit of these mortalities may be secondary poisoning. Secondary poisoning occurs when a pest species such as rats are poisoned, but before the poison can kill the rats, a predator such as a hawk catches and eats them. We are still awaiting conclusive laboratory results as to the cause of this unfortunate loss. Regardless of the final results, we have already begun working with local institutions and residents to raise awareness about this topic. Our goal is to encourage local resorts and residents to search for environmentally safe methods to control rats and other unwanted pests.
Our work in LHNP (Los Haitises National Park) exceeded all expectations with a total of 134 pairs of Ridgway's Hawks being monitored and a total of 141 new Ridgway's Hawks fledging into LHNP. The most remarkable part of this achievement is that nearly 100% of the monitoring and hands on management of these pairs was done by locals in the communities where we work. Training and hiring locals is having a huge impact on how these communities view the Ridgway's Hawk. Prior to our conservation work, many locals viewed the hawks as pests and would often shoot them. Now, locals see these hawks as a benefit to their community. These are the kinds of changes that have long lasting conservation impact.
A conservation project can only truly be successful by ensuring that the attitudes of people change. The best way to do this is through environmental education. The Peregrine Fund and our partners place a heavy emphasis on this aspect of our project. Each year we dedicate a significant portion of our time and budget to make sure that future generations grow to appreciate the natural world around them. A big part of this is understanding how nature can benefit us and that we must make compromises to ensure that we can live in balance with nature into the future. This year we hosted our 5th annual Ridgway's Hawk Day Celebration. We hosted 2 days of field trips to Punta Cana for roughly 97 local students and made a visit to one school where we hosted around 120 students. We conducted art activities focused on the Ridgway's Hawk and its habitat- students painted their individual creations on driftwood and other discarded/recyclable wood, while others worked in groups to create "murals" on plywood. We also played a dart game and a "bowling" game focused on the importance of habitat and the threats that hawks might face, as well as actions we can all take to help improve Ridgway's Hawk habitat. Another activity included birdwatching, where students birded in both forest and lagoon habitat, comparing both. Using field guides, students worked to identify several local bird species. We visited the area of Domingo Maiz where we worked with a student club of approximately 23 students. Participants created "Ridgway's Hawk" masks using recycled paper, felt, crayons and other art materials. We also played the "habitat dart game" with them. Finally, we hosted a Ridgway's Hawk Day Fair in conjunction with the local Farmer's Market hosted by Puntacana. We had a live hawk present, as well as art activities and games. In total, approximately 300 people were reached during the week-long celebration.
All in all it has been another extremely successful year for the Ridgway's Hawk Project. Even though the nesting season is over there is still tons of work to do. We are currently planning several more education activities to be held in Puntacana as well as searching for the next release site for Ridgway's Hawks. Next season is shaping up to be one of the busiest yet!