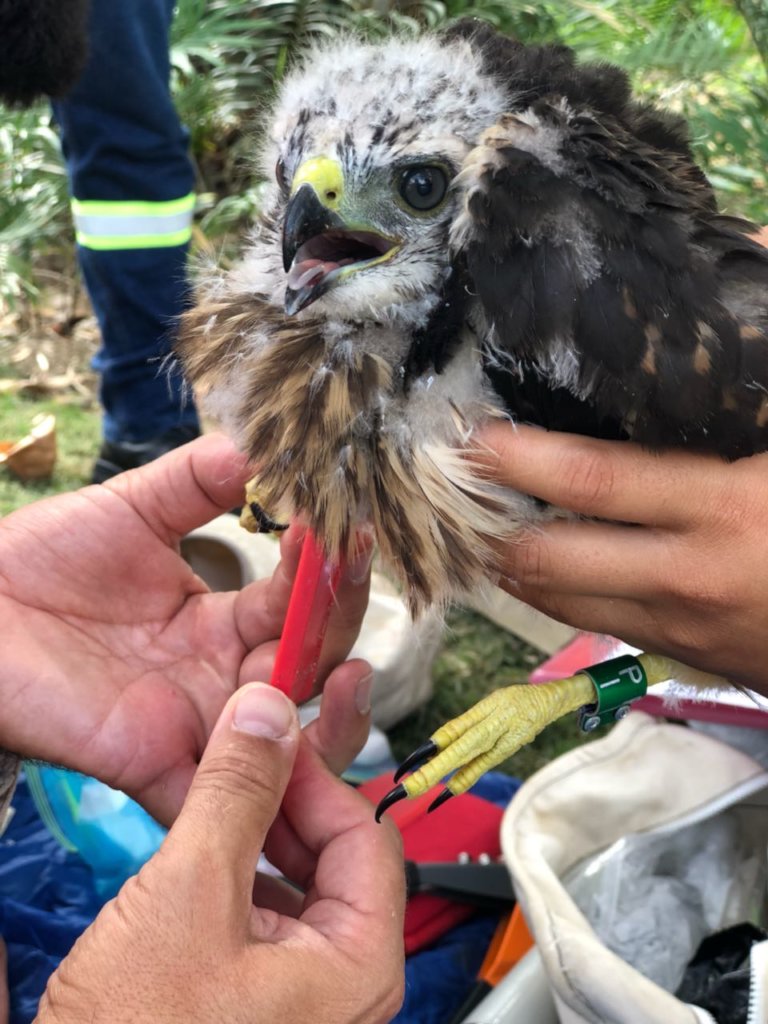 It has been an incredible year for the Ridgway's Hawk Project. It seems like we say that a lot in these reports, but it is true, things just keep getting better and better. Every year we seem to set new records for the number of pairs, number of nesting pairs and number of nestlings fledged. This goes for both Puntacana and Los Haitises National Park.
As we mentioned in the last report we decided not to release any new Ridgway's Hawks into the Puntacana area this season. This decision was made due to how successful the project has been and the fact that the area surrounding the current release site is saturated with Ridgway's Hawks, including several nesting pairs. In fact, currently we have a pair nesting and incubating eggs on top of the hackbox at our old release site!
To date we have monitored 18 pairs of Ridgway's Hawks in Puntacana and 16 of these pairs have attempted nesting. We have observed 17 nestlings in nests and so far we have banded 13 nestlings. Three pairs of hawks are still incubating and several pairs may still nest or attempt their second nest after their first nest attempt failed. It seems like we may see about twenty nestlings fledge from the Puntacana population this year and all from wild nests! In total the project is monitoring over 150 pairs of Ridgway's Hawks this year. We also recently received a very weak Ridgway's Hawk (Red 6/9, female released in PC in 2017) in Puntacana and we were able to successfully rehabilitate this individual and release her. So all in all, we are very optimistic about the future of the Ridgway's Hawk population in the island!
Ridgway's Hawk Day is coming up soon on May 25th. Make sure and stay tuned for the next report which will contain details on all the fun and exciting educational activities that take place this year. Our long-term goal is that one day Ridgway's Hawk Day will be a special and celebrated day throughout all of the Dominican Republic!