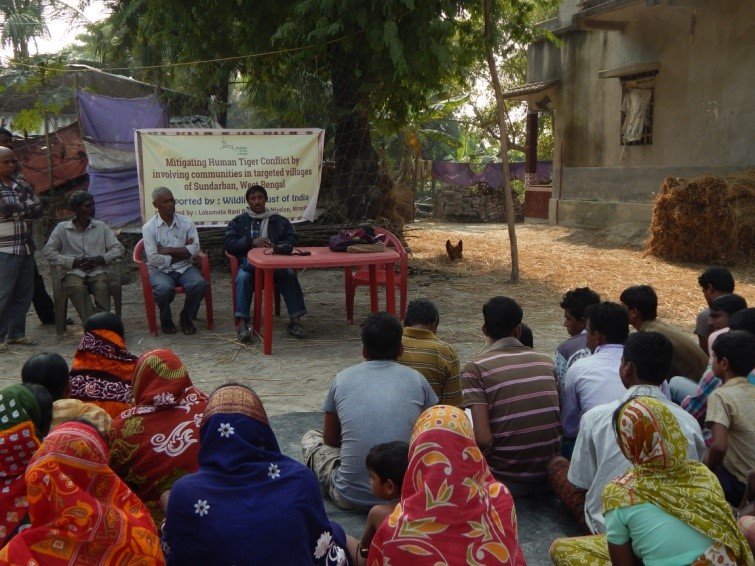 Sundarbans is classified as Tiger Conservation Landscape of Global Priority. It holds one of the world's largest remaining Bengal tiger population in a coastal mangrove habitat. The human–tiger conflict in Sundarbans mangroves is more frequent than in any other area of the world. However, their habitat has been greatly depleted due to over alarming rise in human population and conversion of forests into farms and human settlements. Hunting and forest degradation of the remaining habitat patches has led to the intrusion of the tigers into human settlements.
There are about 8 sub districts whose villagers live adjacent to the forest boundary and are dependent on natural resources within Sundarbans for a number of income generating activities. The estimates of human kills range from 50-250 people per year mostly honey collectors, fisherman, crab collectors and even forest frontline staff. These villagers also experiences high levels of livestock depredation and face the conflict with the tigers. In 2015, a woman was killed in Gudalur by a tiger which created a state of violence in the location. The angry villagers were on boil and attacked the forest officials and torched their jeeps.
According to Forest Department, at least 3 tiger per year are killed as a result of conflict in Sundarbans. Such high rate of rising conflict will one day result in extinction of the species. To address the conflict situation, Wildlife Trust of India with your support initiated a Rapid Action Project aimed at curbing the immediate threats in these conflict prone villages. Ten primary response teams (PRTs) are constantly working with forest department for mitigating conflicts in the villages falling under Gurguria Bhubaneswari Gram Panchayat. The rapid action of volunteers in locating the stray tigers is actually contributing the Forest department to capture the tiger and release it in the safe location. Apart from this, the teams are also controlling the crowd and sensitizing them on not to panic during the conflict situation. Along with Forest Department, the team has managed to engage with other concerned stakeholders like village heads, fisherman and farmers clubs, fisherman groups, block developmental offices.
A workshop cum awareness meeting was arranged at Nibedita Mahila Samity (local samity), Purba Gurguria village in presence of 45 community leaders from different farmers clubs, SHGs, and youth clubs. In this workshop, several discussions on importance of Sundarban tigers, cause of conflict, mitigation of the conflicts were discussed with different key stakeholders. Major decisions like distribution of contact numbers of local forest department to among volunteers, village heads, use of shanks, blow horn to raise alarms in tiger presence in vicinity of the area were taken during this workshop. Sixteen such local level awareness meetings have been conducted in conflict prone villages. The members of youth club have volunteered for mitigation of conflicts in the area who have been trained on how to deal with tigers that stray, to decrease the delay in response time when tiger stray into villages. Thesevolunteers are helping the PRTs by informing the forest department about tiger movement in the area. A mock drill was also arranged to sensitize the villagers about the conflict with tigers. Such role-plays help to gauge levels of preparedness for actual conflict situations, and aid in the development of standard operating protocols for village communities and especially the Primary Response Teams (comprised of representatives from conflict-prone villages) that are supposed to monitor and manage such situations to save both human and animal lives. Broad guidelines were also passed on to the villagers to help prevent conflict situations.
Folk media campaigns have proven to be extremely effective across a number of projects at striking an emotional chord and conveying complex ideas simply and succinctly. A folk media campaign of 'Bon Bibi' was arranged by the PRTs which attracted over one thousand people. 'Bon Bibi' is the lady of forest and is considered as the god of tiger by people of Sundarbans. People believe that Bon Bibi is protecting the villagers from tiger attacks. Two such programs were arranged with folk songs. This medium was used as a platform to pass on the information among villagers about tigers, their importance and conservation. Posters having the guidelines about the human tiger conflict mitigation were also distributed to block developmental offices (BDO), panchyats, schools, scientists and youth clubs of Sundarban Area. Meetings were arranged with BDOs to provide the information about our work and requested them to inform the villagers about governmental welfare schemes to reduce the the forest dependency.