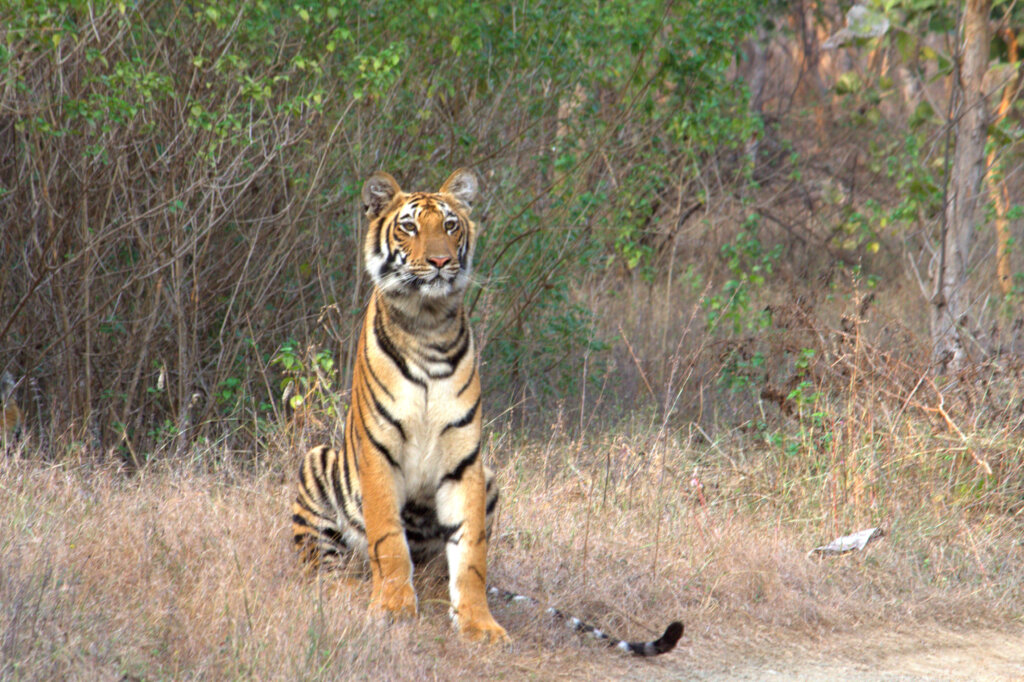 Greetings from Wildlife Trust of India!
Hope you are doing great.
We are back with the updates on our project 'Vanishing Stripes – Save the Bengal Tiger', which you so generously chose to donate for.
Thank you so much for your kind donation and for believing in our work. It is through your support that we are able to work towards our vision of a secure natural heritage of India.
Today's updates are from the Kawal Tiger Reserve, which is the oldest sanctuary in the northern region of Telangana state. It has dense teak forests relatively free of human habitation, a rarity in today's world. The species found here include tigers, leopards, gaurs, cheetal, sambar, nilgai, barking deer, sloth bears and many more.
Last year, nine cases of timber smuggling and sand mining were apprehended in the Dimmadurthy range of the reserve. This was made possible through the tireless efforts of the protection staff deployed at the reserve.
What they do is not easy – being on a constant vigil to tackle smugglers to protect this pristine tiger habitat. A lack of basic facilities, such as – clean drinking water, electricity, medical aid, and communication facilities etc. – makes it even more difficult for the protection staff to operate. To boost their moral and supplement basic amenities, the range officer requested assistance to strengthen the protection camps at 3 beats – 'Kappanpally', 'Singapur' and 'Rajura'. The beats are located within the Tiger Corridor between Tipeshwar Wildlife Sanctuary and Kawal Tiger Reserve.
Through your support, we sanctioned a Rapid Action Project to provide two solar home kits, 25 LED torchlights, three first aid kits, 25 blankets and 25 jackets to the staff. We are hopeful that the provision of some of these basic facilities shall motivate the protection staff and help them focus on the critical task of monitoring the Tiger Reserve and keeping it free from the smuggling menace.
That's all for today. We will soon be back with more updates on the work we do to protect tiger population in India. Till then, take care!
Warm regards,
Team WTI