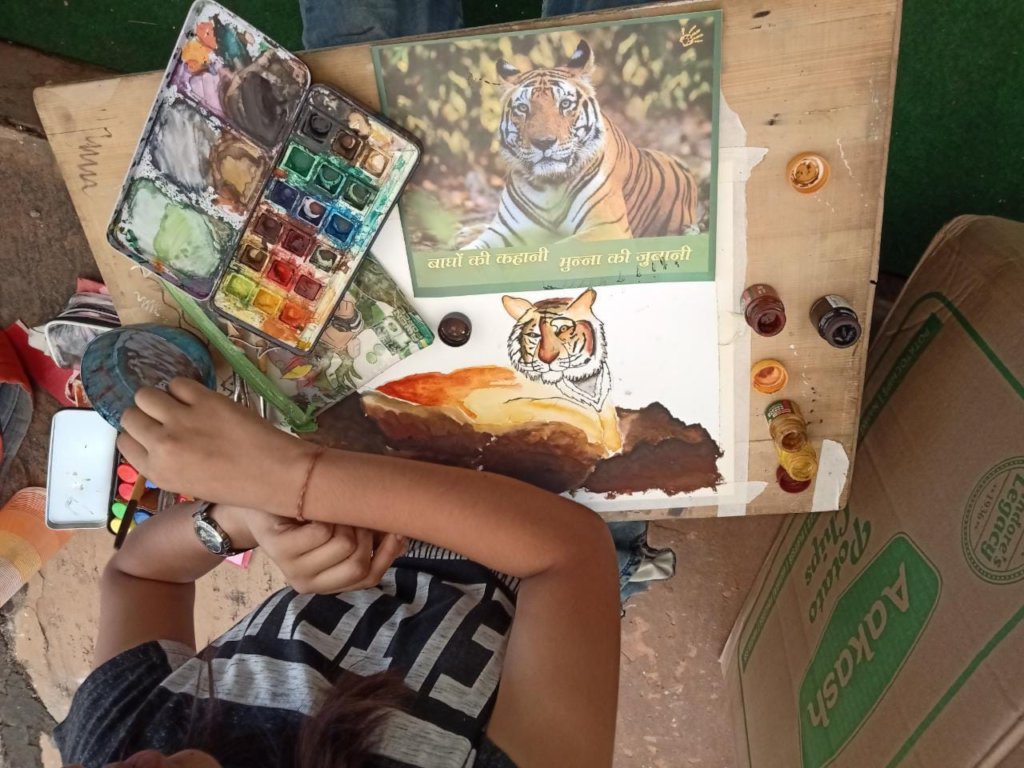 "Children are the living messages we send to a time we will not see"
- John F. Kennedy
Dear Patron,
'Munna', the iconic tiger from Kanha Tiger Reserve in the state of Madhya Pradesh reached young children through an illustrated book. Madhya Pradesh Tiger Foundation Society (MPTF) curated a 32-page booklet on the life of a tiger titled "Baghon ki kahani, Munna ki zubani" (The story of tigers as narrated by Munna). The book was a joyride for the children in the age group of 10-12. This handy little edition is full of colored photos and caricatures of tigers in their natural environment. It covers interesting information about the species and its conservation status.
Photos from wildlife photographers, text in the regional language (Hindi), and interesting caricatures of flora and fauna make this attractive to the target audience which is young school children. Munna's first person account in a style that resonates with children of this age group explains tiger behavior, biology, threats to conservation and tiger corridors.
The book is meant to be distributed to school kids across all Tiger Reserves and Protected areas of Madhya Pradesh. MPTF planned to print 30,000 copies of which we assisted in printing 10,000 copies. The books were distributed across 16 conservancies, 6 Tiger reserves and 3 major Protected Areas – Kuno, Ratapani and Nauradehi Wildlife Sanctuaries— of Madhya Pradesh
WTI has been working in the Vidarbha landscape in Madhya Pradesh to ensure connectivity of tiger habitats. We have trained and equipped frontline forest staff across India to ensure protection of the species. Anti-snare walks, anti-poaching initiatives, ex gratia assurance to forest staff and working with communities in tiger landscapes are some of the key strategies implemented by WTI for holistic conservation.
We would like to thank you for supporting our project and such wonderful initiatives. With your support, we hope to continue the good work. We will keep sending similar updates to you. Until then, stay safe and take care.
Warm regards
Team WTI