Project Report

| Aug 17, 2023
High Tech and Low Tech Learning and Creating!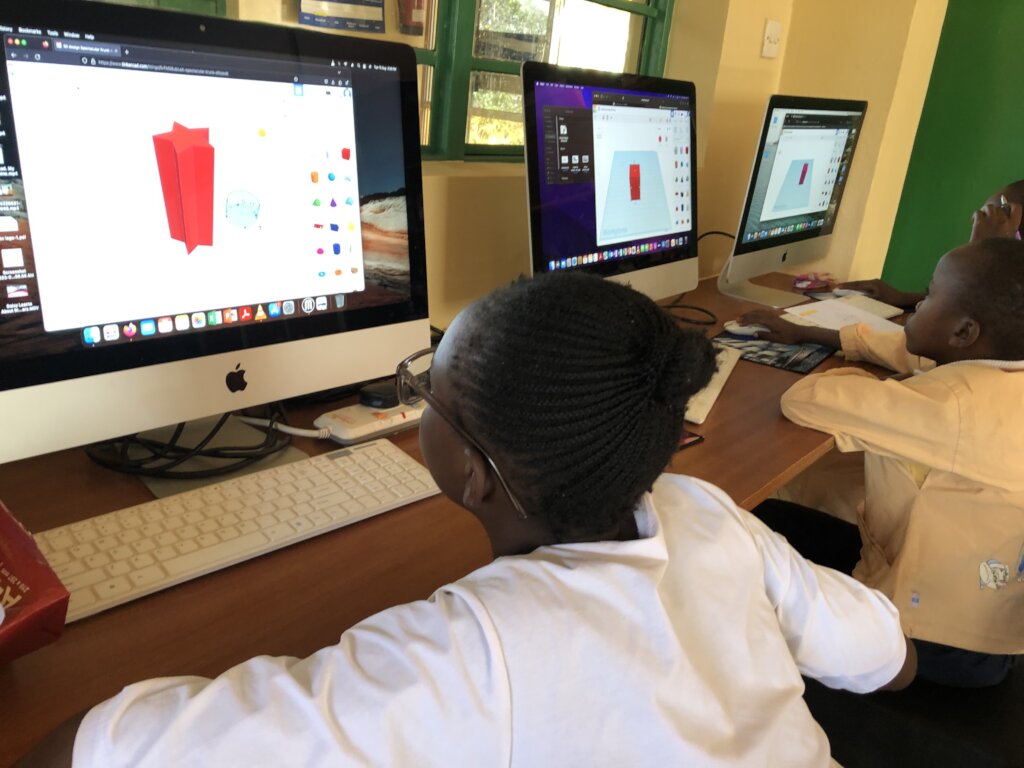 "Look at how the 3D Printer is working! I used Tinkercard to design an object and it's coming to life!" exclaimed Peace.
Schools are on term break in Kenya and our EdTech Hub is buzzing with activity. Students are creating robots using LEGO Spike kits while other children are learning how to use Tinkercard and the 3D printer. It's a safe place for students to come to create, problem solve and learn. Recently our Director of Technology and Education, Patrick Munguti, attended a Robotics Competition in Nairobi with some of KC's Tech Team. He was energized by watching the competition and said, "Our rural learners can learn how to do this too!" As a result, we are now preparing materials to help students become robot creators and engineers so they can enter the competition next year.
Most of all, students are thrilled to have access to computers, lego, and Raspberry Pi Pico devices. Our tech whizzes are mostly from families who earn less than $2.00 a day and do not have electricity in their homes. Coming to Kenya Connect to create and learn is opening new worlds to them, while preparing them to be part of the growing tech economy in Kenya.
Meanwhile in the Makerspace in our Library Learning Center, students are creating in a "low-tech" way. Using discarded cardboard boxes, toilet tubes, and craft supplies, children are building homes, schools, and playgrounds. They eventually will put all the creations together to build a village. It's hard to imagine, but the schools that these students attend do not have art supplies. There are no crayons, colored pencils or even extra paper to draw or create. However, our new Makerspace means that during Saturday Storytime and School breaks students can use art materials. Instead of having all the houses uniform, students are coming up with their own designs and ideas. They are also working in teams to create schools and playgrounds. It's just heartwarming and exciting to see.
Being able to provide these enrichment programs whether "high tech" or "low tech" are transforming lives and expanding our students' horizons. We could not run these types of programs without donors like YOU. Your investment in Kenya Connect is an investment in the children we serve and an investment in their future. Thank you for supporting us and helping to foster future innovators, artists, and tech leaders. You are making a difference through your generous gift.
We invite you to follow us on social media to see more stories about our work.