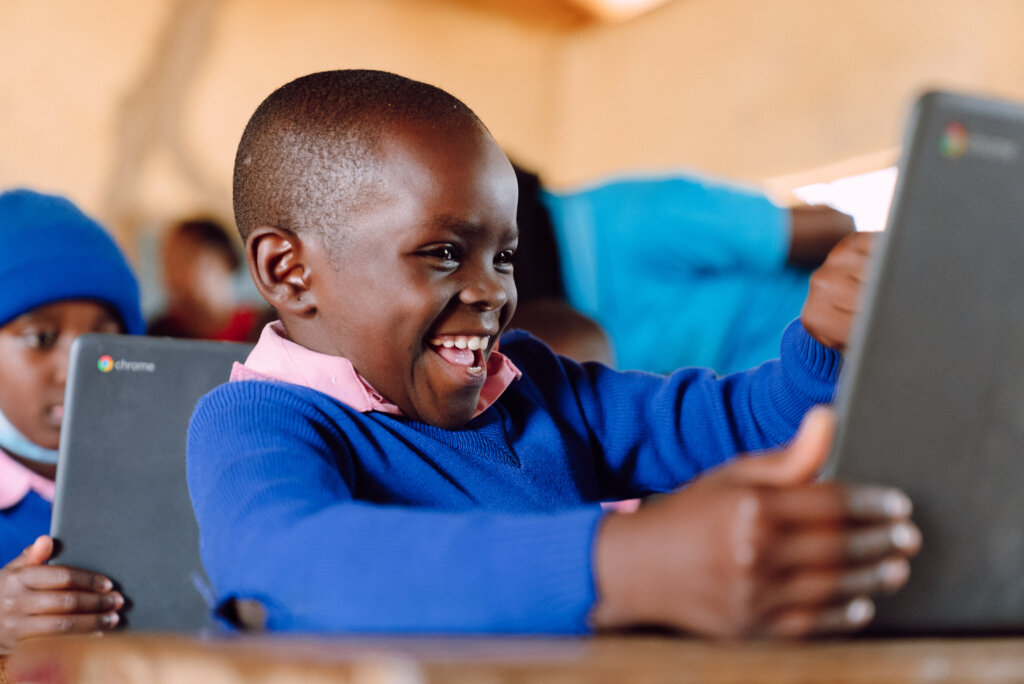 It's been a thrilling week of Tech for students, teachers and our staff! Thanks to our partnership with Team4Tech, we are bringing chromebooks to the classroom, and students are learning basic computing, coding, and they will be even creating their own games. Words do not even begin to describe the pure joy that students are experiencing through these classes. When it is time for the Kenya Connect Tech Team to depart, students cry out, "Don't go, stay longer!"
Later in the week, our Partner Team4Tech was joined by educators from the Raspberry Pi Foundation to teach us how to use the Raspberry Pi devices. The workshops conducted on our Learning Library Center Rooftop were educational and fun. The training designed to "train the trainer" provided tips for becoming good trainers that included understanding your audience's needs, building confidence, making students feel at ease, and inspiring others. The participants were also introduced to Raspberry Pi resources that they can use to learn and teach students. It also involved an introduction to Scratch block coding, moving blocks and creating games. Participants also learned about electricity and how to connect circuits using the Raspberry Pi 400 GPIO pins. Lastly, the participants created projects as a team. Some of the projects created were ambulance sirens, traffic lights, games and disco lights.
Some comments from the participants:
Trainer Marc C, Raspberry Pi Foundation: This was the most engaging class I have ever met. The participants wanted to put more work into learning and having fun. Creativity is when your intelligence is having fun.
Trainer Marc S – Raspberry Pi Foundation: I am amazed at how quickly the participants formed teams and how they made the projects work. Physical computing should be fun and we should strive to have this in the classroom with our students.
Mwanthi – Kilembwa Secondary School: I have always dreamt of learning coding and now I can code. The trainers made it so easy. As a teacher of physics, I have never thought of making physics so easy to learn through a game. I will now be able to teach resistors and diodes so easily.
Benjamin – Kituiu PS: The training was captivating and learner-centered and I wish as teachers we can make the learners eager to learn as it was with us. We should also involve our learners in practical learning as opposed to theoretical.
Patrick – Director of Technology and Education, KC: I have learned new methods of teaching from the Raspberry pi foundation facilitators. I will now incorporate the skills in teaching coding to young students. I am grateful to Team4Tech and Raspberry Pi Foundation for training our teachers. I am confident that the teachers will train more teachers and students to code and do physical computing!
These partnerships allow us to bring the joy and innovation of technology to rural students in Kenya. Your support means that we can continue to fuel these important programs that are bridging the digital divide for teachers and students in Kenya. Many thanks for being part of our family.