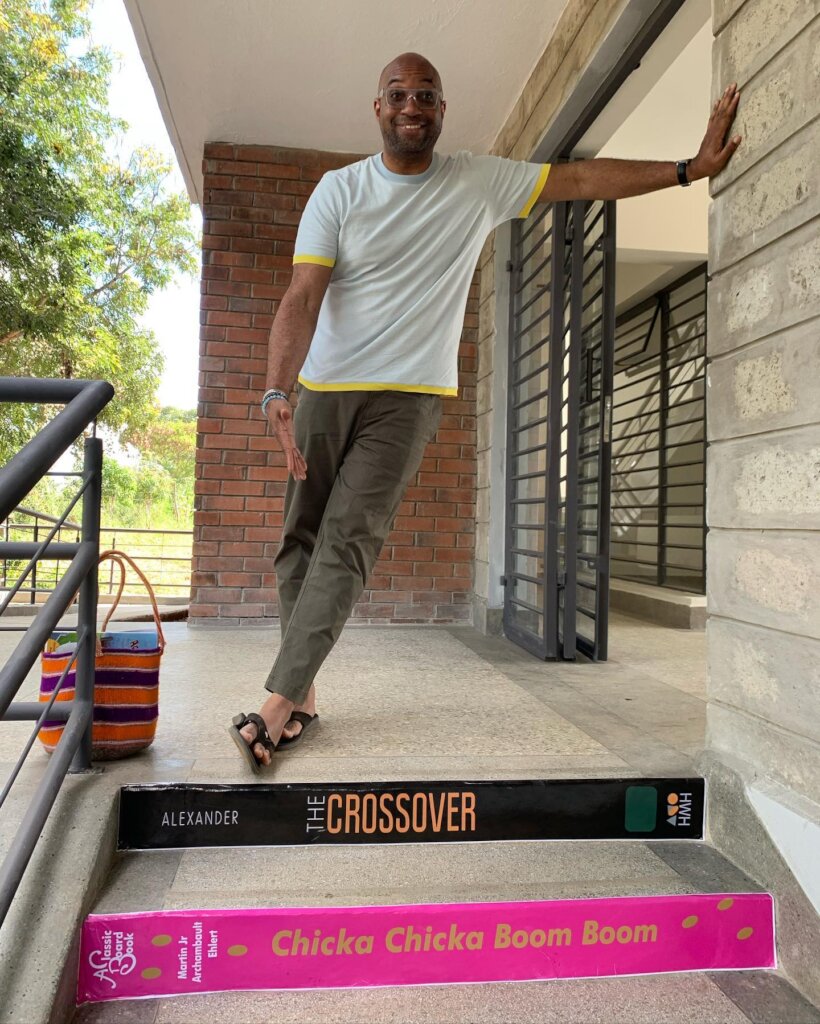 Kwame Alexander, award winning poet, author of 21 books, and educator visited Kenya Connect this week! He delighted students, teachers, and parents through Read Alouds, storytelling, and writing instruction. He visited a homestead and enjoyed learning traditional dance from the Kyeengai Kithito Women's group and seeing woodcarving from the world-renowned Wamunyu Woodcarvers. However, at the heart of his visit was literacy. An ambassador for LitWorld and an advocate for libraries around the world, Kwame inspired our students and teachers to be readers and writers.
During a teacher professional development session he told teachers, "you can't teach writing if you are not writing too." Executive Director James Musyoka shared, "Kwame is not only a great writer but a great teacher! By sharing his written word, Kwame uniquely engages his audience, both students and teachers, in a way that sparks their literacy curiosity. During his visit to Kenya Connect, he greatly inspired students and teachers about the power of reading and writing." One of the elderly teachers attending his literacy workshop commended; 'Kwame you need to come back before I have retired from teaching!'" At the workshop, teachers worked on writing their own poem which they shared with the group. Professional Learning Coordinator Rebecca Migwambo commented, "I was so thrilled by how he demystified the writing process with the teachers during the workshop. It indeed takes a good writer to inspire writing."
In celebration of his visit, Kenya Connect added his award-winning book, The Crossover, to our "Steps to Reading" in the new Library Learning Center. Faith Doucette, Director of Partnerships and Mentorships shared, "It struck me how humble Kwame is given his success and fame. I had the pleasure attending the teachers' writing workshop and watching a master writer at work. Kwame has a unique way of engaging his students and drawing out writing skills they didn't know they had. As a result, I left the workshop feeling empowered to write. "
Reading and libraries has been at the top of our work as the construction of our new library is almost completed. Our Librarian, Esther Muinde, wrote a wondeful blog about our comprehensive strategy to become "The Village That Reads."
If you are interested in donating a step in the new library, please contact sharon@kenyaconnect.org