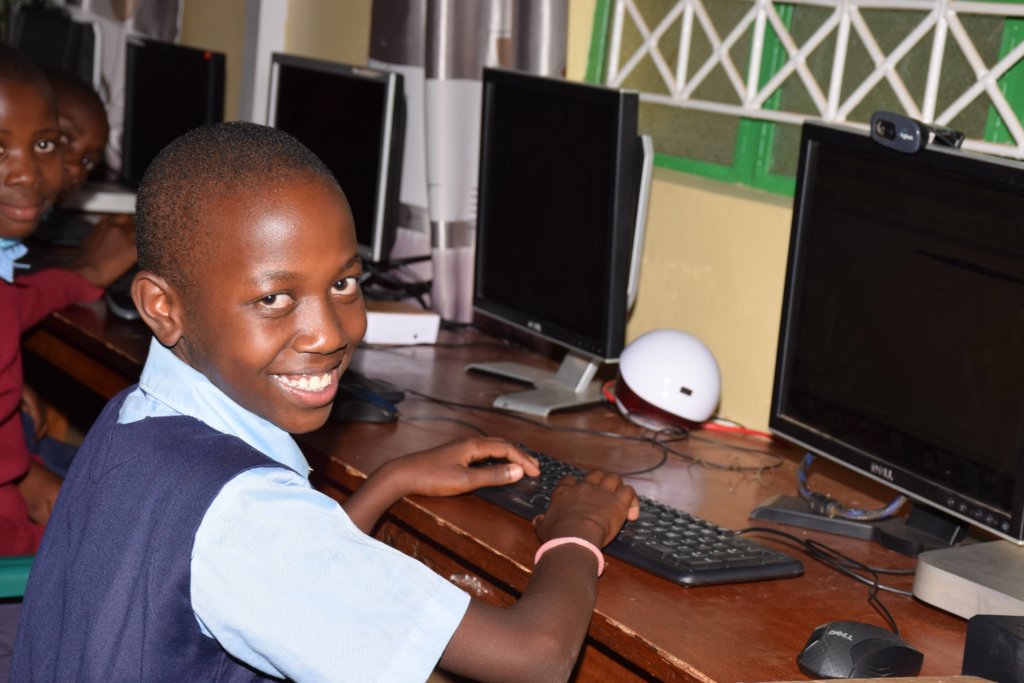 Schools have reopened in Kenya and students are thrilled to be back in the classroom. Our "Magic School Bus" is rolling back into school yards filled with beautiful books and our staff is excited to engage children in reading. At the same time, we have resumed computer classes at our Learning Resource Center. This week Yvonne, a student at Makaalu Primary School, came to the LRC for a basic computer class.
"Today I was very happy to use the computer. My favorite part was using the keyboard. I was amazed that I could erase what I had written using the backspace key. It was my first time to ever use a computer keyboard and only the second time I've used technology. I would like to learn more about using the computer and be able to create my own game. My favorite subject in school is science and I would like to be a nurse when I grow up."
As we begin this new Kenyan School year, our team remains committed to providing programs to enrich education. Reading, technology, and empowerment clubs take place on a daily basis. At the same time, we are working closely with teachers at our four Empowered Schools to provide professional development to help them engage students in a meaningful way by incorporating the key tenets of the Kenyan Competency Based Curriculum. Creating Professional Learning Communities (PLC), providing classroom resources, and fixing and painting classrooms are a way to create more vibrant learning.
Part of our strategy to strengthen education in our community is through breaking down barriers. With the threat of the coronavirus, we are providing face masks to students who don't have them and we are installing additional hand washing stations at schools. Teaching how to make liquid soap and effective hand washing is helping keep students healthy. Students are now using compost toilets at two or our partner schools, and due to the collapse of pit latrines at the Mbaikini School, we have sprung into action and are building another bank of compost toilets so the students will have clean sanitation.
We have big dreams for 2021. At he heart of our plan is to help students and teachers, who lost over 9 months of learning, to improved and dynamic education. We could not do this without friends like YOU and we thank you for your past donations. Our community feels your support and is grateful that you chose Kenya Connect on GlobalGiving.
Patrick, Director of Education and Technology, commented last week,
"My heart is full of joy to have students back in the technology lab in the Learning Resource Center. It's heartwarming to see how excited the students are to be using the computers. I'm always uplifted seeing how quickly they pick up what I teach and their eagerness to learn more."
We will continue to keep you upated on our work. In a couple of weeks we will be celebrating World Read Aloud Day while at the same time expanding our LitClub and LitMom program. For daily updates, please follow us on facebook, twitter and instagram.
LitClub member Daring Derrick (not real name) commented, "In LitClub I love doing the brain breaks and assignments. Our mentor is friendly and carng. It's helping me in school."
The Kenya Connect team believes in the power of education. Our caring, committed and community driven team is empowering the next generation of Kenyan students thanks to friends like you.