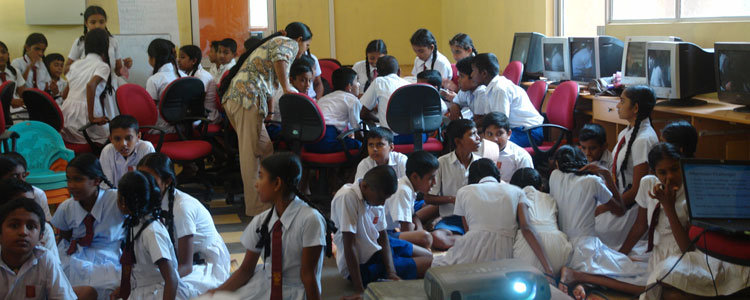 Introduction to Horizon Lanka
The Horizon Lanka Foundation is a pioneering educational institution for children from the rural village of Mahavilachchiya. The foundation provides its students with access to high quality English and ICT education in order to provide them with the opportunity to achieve success in an increasingly globalised world.
Horizon's background
The Horizon Lanka Foundation was established in 1998 by Nandasiri Wanninayaka, an English teacher from the rural village of Mahavilachchiya. He began an after-school club, providing children with further education in English and ICT. By 2006, Horizon Lanka was highly regarded on a national level. The foundation had gained its own building from which to teach, a broadband internet connection, and there was an increasing demand from parents in the village for this high quality training for their children.
Horizon provided a platform for its students to learn the necessary skills to gain places in universities across Sri Lanka and employment in the field of Information Technology.
In 2009, the success of the foundation was recognised by the Ministry of Education and 100 million LKR were allocated to replicate Mahavilachchiya's e-village model in rural villages in all 9 provinces of Sri Lanka.
Horizon in 2010
ICT lessons are provided on a weekly basis by a specialized ICT teacher and the students are able to use the Horizon facilities to complete their own projects using the internet, publishing and graphic design software. The students are given technical sports training in football, cricket and netball several days a week. They are encouraged by the staff to lead an active lifestyle and are taught the benefits of a healthy diet. By educating the children of the village about the importance of a balance diet and lifestyle, Horizon hopes to have a positive impact on the entire village community.
Horizon is not only for education of the children of Mahavilachchiya, but also mentoring the personal development of talented young people to transform them into Sri Lanka's future leaders.
Horizon Lanka has developed a relationship with the international student organization AIESEC, who source top university students from around the world to work for Horizon on a short term voluntary basis. Horizon can therefore provide rural children who learn little or no English at school with interactive lessons from native English speakers. Plans for sustainable future development
This summer, Horizon Lanka will start its first blogging project. Through this project the students will develop their English, ICT and time management skills. They will write the blogs in English so they will have the opportunity to use the grammar skills taught in the Horizon English lessons. The students will set up the blog themselves and learn how to upload text and photos to the blog. They will also be responsible for regularly updating the blog so will learn to mange their time and motivate themselves.
This month, Horizon Lanka will run a series of innovative and interactive English camps for the local schools. A model for the camp has been developed by the Horizon staff for the students in Mahavilachchiya this year and it will be used in schools nationwide from next year.
We would like to expand Horizons activities to offer a more holistic education. Sports coaching is given to students in football, cricket and netball but we would like to have courts and pitches for volleyball, netball, football and cricket. We would like to develop the creative talents of Horizon's students and offer a program of art, dance, drama and music. Students have some arts classes in school but we would like to provide an opportunity for them to create their own projects.
Horizon has recognised that youth unemployment is a serious problem in the village. In attempt to re-motivate the young people of the village, the staff at Horizon would like to organize goal setting and personal development workshops. These workshops would help to give the young people the opportunity to reflect on their current lifestyle and consider the steps that they need to take to achieve their long term goals. How can you support Horizon's development?
Providing the fee payable to AIESEC to bring in Horizon Lanka's talented international staff, who work on a voluntary basis. Funding the centre manager, Sri Lankan English teacher and technical assistant's salaries. Providing the funds for essential site maintenance, such as making repairs to the centre and garden. Improving the ICT facilities to allow more students to access reliable computers with an internet connection so they can take an active role in their own learning. Funding new arts and crafts resources to allow the students to develop their creative talents. Providing more sports equipment for the centre so that the students can have more effective coaching in a wider variety of sports.
How will you benefit from a partnership with Horizon?
You will become a driving force in a pioneering project at the pinnacle of 21st century global education that discovers new talent and develops Sri Lanka's future leaders. You will have the opportunity to give careers workshops to the high potential Horizon students and source some of the brightest new talent in Sri Lanka. Your company's information will be placed on the Horizon Lanka website, which is accessed across the world and has been referenced in the national press. You will raise awareness of your company in the local area and make a strong, sustainable impact on the village community, contributing to the wellbeing of the rural citizens of Sri Lanka.
How can you start to build a relationship with Horizon?
Please contact the centre manager, Gangani Dissanayake, on +94777159495. She will arrange a date for you to visit the Horizon Lanka Foundation and witness the groundbreaking education it offers the people of Mahavilachchiya. The staff and students at Horizon Lanka look forward to meeting you!