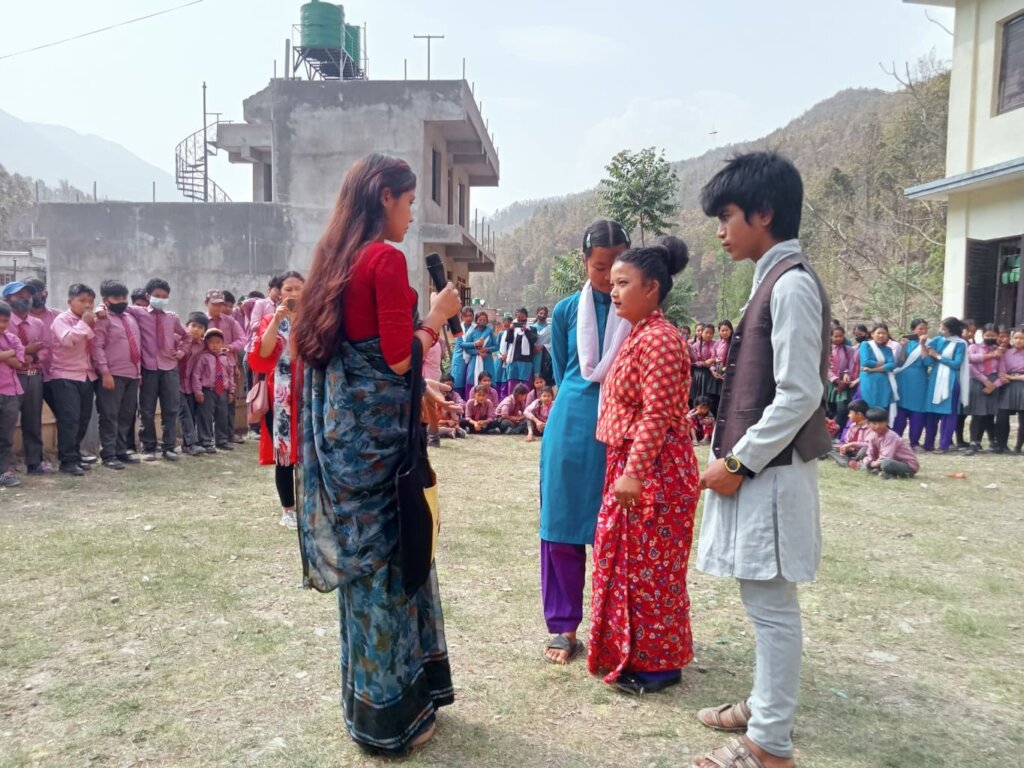 We were thrilled to finally be able to send our management team into Nuwakot after patiently waiting for the end of lock downs, school closures and travel restrictions.
The Nepal Project manager and her assistant travelled to Nuwakot last month to monitor progress and support the team of 16 Community Animators who have been trained to raise awareness in the community on a range of issues including health and hygiene, home safety, the role of parents in a child's education, the importance of keeping girls in school and the dangers of child trafficking.
Two performances of the street drama have been conducted: one in the grounds of Ajhinghare School and the second in the heart of Kagune village. The animators played the roles of a girl who is enticed to the city, a social worker who finds her and returns her to her parents who learn about their role as educators, the police and various other characters. The performance was very well received and the messages clearly understood by the audience. Nepali villagers love dramas like this and it is a great way of getting the message across.
We have also been disseminating awareness through the animators around growing more fruit and vegetables in kitchen gardens and eating less junk food, which not only lacks nutrition but results in environmental pollution. Schools will include similar messages in class lessons. Teachers and students have been encouraged to organise rubbish clean ups around the school.
Handwashing is an important hygiene practise, and it is good to see children washing their hands at school. The government is now supplying a nutritious meal for lunch for school children in this area and new kitchens are being built in some schools to ensure hygienic food preparation.
Kitchens in homes around the project area are generally clean and tidy too with smokeless stoves and biogas being used to prevent smoke inhalation.
There is evidence of good agricultural land use and use of irrigation channels which are kept free of weeds. A range of crops are being grown including rice, maize, wheat as well as corn, garlic, onions and potatoes. Kitchen gardens are being well tended to produce cabbages, spinach, radishes as well as bananas, grapefruit and papaya.
Communities are excited about the possibility of winning a community prize and schools are involved in cleaning up the school environment and including awareness activities for children in classes.
The monitoring team plan to visit again in May when there will be more street drama performances.