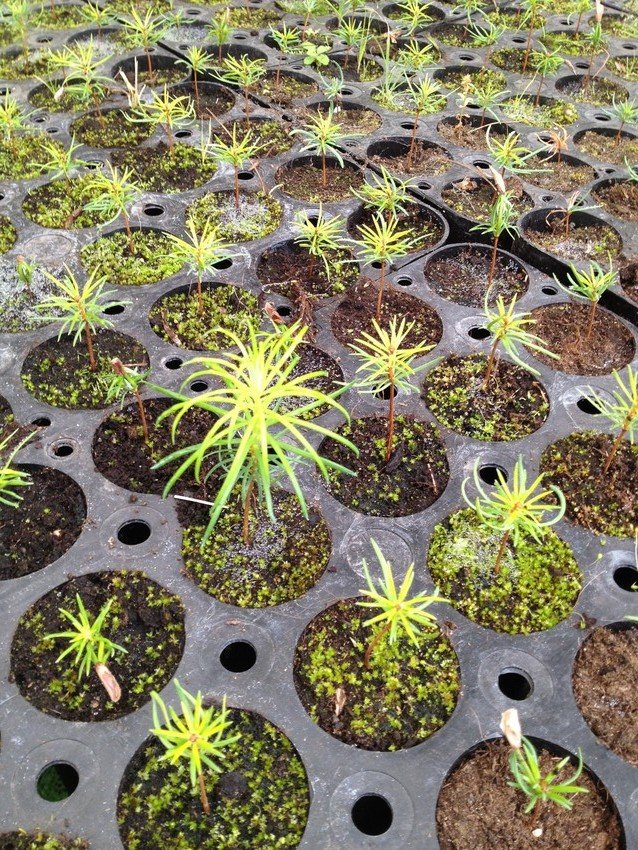 We recently visited our work in Totonicapán, Guatemala, getting to see the current state of the 8 greenhouses EcoLogic has helped establish. As of this September, 5,520 seedling trays have been fully planted with 132,480 seedlings of different species and ages. These include white pine, red pine, alder, oak, and Guatemalan fir, among others. The trays used to grow these seedlings yield a root "plug," which makes the roots more resilient and decreases mortality once they are transplanted to the reforestation site.
Another issue to keep in mind is fungal diseases, which can be difficult to control and, once they infect a plant, they are hard to eliminate. For example, gray mold, caused by the fungus botrytis cinera, can cause damage to seeds in cones and during germination. In order to avoid this, our local partner the Natural Resource Board of the 48 Cantones, has been experimenting with organic fungicides. The concoction in the image below includes natural ingredients such as garlic, onions, and ginger, as well as certain microorganisms.
At the helm of this process are Don Agustin, his assistant Cesar, and EcoLogic's field technician, Fernando Recancoj. The pungent liquid will remain in the 200 liter barrel for 30 days until it is ready to be sprayed on the saplings. We'll let you know how it goes!
Don Agustin is excited to show us his handiwork. He has been overseeing these nurseries, in their different stages, for over 10 years. He proudly shows off all the little seedlings, which he fondly refers to as his "children". This is just one of the steps we are taking to help the people of Totonicapán protect the 21,000 hectare forest of which they are stewards.