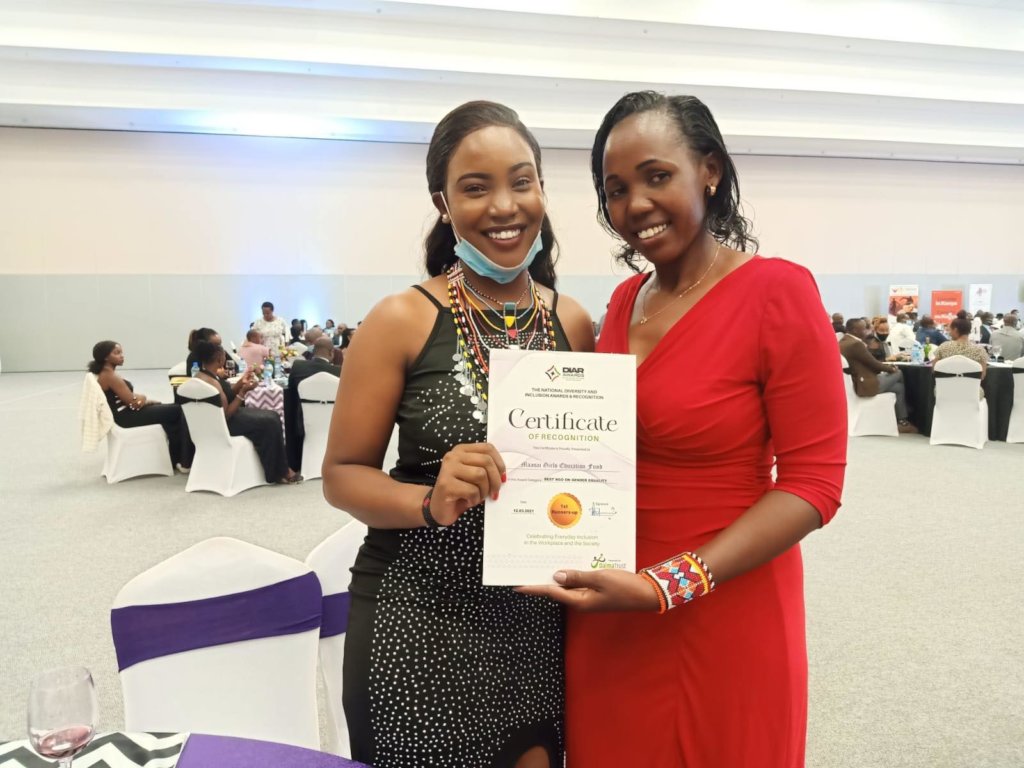 Dear Friends,
Through the pandemic, MGEF continues to celebrate every success even as we power through setbacks. MGEF-Kajiado was deeply honored to receive the 2021 Best NGO on Gender Equality Award at the National Diversity and Inclusion Awards & Recognition ceremony in Nairobi, Kenya in March. Lucy, MGEF-Kajiado Managing Director, and Alumna Nancy (MGEF's first lawyer!) were proud and excited to represent MGEF at the ceremony. Lucy, the MGEF-Kajiado staff, board members and alumnae work tirelessly to help Maasai girls and women reach their potential through education. We value and applaud each of our scholarship recipients, whether she is a primary school student who is the only literate person in her village or one of the very few Maasai female doctors or lawyers in the country. With your help and despite a very difficult year, MGEF and our graduates are still making a difference as we work towards gender equality and combat poverty.
SCHOLARSHIP STUDENT UPDATE
As stated in our previous update letter, the Kenyan government condensed and rearranged school terms, aiming to return to a normal schedule by January 2023. We were happy when the students were able to return in May 2021, for Term 3 of 2020. It was touch and go as Kenya was forced to go into a second lockdown due to a surge of COVID19 cases in late March. Fortunately, the lockdown was lifted in time to return to school.
To accommodate graduating students from Class 8 and Form 4, the break between Term 2 and Term 3 was seven weeks long in order to allow the Kenya Certificate for Primary Education (KCPE) and the Kenya Certificate Secondary Education (KCSE) exams to be administered and evaluated. This break coincided with the second lockdown, but the Ministry of Education decided to move ahead with the exams with strict COVID19 guidelines. We are very proud of the four primary and five secondary graduating students who persevered though this challenging time in order to accomplish their goals.
If all goes as planned, Term 1 of 2021 will begin in late July. Due to the overwhelming number of desperate girls and parents applying for scholarships, MGEF decided to take eight new students for Term 1. One from each of the seven divisions of Kajiado County and one from the many applications submitted directly the MGEF-Kajiado office. This will bring the roster for 2021 to 142 active students - 52 primary, 49 secondary, 33 post-secondary and eight pending post-secondary who are awaiting acceptance to institutions of higher learning.
It has been a tough 14 months for students throughout the world as we all combat COVID19. The lockdowns are particularly threatening to Maasai girls in Kenya. As families struggle with little to no income, often the old traditions of marrying your daughter off for a dowry becomes a financial solution. Not only does the family receive cows, goats or money, but it is also one less mouth to feed. The number of girls in Kenya who became victims of unwanted marriages increased substantially during the pandemic.
Recently, Kajiado-MGEF's Managing Director received a call from one of our secondary students stating that her father would have company in a couple of days. She feared he was planning to marry her off. Lucy and Abigael, MGEF-Kajiado Program Manager, immediately went to her home. When they arrived, her father was not present, but our staff questioned the student's mother and stepmother who both confirmed that he was indeed arranging her marriage.
The father arrived home and was questioned about his intentions. He became angry and chased our staff off of his land and threatened that he was going to beat his wives. Lucy went back to the office and immediately contacted the chief in the area who said he would visit and stop the father from marrying off his young daughter. Lucy also contacted many teachers who came to our student's aid. The next day, the chief visited the father and warned him that his plan is illegal and he will be monitoring the situation. The father finally claimed he would not marry her off and let her continue her education. Each day, this terrible plot plays out among Maasai girls throughout Kenya, but most of the time without the positive ending achieved for our student.
Despite the two lockdowns, five of MGEF's post-secondary students were able to finish classes and complete exams in order to graduate. Thanks to the generosity of our donors, many received laptops and internet access allowing them to keep up with their studies.
In the event of another extended lockdown, Kenya is not equipped to provide online classes for primary and secondary students. It would be a mammoth undertaking for the government to provide tablets or laptops to all students. Moreover, many rural areas still do not have electricity, much less access to the internet. A longer lockdown will require the government to rearrange school terms once again to slowly return to their traditional school year schedule. Unfortunately, education has suffered in some form or another throughout the world due to COVID19.
WOMEN'S BUSINESS TRAINING UPDATE
Since 2013, MGEF has conducted 10 Women's Business Training (WBT) workshops with 30 business women participating in each workshop. Of the 300 women who have completed our WBT workshops, 279 were still in business prior to the pandemic. In early March, the MGEF-Kajiado staff began contacting and preparing to visit each of the 10 workshop cohorts to assess the impacts of the lockdown and to see if they needed help rebuilding their small businesses. The first visits were scheduled for early April, but these plans were thwarted by the second lockdown. We were disappointed, but acknowledge that it is best to wait. Still, preparations have been made for these field visits, and our businesswomen know that as soon as it is safe to do so, we will be at their side to help assess and support their businesses.
MGEF ALUMNA COMMUNITY SERVICE HIGHLIGHT
MGEF post-secondary student, Zainab, who is in nursing school, became very concerned about the many Maasai girls who had no access to sanitary napkins in rural areas due to the pandemic's financial toll. We were proud to learn that Zainab took the initiative, gathered a group of university students to raise money to purchase napkins, and distributed them to girls in a remote rural area in Kajiado County. The group also provided a hot lunch to the girls and their families. MGEF promotes community service among our scholarship students, and we are always thankful to see our students and alumnae pay it forward in their local Maasai communities.
Though we still face hardships due to COVID-19, MGEF is very proud of our students as they continue to strive toward achieving their dreams. These girls and young women are an inspiration. Not only do they have to break through the still-pervasive traditional barriers that prevent them from getting an education, but now they are also demonstrating incredible perseverance and resilience as they confront new obstacles created by the pandemic.
Please stay safe and well.