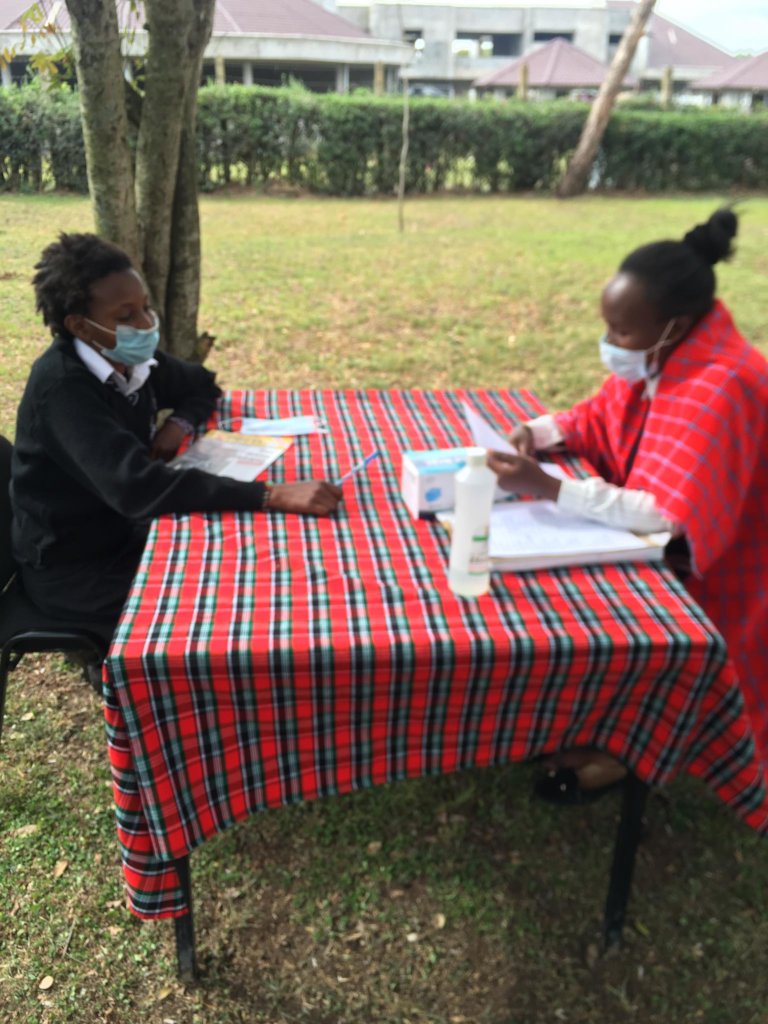 Dear Friends,
Kenya opened all primary and secondary school grades the second week of January 2021. MGEF was back to its normal business of getting supplies and school fees ready for the students as they stopped by the office on their way back to school. Of course, there were added precautions to keep such as masks and social distancing. Fortunately, due to the mild climate, much of the activities could be done outside to help ensure the safety of our students and staff.
MGEF's roster this January has 133 students - 51 primary, 43 secondary, 35 post-secondary and 4 awaiting acceptance to higher institutions of learning.
For primary and secondary students, January is usually the beginning of the school year in Kenya but school schedules have been greatly modified due to the pandemic and resulting school closures last March 2020. The Kenyan government has implemented a two-year complicated plan to slowly get everyone back on track by January 2023, so each student's schedule, depending on her grade level, will be a bit different than normal until that time.
We are very proud of our post-secondary students, who adapted very well to virtual learning during the lockdown. Despite the virus, we celebrated five graduations. Three students received their Degrees and two who received Diplomas will return to school for their Degrees. We also are proud of the seven recent secondary school graduates who, persisting through challenging logistics from the pandemic, applied and were accepted to post-secondary institutions. They are now happy to be attending in-person as the campuses have opened throughout Kenya.
Over the past few months, Kenya has begun opening up and we have begun to see the repercussions of COVID19 and the lockdown. MGEF-Kajiado's Managing Director and our alumna intern were able to travel to visit some of our students who live in remote areas to better monitor their situations. Many of our closer students have been able to visit the Kajiado office to check in and prepare for school. The MGEF-Kajiado staff reported that early pregnancy is rampant all over the country because girls and boys have been socializing mainly without limits at their home villages since March. Many of the old traditions also came back to life such as forced marriage and female genital cutting (FGC). These observations are supported by recent reports noting a significant uptick in FGC, pregnancy and early marriage among Kenyan girls during school closures.
MGEF has always been understanding of the cultural pressures Maasai girls face at home. We do not judge and understand the pressures they face in the Maasai culture. These girls grow up being told that they cannot say no to men's advances. With the students at home for months on end with no ongoing schooling and minimal structure, we knew our girls would face great pressures to succumb to old traditions. Our stipends and continued contacts with students' families were critical in raising the value of our students, ensuring they had food to eat, and helping to prevent forced marriage and early pregnancy. But to our dismay, a few of our students, like hundreds of others across Kenya, did succumb.
Yet, despite the long period of isolation and cultural pressures in their home villages, all but three of our more than 90 primary and secondary Scholarship students have restarted, or will be returning to, school this year. One of these returning students was a young girl who we rescued from a forced marriage, a story we describe below. We believe these numbers, while not perfect, are still far better than for other girls in the Maasai community.
An idea to combat food insecurity was brought front and center with the pandemic. We are interested in developing a workshop to teach the Maasai community how to plant vegetable gardens on their land. A few of our alumnae and staff are avid gardeners and their ability to supply their families with homegrown food from the garden was very important during this difficult year. One of our alumnae had such a large crop that she has gone into a side business of selling tomatoes from her garden.
As said above, one of our students was forcibly married off in her home village during the school closures. Forced marriage is not that unusual in Maasai communities but for our Scholarship student, her outcome is not common - she was one of the lucky ones. We will call her J, so as to keep her privacy. J is from a very poor, polygamous family of 15 children. Her mother died when she was only 5, leaving her and 14 brothers and sisters to her father and his second wife. When J's mother passed away, however, her father disowned J and all her mother's children, opting to support only those of his other wife. J and her siblings spent years being passed around from relative to relative.
J loved to learn, and one of her uncles helped her attend primary school. He even paid for her first year of high school before one of her older brothers took her out to marry her off for a dowry. Her uncle again intervened, but she was ultimately unable to continue her education for lack of school fees. J was afraid to go home, though. She knew she would be married off, so she sought refuge with an aunt who, luckily, had heard of MGEF.
I happened to be in the office when J and her aunt came in to fill out an application. J became a part of the MGEF family on the spot that day in July 2018, and she has done very well in her classes. When I have seen her on my visits to Kenya, she is always friendly and helpful, and full of life and smiles.
But in early December 2020, MGEF-Kajiado's Managing Director, Ms. Ntayia was contacted by J's aunt. She had been married off while at home during the lockdown! Our hearts sank, but Ms. Ntayia jumped into action. With the help and support of J's aunt and the MGEF board member from her local area, J's forced marriage was annulled. She returned to school immediately--just in time to sit for her exams.
Throughout Kajiado County, where MGEF operates, COVID19 has devastated the meager income that Maasai families survive on. As a result, the MGEF-Kajiado staff have seen a significant surge of desperate girls and families in search of scholarships. Often, we only have one chance to help these girls before they are forcibly married off and destined to a hard life of manual labor and poverty. Beyond our usual eight new students accepted per year, we hope to add several additional scholarships to save girls facing the most desperate situations even though it is heart wrenching to choose with so many in need.
All of our students are happy to be returning to school. We thank all of you for your support during this difficult time. It means a lot to our students to know there are people all over the world who support their efforts and root for their success.