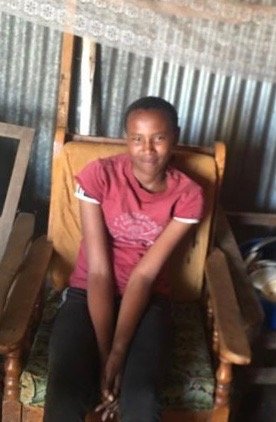 Dear friends,
As the world continues to cope with COVID19, we are happy to report that as of this date, all of our students are safe, healthy and none forced into marriage. With schools closed and young girls at home, this in itself is a success story that we gratefully celebrate every day.
Due to the virus, MGEF held their Annual Fundraiser online this past July. The fundraiser was dedicated to ensuring the survival of our students and their families during the COVID19 pandemic, as most families had lost any source of income and were struggling to put food on the table. Thanks to our supporters, we are now able to send monthly stipends to almost 100 of our students' families through December 2020. This stipend not only provides food for our students, but also creates a constant line of communication with our students and their families. All of the families want to make sure that MGEF knows that they are taking very good care of our Scholarship recipients because our students have now become a lifeline of income for the family that they cannot afford to lose.
Kenya, like other nations, is trying to slowly open up for business. Their COVID19 case numbers have been low, but the government is still highly cautious and appropriately do not take this virus lightly. The country's primary and secondary schools initially planned to open in January 2021, and to simply repeat the entire school year even though Term 1 was already completed in 2020. This had some parents and students unhappy, but in general this appeared to be an acceptable plan of action to the country. Most Kenyans were on board and planning for a January start.
More recently, though, in mid-September, the Kenyan government changed course and decided to open the schools in a matter of weeks. Teachers were to report back to their schools and await the arrival of students a couple weeks later. Although safety preparations, sanitation guidelines or protocols were not formally provided to prepare for the return of the students, teachers packed up, left their family homes and headed back to schools. Parents, teachers and students alike were completely surprised by this sudden announcement and waited in nervous and reluctant anticipation. The decision for students to return to schools was then canceled at the end of September.
A new press release was just issued October 6th, stating that certain grades should report to school on Monday, October 12th. The plan has confused many and all wait to see if the government changes their minds once again. Under the new plan, students directed to return are those who would have been promoted at the end of 2020 if school had been in session for the entire year. This new directive affects students in primary Class 4, which graduates to Class 5 (5th grade) and switches to a grading system instead of pass/fail. It also applies to Class 8 (8th grade), which graduates from primary to secondary school Form 1, and to Form 4 (high school senior), which graduates from secondary school. The plan at the moment indicates that these students will start Term 2 now and Term 3 in January 2021. They will sit for their exams in March 2021 and graduate at the end of what is usually Term 1 for the year. The others will start in January 2021 as is the usual tradition and repeat the entire year. While there is much uncertainty about the country's new plan, MGEF is prepared to help our students move forward safely under all scenarios. We and our capable staff in Kajiado understand that these are uncertain times for everyone as the world tries to navigate through this disease.
Activities for our post-secondary students differ from those of primary and secondary school students. Some of our post-secondary students' schools were able to switch to online studies this fall (although a few others have decided to open up campuses soon since the latest press release). These students were in need of laptops in order to keep up with their studies and their academic standing in their schools. If they were unable to participate in online classes, they might forfeit their position at their schools. Thanks to the generosity of those sponsors who donated the balance of their 2020 sponsorships to the MGEF COVID19 Emergency Fund, we have been able to supply the laptops needed for our students continue their classes. These laptops and the continuous support from all of you means so much to these aspiring Maasai women. In times of insecurity, it gives our girls hope and determination to know others are there for them no matter what obstacles they must face.
Due to the pandemic, MGEF-Kajiado staff and the MGEF-Kajiado Board Members (all Maasai women) are already seeing young girls, mothers, fathers and other family members coming to them desperate for aid. They anticipate that this will only become more prevalent over time. Many have lost, and will not be able to revive, their small businesses that they previously survived on. They will not have the finances to send their daughters to school this January, and most likely will not be able to provide for them as well. Therefore, some gains of the past decade are expected to regress, as many Maasai girls will face female genital cutting (FGC) and forced early marriage. MGEF would like to help every girl in need, but at least we have secured funds in our MGEF COVID19 Emergency Fund to add a few extra students to our roster in 2021.
It has been a difficult year around the world, but we are proud of our team on the ground in Kajiado - MGEF-Kajiado staff, Kenyan Board members, alumnae and, of course, our students. They have faced these challenges head on and worked as a family to ensure all stay healthy and safe in order to return to school and continue with their dreams of an education. Our team members have been in constant contact and supporting each other during this difficult time. We thank all of you for continuing to support our mission and the lives of these wonderful girls and young women as they change the world slowly, one step at a time with their accomplishments.