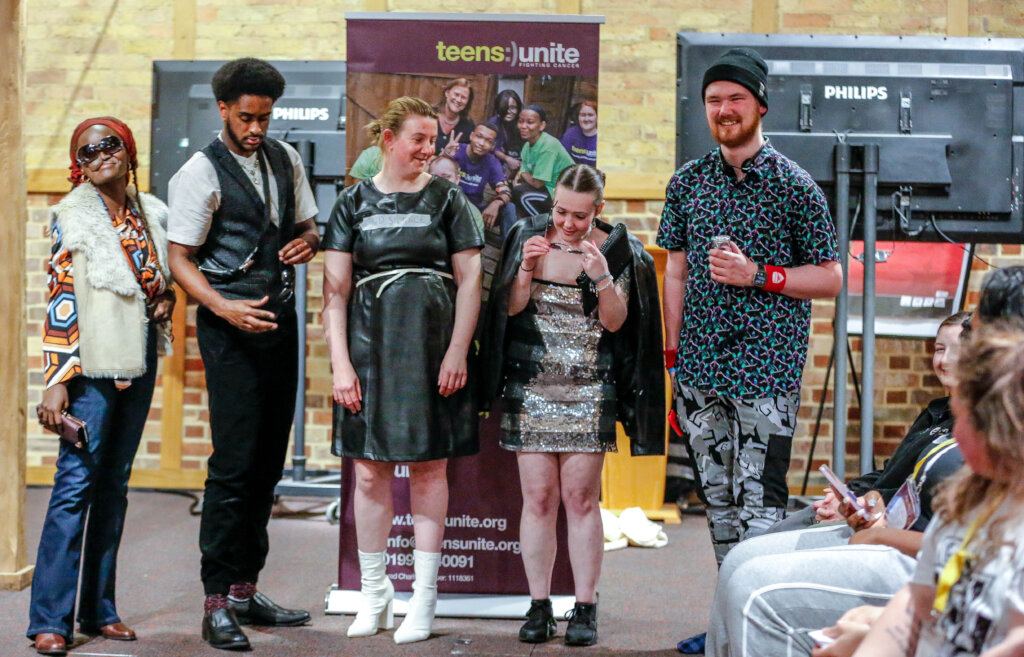 Sixteen young people (aged over 18) that had been away with us on a previous Activity Stay got the chance to attend our yearly Reunion Stay! The reunion stay allows the young people to reconnect with the friends they made at the summer activity stay and form new friendships in the process.
We headed to the beautiful, tranquil surroundings of the High Leigh Conference Centre. With its 40 acres of lawns, parkland, and woodland, it is the perfect space for the young people to relax and connect.
We kicked off the Stay with a series of icebreaker challenges designed to re-acquaint the young people, open communications, and build confidence for self-discovery and self-disclosure - essential for the young people to understand and accept who they are and why they do what they do, which in turn helps improves self-esteem, communication, and relationships.
And what better way to get to know each other than with a game or two of balloon toss, which as well as great fun, improves communication as they call for the balloon, develops hand-eye coordination, improves motor control and is a gentle exercise to rebuild strength. This was followed by a challenge for the young people to split into teams and build the tallest balloon structure in a limited time. A little bit of healthy competition fosters confidence and encourages engagement.
We then had as "Traditional" Sports Day – the benefits proven to enhance both mental and physical health as well as developing social skills. Each experience helps the young people to navigate a range of thoughts and emotions – the most important, and powerful part of these activities are that the young people were prepared to "give everything a go" – in an environment where they felt safe, supported, and understood.
After lunch, and a rest, the young people then headed to our Cocktail and Mocktail Masterclass! Sensory experiences like cocktail making classes are good for our mood - as we focus directly on what's around us in the moment, we're less likely to feel anxious, low, or stressed. Cocktails contain lots of lovely ingredients that are known to help reduce stress – including fragrant herbs like mint which featured heavily in our Mojito.
Laughter has also been shown to increase our levels of happy hormones like serotonin and decrease cortisol, the 'stress hormone' – and there was plenty of laughter amid the clatter of ice in the mixing cup as the young people enjoyed their cocktail and mocktails.
Everyone was encouraged to chat and connect within the group – it was such a social experience, which was a lot of fun, in turn, our brains released mood-boosting endorphins.
The evening was a relaxed affair, the young people engaged in some "get to know you" bingo and a pub quiz before heading to their beds, tired and happy to have reconnected with their friends.
The second day of the Stay had a packed timetable where after breakfast we headed to The Birch, a beautiful County House Hotel, set within 55 acres of natural beauty and perfect setting for our nature walk. 90% of young people diagnosed with cancer experience anxiety, and 70% experience depression. An overwhelming amount of evidence shows that being out in nature, walking, helps with problems such as anxiety and depression. Being out in nature improves your mood, reduces stress and anxiety, increases energy, and helps you cope during difficult times. This walk provided the perfect opportunity for the young people to dial in to their senses and focus on how they felt.
After their walk, there were opportunities for the young people to get creative as they took part in bread making and pottery classes. The creative process is a powerful way for the young people to express emotions. It can help relieve a lot of stress, anger, and sadness. In our creative activities, beneficiaries work alongside professionals and use the creative process to express and communicate how they feel. It is recognised to help them cope with symptoms, stress, and traumatic experiences – it enhances their cognitive abilities, and provides them with a real sense of achievement, improving their self-confidence and self-esteem.
Fuelled by the bread they had made, they made their way to Teens Unite's Shop, where they readied themselves for our Thrift Shop Challenge.
Fashion is an age-old way for teenagers and young adults to connect to their peers and explore and create social networks. Young people use fashion as a way of expressing themselves, and teenagers and young adults with cancer, even though they may have lost their hair, their eyebrows, they may experience scarring, weight loss or weight gain, are no different.
Young people know what they want when it comes to fashion. They value authenticity, inclusivity, and sustainability. So, what better way to support young people overcoming the challenges that cancer brings than to support our activity which will enable them to deliver on their fashion values and create their own outfit from Charity Shop Finds.
They were divided into teams and given a voucher which they could spend in Teens Unite's own charity shop and a budget to spend in the town. Having spent the afternoon selecting items for their outfit, the young people headed back to High Leigh to put on a fashion show to showcase their purchases.
Through this activity, as well as using the creative process to improve their mental health and emotional wellbeing, the young people learned event management skills as they designed and delivered their Fashion Show event. They learned and developed skills such as teamwork, public speaking, conflict resolution, time management and active listening, problem-solving and communication all of which will help them as they rebuild their confidence and ready themselves to make a return to education or early employment.
Exhausted after a full day, the young people headed to bed.
The final day of the Stay started a little slower. A bit of a lie in for the young people and a leisurely breakfast were the order of the day. Late morning, the young people headed into the town to take part in our specially designed Scavenger Hunt – this is a great activity to build the confidence of the young people as well as developing their teamwork skills, social interaction, and critical thinking. As they had a time limit to complete the task, it challenged their time management skills and of course, ensured they took on a little physical activity.
They headed back to Teens Unite's office for a well-deserved lunch and some time for reflection.
This reflection time is essential in helping the young people to understand the skills and attributes used on their Cancer journey are sought after and genuinely equip them for life. We ensure that we talk through the activities that they young people have taken part in and help them understand how their participation shows they are demonstrably resilient. That they are excellent time managers, and organisers; have exceptional problem-solving skills. They're helped to see how having cancer requires them to overcome so many challenges, both personally and in life in general. And because of what they have gone through, they have life experiences that others their age do not. Ultimately, they are helped to see that they have so much to offer.
To everyone who has supported this event, we offer sincere thanks for helping us to bring together more teenagers and young adults to overcome the challenges cancer brings.