Project Report

| Feb 20, 2023
Shock, awe, excitement & sweet delicious desserts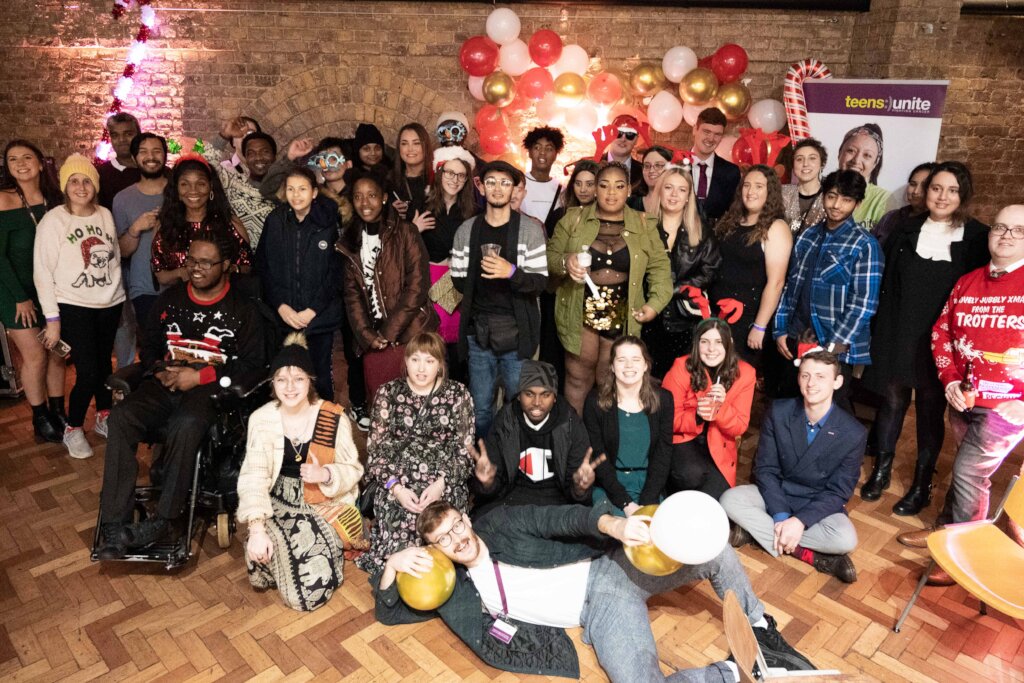 87% of young people fighting cancer lose contact with their peers; 83% experience loneliness.
The Covid-19 pandemic and associated lockdown regulations meant that our annual Christmas party which brought together young people overcoming the challenges that cancer brings – the long-term impacts on their mental health and emotional wellbeing - went digital, and it's been two long years since we have been able to have a proper Christmas get together face to face.
SO, this year we were super-excited to be able to plan a Christmas Party again with thirty young people supported by Teens Unite. We chose an incredible space in the heart of London's Docklands – it had massive appeal to the young people we support with its exposed brickwork, rustic reclaimed timber beams and glass feature wall, all making it massively "insta-worthy" for their pictures.
Every party needs a great DJ to bring life with energetic sets to keep the young people on the dance floor all night long. So, ours was booked and ready to help us celebrate in real Teens Unite style.
The Christmas season helps to remind us about the joy of sharing food and spending time with friends, and of course our party was no exception. We created a buffet of delicious treats for the young people to enjoy – from a variety of scrumptious savoury pieces inspired by many different cultures to sweet delicious desserts, a table of plenty with something for everyone awaited them.
And no party is complete without some shock and awe, and a real chance for everyone to pull out their phones and generate some excitement. So, of course, we needed something or someone to make them all take a sharp intake of breath, and get snapping.
The young people were joined by Luca Bish, a young man who took part in the ever-popular reality show Love Island in 2022. Luca is a successful social media influencer with a following of over one and a half million. He very generously spent the whole evening with the young people, relaxed and chatting, posing for selfies and making sure that they all had a great time and something to remember long after the excitement of the night ended.
'The venue was super nice. It was comforting to have a mini reunion with people I have met from previous events but also nice to meet some new faces! The fact Luca Bish attended really exceeded my expectation as I was not expecting anyone famous! It was also a nice mix of games with a bit of dancing and chatting. 'I felt most comfortable and relaxed and not feel anxious that someone will treat me differently because I have had cancer. Especially now with my short hair, I feel quite self-conscious and even though I try to embrace it I always feel anxious to what people think. However I never got this when I attended the event and Teens Unite feel like a second family to me.' Lucia – diagnosed with Hodgkins Lymphoma
By taking part in this event, the young people were able to
- Reduce feelings of loneliness and isolation
- Interact and socialise with others who get what they're going through
- Meet others in a similar situation
- Enjoy a new and exciting experience
To everyone who has been supporting our project to combat loneliness if young people overcoming the challenges that cancer brings, a HUGE thank you. With your help we have been able to create a very memorable experience for these young people.