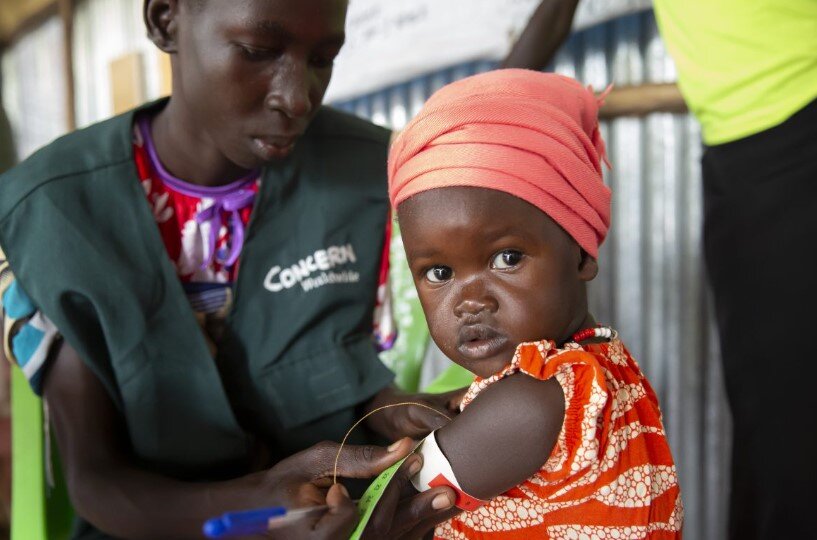 "Where drought leads, hunger is never far behind," says Abdi Rashid Haji-Nur, Concern's Worldwide's Country Director in Somalia.
The severity of the ongoing hunger crisis in the easternmost region of Africa, also known as the Horn of Africa, intensifies with each passing day in 2023. There are an estimated 37 million people in need of humanitarian assistance as populations face the worst drought in recent history, encroaching on a sixth failed rainy season.The effects of the drought have been compounded by a storm of adverse events that aided the making of the hunger crisis that threatens the future of the region today.
Early warning alarms for the development of this profoundly alarming hunger crisis had been sounded by several aid agencies, Concern Worldwide included, but were ineffective without a collective and coordinated response by the international community. The lack of urgency then has led to a dire need for action now, as this crisis risks becoming beyond the capacity of humanitarian organizations to contain. There is no time left to lose.
Conflict is the world's single biggest driver of hunger, and circumstances continue to deteriorate across the Horn of Africa as a direct result of violent clashes between armed groups. The most recent outbreak of violence in Sudan in April 2023 has made the work of agencies like Concern increasingly complex, as humanitarian access becomes limited due to the volatility of areas as hostilities increase between armed groups. Just a month after the outbreak of conflict, the total estimate of displaced individuals across the country surpassed 843,000, with the number of people in need continuing to increase as they flee violence.
Concern Worldwide's Country Director in Sudan was recently featured on CNN to discuss the spiraling humanitarian crisis in Sudan. As of May 2023, we have resumed our operations in two states of Sudan, and have launched a response to assist Sudanese refugees crossing the border into Chad with the distribution of shelter materials, non-food items such as blankets, sleeping mats, cooking items, jerry cans, buckets, soap, and detergent, and to provide health and nutrition services, including a mobile clinic. As the conflict in Sudan continues to unfold, we are committed to remaining flexible and responding quickly with life-saving interventions.
Concern Worldwide has a long-time presence in the Horn of Africa and deep knowledge of the humanitarian issues within the region, and we remain committed to preventing the hunger crisis from getting worse. Our emergency responses are always tailored to a country's individual needs after they are assessed, but some of the ways we work across the region include multi-purpose cash support, water, sanitation and hygiene (WASH) programming, disaster risk reduction, climate resilience building interventions, and malnutrition treatment.
The Horn of Africa is no stranger to droughts and the negative effects of climate change, regardless of being responsible for such a small amount of global greenhouse gas emissions. While flash floods occur, rainfall has not been experienced in some parts of the region since 2019. Many communities across Somalia, Kenya, Ethiopia, Sudan and South Sudan are facing hunger and food insecurity at unprecedented levels and each of these countries in crisis has their own layer of complexity that has facilitated the onset of these famine-like conditions. As we've learned, nature does not organize itself on the basis of human need, and those least responsible for the climate crisis tend to suffer the most. This severe drought continues to destroy livelihoods in a region where populations are heavily dependent on pastoralism and agriculture as sources of income and food. Millions of livestock have died from malnutrition-related illnesses and starvation, crops have decimated due to dry conditions, and instability has become the norm. Global humanitarian and development funding for this rapidly deteriorating crisis is failing to match growing needs and currently, the UN OCHA response plan appeals for Somalia, Kenya and Ethiopia are critically underfunded, each below 30% of its funding goal.
The number of malnourished children also continues to soar, and it is estimated that 5.7 million children are acutely malnourished. A large part of our emergency response involves urgently treating the growing number of severely malnourished children, and Concern supports 870 health centers across the region with vital equipment needed to treat malnutrition and help families stay healthy. Our outreach teams also provide services like vaccinations and nutrition treatments by making bi-weekly visits to remote communities who live far from the nearest health facilities, enabling us to provide aid in hardest-to-reach communities.
The effects of the climate crisis and malnutrition go hand-in-hand, and it is a combination that fuels the vicious cycle of poverty as it passes from one generation to the next. Simultaneously tackling cause and consequence however is also a powerful combination and is our goal in implementing our Lifesaving Education and Assistance to Farmers (LEAF) program in Kenya and Ethiopia. This dual-pronged program approach provides lifesaving treatment for acutely malnourished and pregnant/lactating women while aiming to prevent future cases of malnutrition through the building of sustainable livelihoods that allows people living in poverty to generate long-term incomes. Addressing current nutrition issues is just one part of LEAF, and the other half is geared towards creating larger changes that will reduce malnutrition from one generation to the next. Concern works with local farmers to adapt their agricultural methods to face the changing climate environments, which includes providing drought-tolerant seeds, providing pumps and ensuring access to irrigation canals to improve capacities and affordable access to water.
The formation of this complex hunger crisis has been driven by historical droughts and climate change, conflict and widespread food insecurity caused by a number of factors. The lingering effects of COVID-19 related-impacts, the ongoing conflict in Ukraine, and the outbreaks of violence across the region have disrupted supply chains and led to price-spikes, compounding levels of vulnerability across the region. The protracted history of conflict in the region and subsequent decades of instability have weakened health systems and left other left key areas of infrastructure undermined. A lack of proper sanitation facilities has fostered conditions for outbreaks of diseases like cholera and diharrea, making the implementation of WASH programs vital to mitigating public health emergencies. Amidst ongoing conflicts and power struggles, governments are limited in their ability to respond to emergencies and aid their citizens, making the role of NGOs like Concern even more crucial to uplifting these communities till they can lead sustainable lives on their own.
Undertaking the issue of extreme poverty and world hunger is the mission of Concern Worldwide, and we believe our vision of a better world is possible. In a situation that seems so bleak, it's important to realize that progress is possible, and catastrophes have been avoided in the past. Famine was averted in Somalia in 2017 through a collective and rapid response by the global humanitarian community, and something along those lines can happen once more. We will continue to work diligently with local communities to prevent the hunger crisis from getting worse, but the resources available to us currently are not sufficient to meet the growing numbers of people in need. The number of people facing acute food insecurity will continue to rise if global action doesn't materialize in the Horn of Africa. Behind these statistics are real people, and we are rapidly running out of time to save their lives.