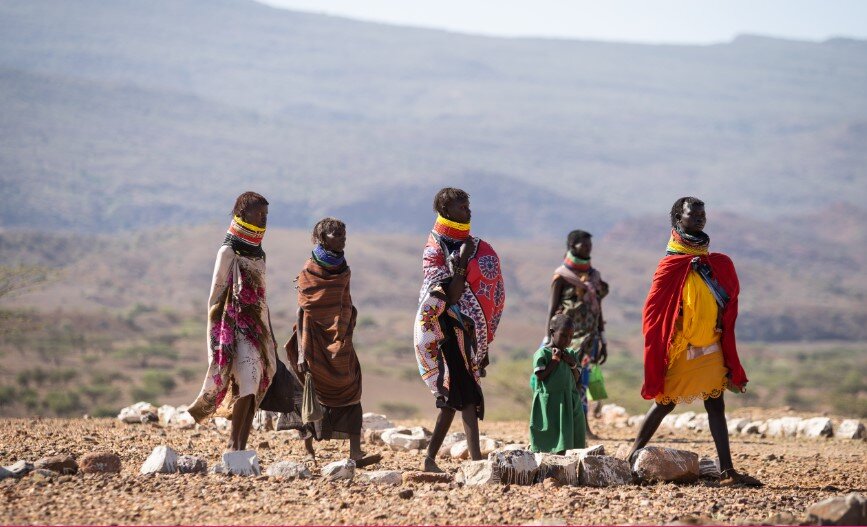 In the East Africa region, also known as the Horn of Africa, we are faced with the harrowing reality that Concern's vision of a world where no one lives in extreme poverty is very distant from the one we live in now. With millions on the brink of starvation, and the attention of the world straying elsewhere, we face the grim reality that the region faces the very real threat of famine looming over their head in 2023. As international funding is diverted elsewhere -- and grain, oil, and fertilizer exports become political pawns -- these fragile communities stand to be forgotten.
The humanitarian situation in the Horn of Africa is dire, and the number of people in need of assistance continues to climb, Concern's Regional Director Amina Abdulla has warned. Without a major international response in early 2023, it will become a crisis beyond the capacity of humanitarian organizations to contain.
Her stark warning follows an assessment by the UN's Office for the Coordination of Humanitarian Affairs (OCHA) which noted that the worst drought in 40 years had surpassed the horrific droughts of 2011 and 2017 in both duration and severity. OCHA warned the drought would continue to deepen in the coming months "with catastrophic consequences."
"Additional funding is desperately needed to help us meet the rapidly growing humanitarian needs now and in the coming months," Ms. Abdulla said. "Our teams are on the ground in Somalia, Ethiopia and Kenya responding, but the resources we currently have are not sufficient to meet the growing numbers of people in need."
Concern teams are providing a range of supports for communities, including cash payments, water trucking, constructing latrines in displacement camps and repairing non-functioning boreholes. They are operating outreach clinics and distributing hygiene materials such as jerry cans and soap.
The drought is the result of five failed rainy seasons, which have left millions of people in Somalia, south-eastern Ethiopia and Northern and Southern rangelands of Kenya facing food and nutrition insecurity. Across the Horn of Africa, at least 36.4 million people are affected including 24.1 million in Ethiopia, 7.8 million in Somalia and 4.5 million in Kenya.
OCHA warned that 300,000 people in south central Somalia are facing famine-like conditions. Even if no famine emerges in Somalia the UN warned that, given the large number of people affected and the likely duration of the crisis, excess mortality during this drought could be as high as in 2011, when 260,000 people died.
Children are bearing the brunt of the suffering, with small children going days without food. About 5.1 million children are acutely malnourished in drought-affected areas and of these, 1.4 million children are at risk of dying as a result of hunger. Concern is treating tens of thousands of children and adults suffering from malnutrition, and providing emergency cash transfers to affected communities so that families can afford nutritious foods and other essential items.
"We focus on building people's ability to cope with emergencies, but this situation is now beyond that," says Ethiopia Country Director Barbara White. "With rains expected to be below average in the coming season, it is a race against time to save people by providing basic food, water, and medical care."
Concern's teams in Somalia, Ethiopia and Kenya are working to meet the growing needs of drought-stricken communities. As the drought intensifies, more people are migrating to urban areas in search of water and food. According to the Camp Coordination & Camp Management Cluster, 4,373 people have arrived in camps in Baidoa, Somalia, between November 20 and December 1 of 2022. An estimated 400,000 displaced people have moved there in 2022 alone, outnumbering the 300,000 people of the host community.
"Arriving families are seeking refuge in ad hoc displacement camps," Ms. Abdulla said. "Half of these camps are not receiving any assistance."
Water shortages also continue to be a growing problem. In Baidoa, of the 100 boreholes which previously provided water in the region, just five are still functioning. Water-borne diseases such as diarrhea and cholera, as well as TB and measles are spreading through the community. Our response has included repairing broken bore holes and shallow wells, as well as providing emergency water trucking to areas most in need to improve access to adequate and safe water.
Many of those hit hardest by the drought are pastoralists who have lost many or all of their livestock. Their animals are often the only source of food and income for pastoralist families, creating a devastating impact on their livelihoods.
An estimated 9.5 million animals have died across the Horn of Africa during the current drought. "The numbers of camels dying from malnutrition-related illnesses is higher than ever before," Concern's Program Director in Kenya, Hassan Olow, said. "Camels and donkeys are also dying from digestion problems caused by eating invasive thorny desert plants which have survived the drought." Our teams have responded by vaccinating livestock against diseases, in attempt to keep them alive through the drought.
"There is widespread acute malnutrition and this will continue increasing as we approach January to March 2023– the driest months of the year," Ms. Abdulla said. "With seven million people in Somalia in need of humanitarian assistance, most of the funds donated by the donors in 2022 will be spent by the end of the year. We need to escalate our response. The next four months will be critical in terms of saving lives and averting famine in Somalia."
We've entered a dangerous waiting game where the future of the region, and nearly 40 million people's lives remain at stake. There is a lot going on in the news agenda, and not everything will get the screen time and column inches it deserves. But there is a crisis in the Horn of Africa that desperately requires and deserves our attention and action.
Links: